XXTRA Powerlifter's Creatine Serum
---
XXTRA Powerlifter's Creatine Serum is a powerful and potent blend of amino acids that come with a promise for delivering untiring performance during even the most intense and heavy workouts. Now you can work out at a pace that you're comfortable with without damaging your muscle tissues.
Fortified with a perfect balance of L-Glutamine, Carnitine, Zinc, and Creatinol-O-Phosphate; XXTRA will fuel your stamina, endurance, and energy levels. It's also formulated to metabolize extra energy and fat.
A premium health product preferred by professional bodybuilders and athletes; XXTRA always keep you game up.
Shipping info: Fast Shipping. Arrives in 3-5 business days for orders within US.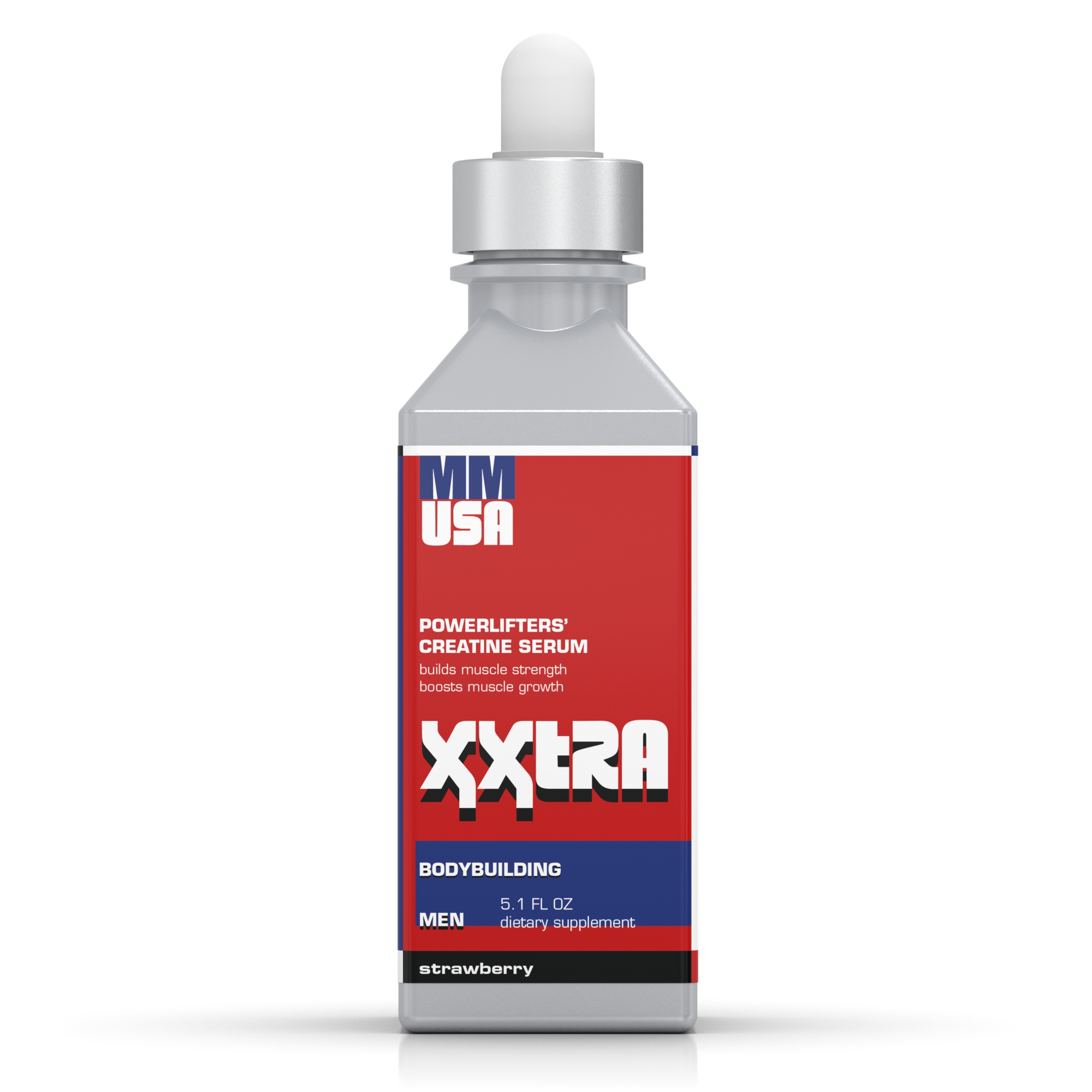 This product is for:
Bodybuilders And Weightlifters Who Want To Build Leaner Muscles
Be Stronger Longer- Push Your Limits To The Max
Description
BE STRONGER FASTER
XXTRA powers you through the most brutal workouts. Lift more. Be stronger longer. Push your limits to the max. Your extraordinary effort demands extraordinary help. That's why we named it XXTRA.
WITHOUT WATER WEIGHT GAIN
Ordinary creatine monohydrate absorbs poorly. And draws water into your muscle cells. This causes weight gain due to fluid retention. The water held in your muscles creates bloating and puffiness. Weight gains of up to 5 pounds are not uncommon. Fluid retention also triggers dehydration that can impair athletic performance.
100% ABSORBABLE SERUM
XXTRA absorbs in your mouth, not your gut. Pure and soluble creatine flows into your power-hungry muscles instantly. ATP levels are immediately supercharged The hassle and delay of loading and maintenance are a thing of the past. Water weight gain is eliminated.
MORE POWER TO YOU
In minutes you'll feel surging muscle power. Your strength and stamina will increase. XXTRA drives accelerated ATP production that continuously sustains working muscles with clean, powerful energy.
BUILD BIG MUSCLES FASTER
XXTRA works hard for you. Enhancing the effectiveness of resistance training by reducing lactic acid build-up. Accelerated fat loss means you'll see improved muscle size and shape right away. Recovery times will be shorter. You'll feel better sooner, even though you might have overdone your training. Because muscle damage caused by oxidative stress is lessened. You will see big results in just 2 weeks. We promise.
PROUDLY MADE IN THE USA
Muscle is our first name. But our family name is USA. All our products are sourced and manufactured in the United States. We comply with all good manufacturing practices.
SINCE 1995
We have been committed to empowering athletes all over the world. Since our invention of Creatine Serum over 25 years ago, we have changed the way the world works out. By offering everyone who wants to try, the power to be their best.
How to use
10 mins. before your workout, fill the dropper and place 1 ml of serum under your tongue. Repeat 4 more times. For best results, hold serum in your mouth until completely absorbed.
Ingredients
Calcium Pantothenate
Vital For High-Energy Muscular Contractions and Strong Bones
PROPRIETARY-ATP-MATRIX-III:
Creatinol-o-Phosphate
Radical Muscle Building Compound Supercharges Strength
Trehalose
Fast Metabolizing Disaccharide for Rapid High-Energy
Glucosamine Sulfate
For Structural Integrity of Joints, Connective Tissues, and Blood Vessels
Eleutheroccus Senticosus
Anti-Inflammatory Adaptogen Increases Endurance
Glutamine HCL
Stimulates Protein Synthesis and HGH Production + Helps Build Lean Muscle
L-Carnitine
Enables Fatty Acid Transport into Cellular Mitochondria for Energy Production.
Taurine
Triggers Protein Synthesis- Supports Cell Hydration, Metabolism and Cardiac Function
Zinc Gluconate
Supports Protein Synthesis, Hormone Balance and Digestive Functions
Key Benefits
Explosive Muscle Strength
Recharges ATP Production
Builds Big Muscles Easier
Fuels Extreme Lifting
Protects Against Cell Damage