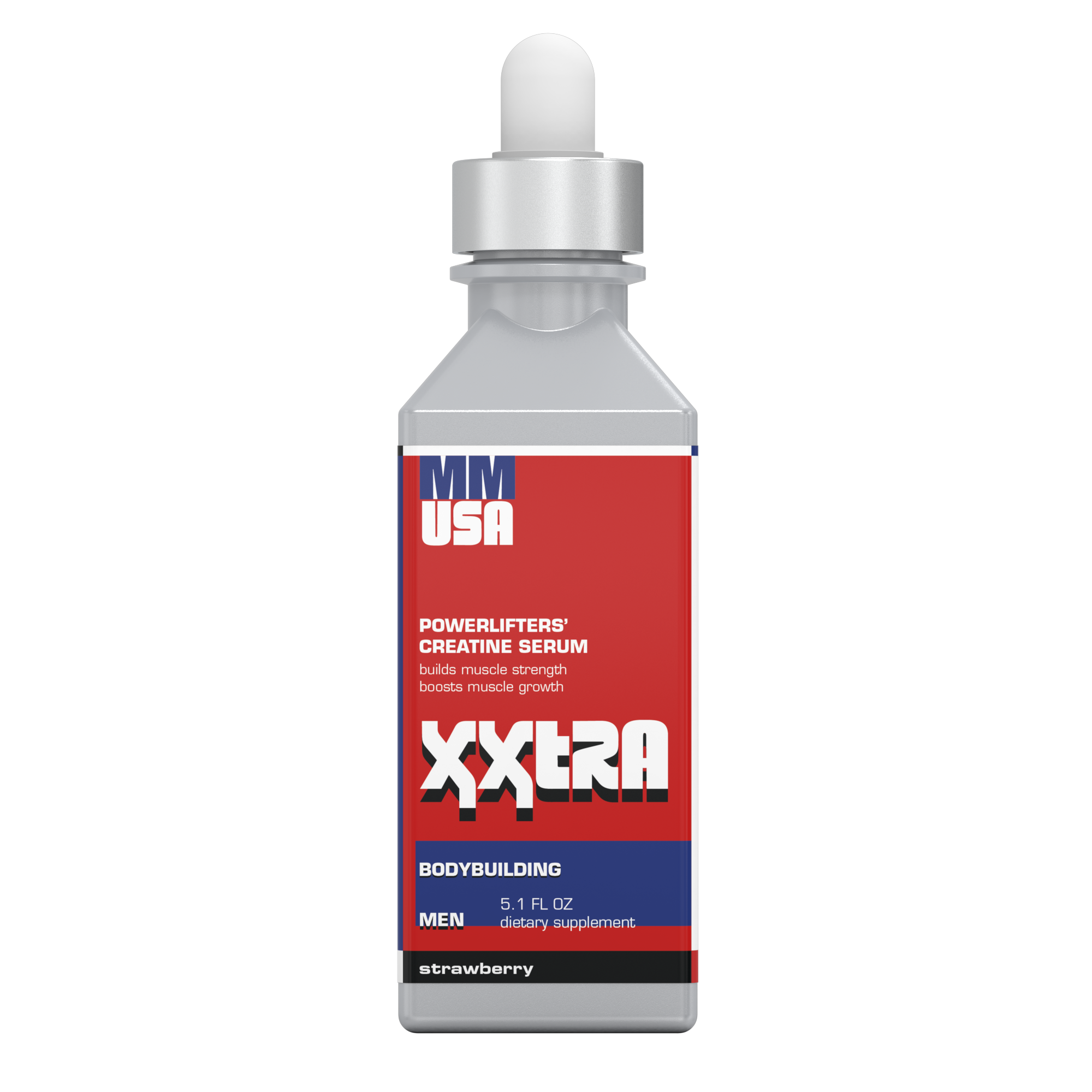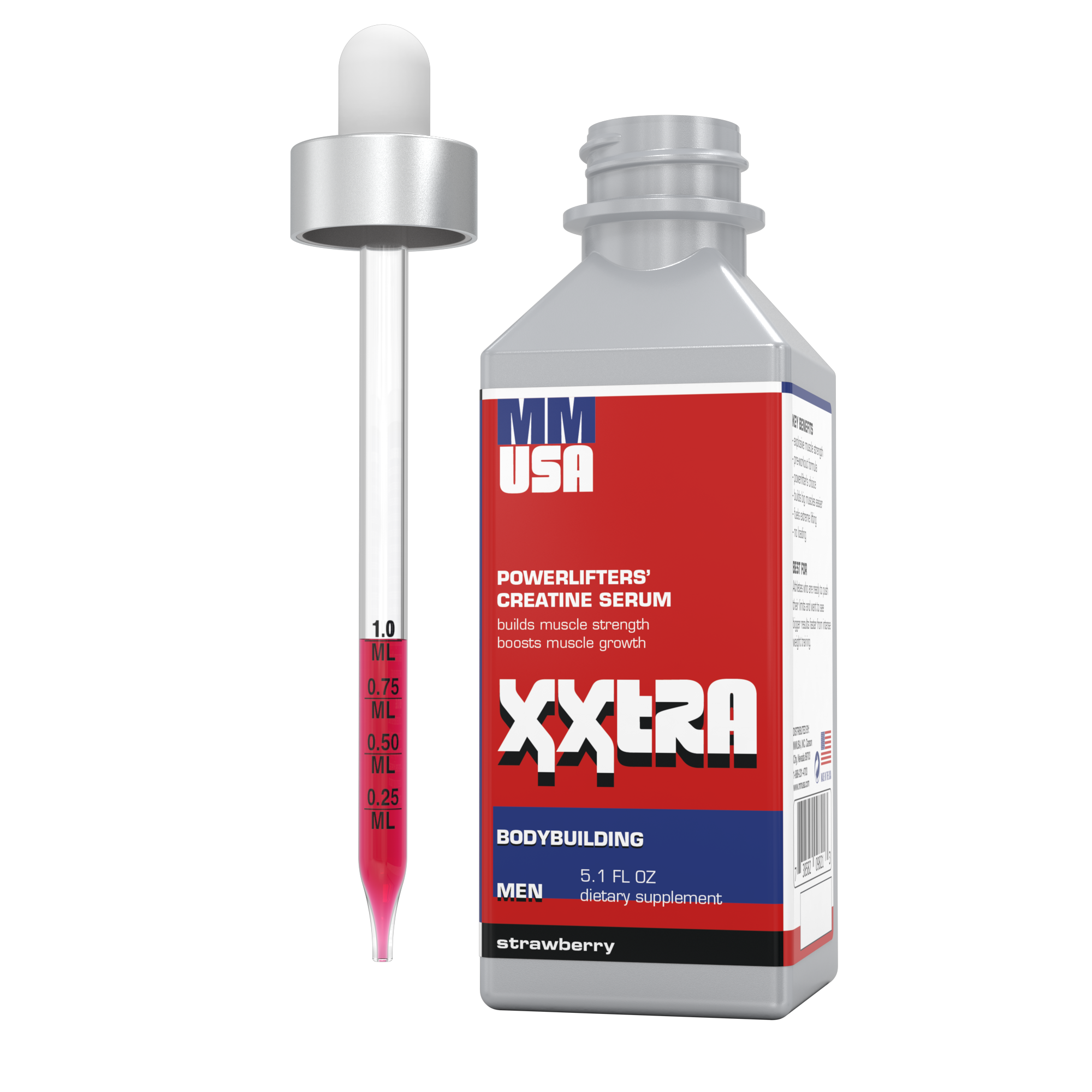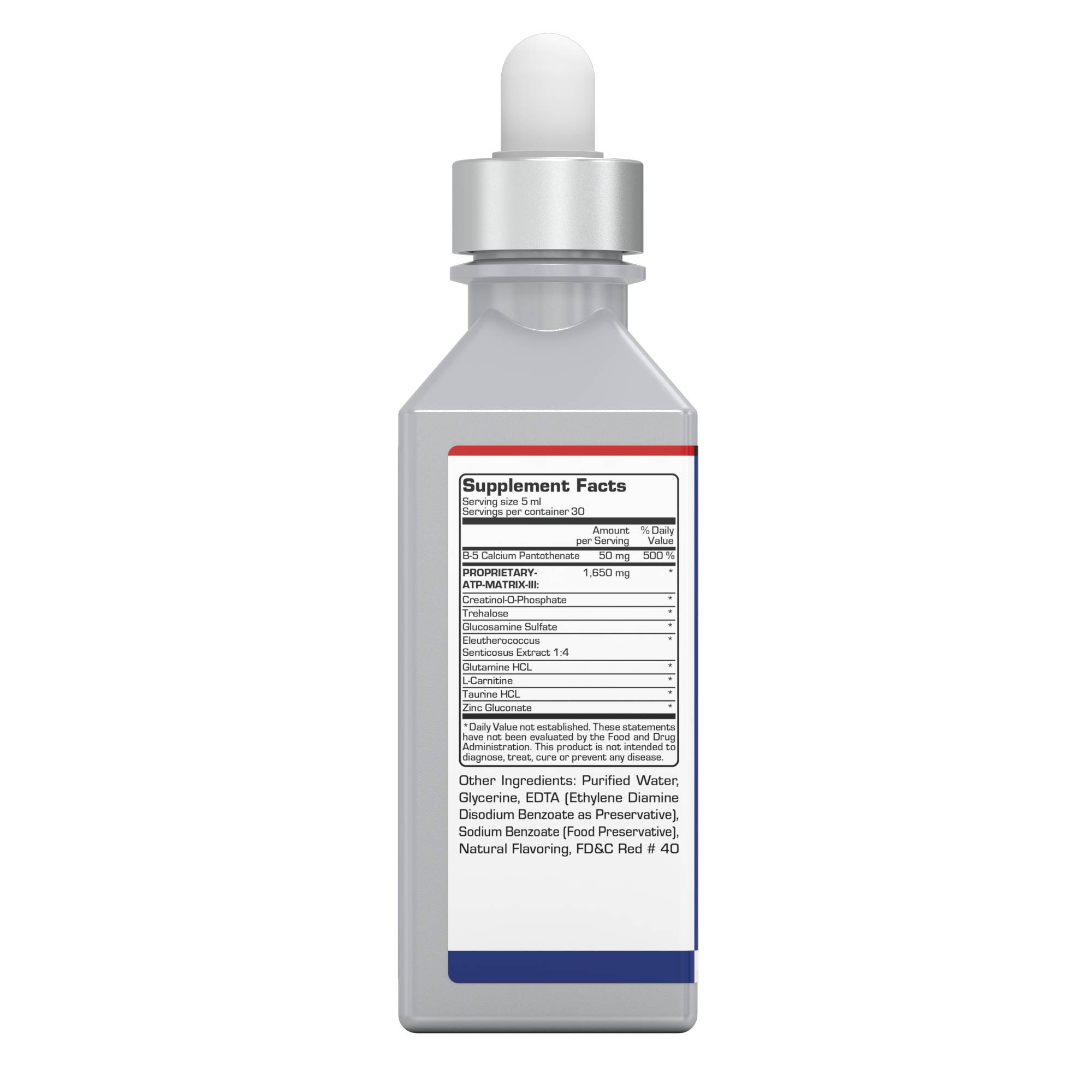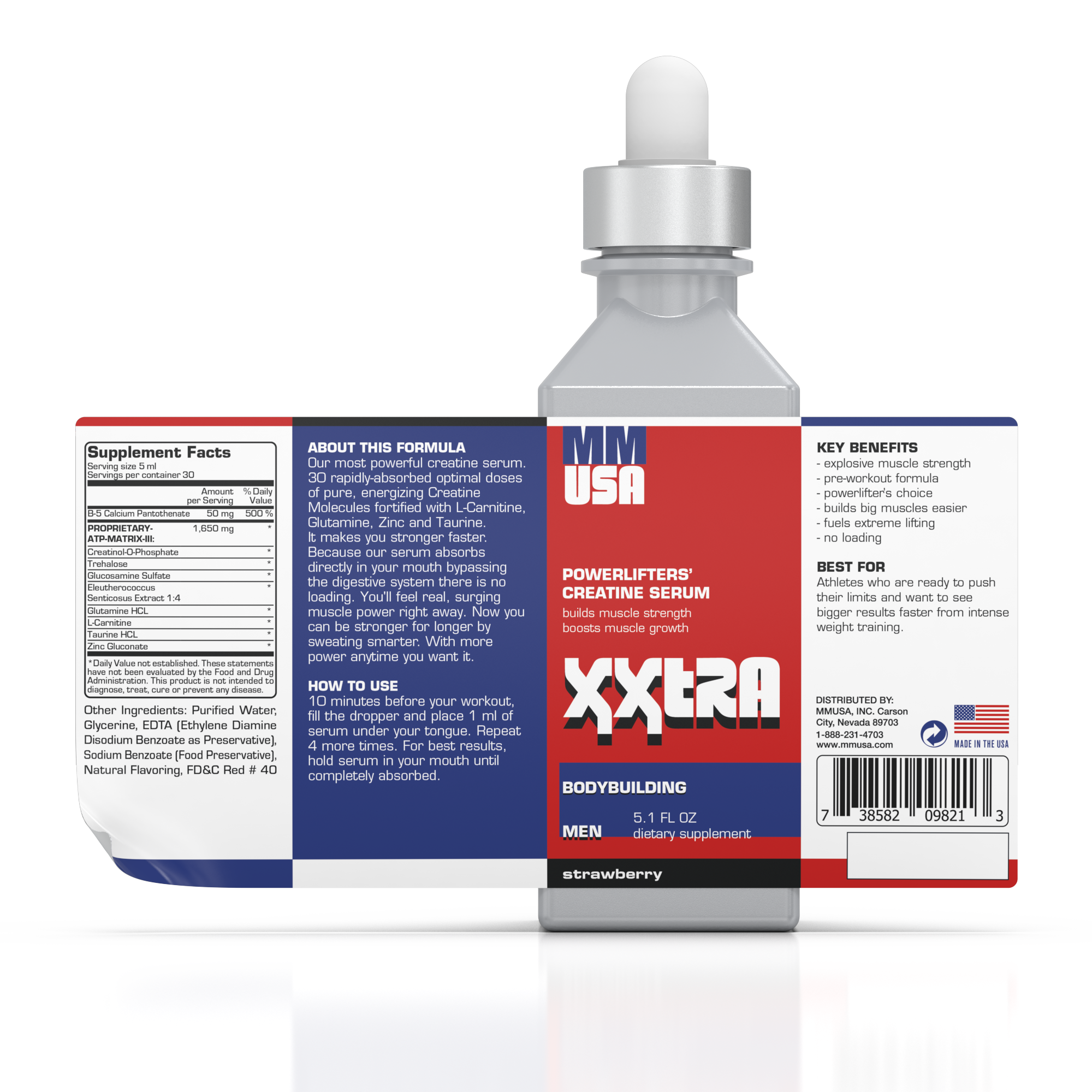 XXTRA Powerlifter's Creatine Serum

XXTRA Powerlifter's Creatine Serum is a powerful and potent blend of amino acids that come with a promise for delivering untiring performance during even the most intense and heavy workouts. Now you can work out at a pace that you're comfortable with without damaging your muscle tissues. Fortified with a perfect balance of L-Glutamine, Carnitine, Zinc, and Creatinol-O-Phosphate; XXTRA will fuel your stamina, endurance, and energy levels. It's also formulated to metabolize extra energy and fat.
Shipping info: Fast Shipping. Arrives in 3-5 business days for orders within US.
DETAILS
key benefits
XXTRA CREATINE LIQUID IS THE FIRST AND ONLY STABLE CREATINE IN THE WORLD. XXTRA pre-workout formula increases energy, power, stamina, intensity, and strength. As the only stable form of creatine in liquid, it absorbs quickly and does not require loading or maintenance.
GET MORE MUSCLE & STRENGTH. XXTRA is the purest form of stable creatine available on the market and will assist your muscles in producing energy when lifting heavy weights or performing high-intensity interval training.
BOOST YOUR WORKOUTS, TRAIN HARDER, AND GAIN A LEAN PHYSIQUE! XXTRA is a revolutionary new pre-workout formula that delivers increased energy, power, stamina, intensity, and strength without the harsh stimulants you get from many other pre-workout products.
XXTRA – THE ONLY CREATINE THAT MAKES YOU FEEL STRONG WITHOUT THE BLOATING. There's no need to load XXTRA or cycle it because it contains all-natural ingredients that won't cause bloating or stomach discomfort as other products do.
YOUR MUSCLES WILL RECOVER FASTER SO YOU CAN TRAIN MORE OFTEN, PERFORM BETTER, AND REACH YOUR FITNESS GOALS FASTER. XXTRA can be used as part of your pre-workout routine or on its own to help you recover faster between sets without harsh stimulants.
XXTRA IS THE FASTEST-ACTING AND CLEANEST FORM OF CREATINE AVAILABLE. It will not make you bloated or cramp up your muscles. XXTRA is the only form of creatine that can be taken daily without a loading phase, and without ever having to cycle off of it.
xxtra
BEST FOR
Bodybuilders, athletes, and fitness enthusiasts who want to boost their power and strength, achieve bigger muscle pumps, and better recovery.
WHAT IT IS
One of the top athletes' favorite formulas, it helps you boost your energy within minutes, safely.
WHAT IT DOES
This formula provides a quick source of fuel and energy for more excellent, more enjoyable workouts with highly bioavailable creatine and amino acids.
nutrition facts
Serving Size 5 ml
Servings per container 30
| | Amount Per Serving | % Daily Value |
| --- | --- | --- |
| B5 Calcium Pantothenate | 50 mg | 500% |
| PROPRIETARY-ATP-MATRIX-III: | 1650 mg | ** |
| Creatinol-O-Phosphate | | |
| Trehalose | | |
| Glucosamine Sulfate | | |
| Eleutherococcus Senticosus Extract 1:4 | | |
| Glutamine HCL | | |
| L Carnitine | | |
| Taurine HCL | | |
| Zinc Gluconate | | |
**Daily Value not established.
Other Ingredients: Purified Water, Glycerine, EDTA (Ethylene Diamine Disodium Benzoate as preservative). Sodium Benzoate (Food Preservative), Natural flavoring, FD&C Red No. 40.
INGREDIENTS
Calcium Pantothenate
Vital for high-energy muscular contractions and strong bones.
PROPRIETARY-ATP-MATRIX-III:
Creatinol-o-Phosphate
Radical muscle-building compound supercharges strength.
Trehalose
Fast metabolizing disaccharide for rapid high-energy.
Glucosamine Sulfate
For structural integrity of joints, connective tissues, and blood vessels.
Eleutherococcus Senticosus
Anti-inflammatory adaptogen increases endurance.
Glutamine HCL
Stimulates protein synthesis and HGH production + helps build lean muscle.
L-Carnitine
Enables fatty acid transport into cellular mitochondria for energy production.
Taurine
Triggers protein synthesis- supports cell hydration, metabolism, and cardiac function.
Zinc Gluconate
Supports protein synthesis, hormone balance, and digestive functions.
‍
HOW TO USE
10 minutes before your workout, fill the dropper and place 1 ml of serum under your tongue. Repeat 4 more times.
For best results, hold the serum in your mouth until completely absorbed.
March 3, 2023
J.D Frazier
I've using this for a week everyday before gym and I figured it out that works better when you drink it fast 10 minutes before doing any kind of exercise. Its pretty good.
February 26, 2023
Larry D.
This pre-workout creatine is amazing. It is awesome for getting nice pump but without cramps or jitters, my favorite kind is the grape. I've bought this product now four times.
January 14, 2023
Davin Sheffield
Really good and works well. It gets me the boost I need to fuel me for my workout.
January 8, 2023
Nicholas Jones
This is hands down the best creatine supplement I've ever used. I've tried powders and pills but nothing compares to the results I've seen with XXTRA!
Thanks for submitting your review!
We will publish it once approved.
CONTINUE SHOPPING