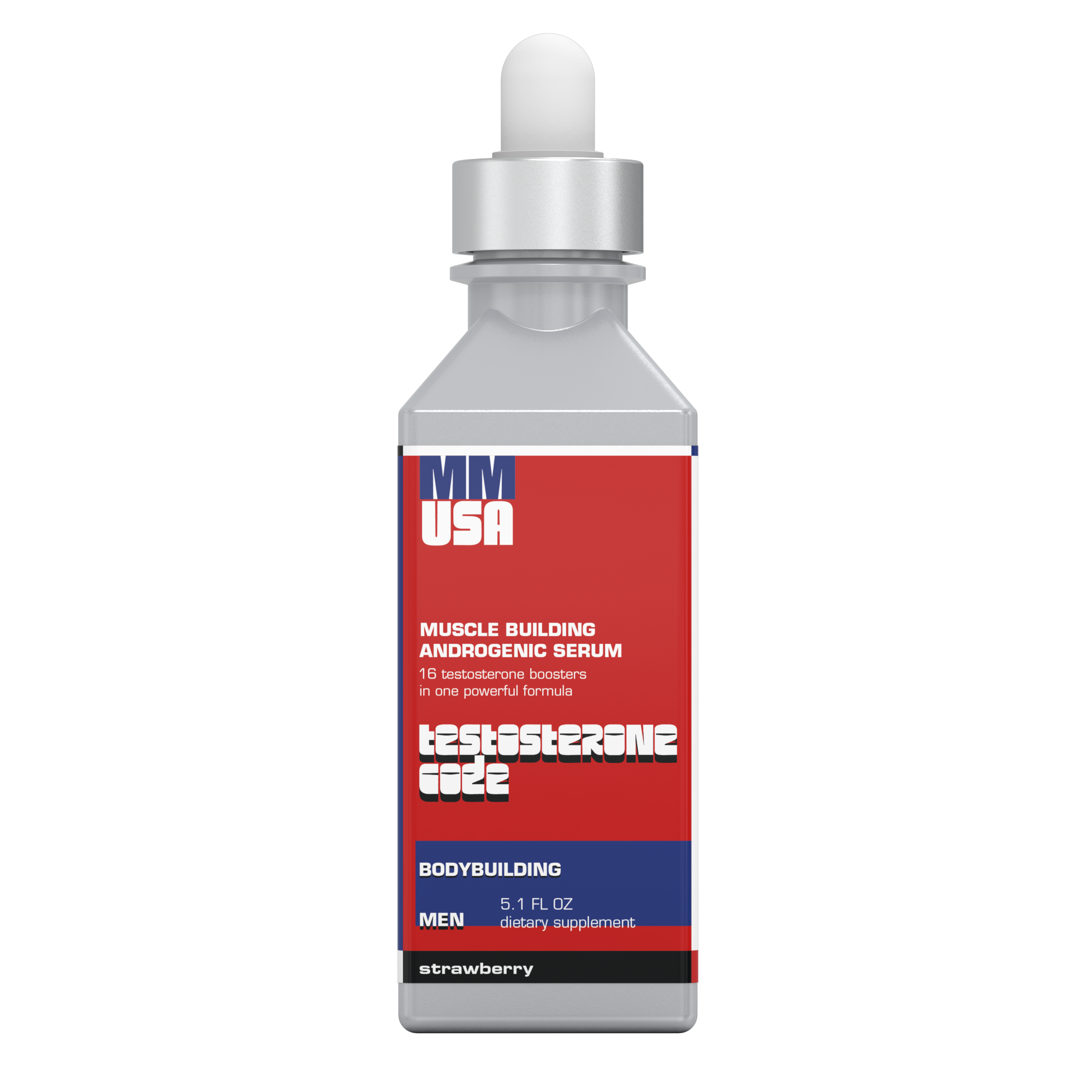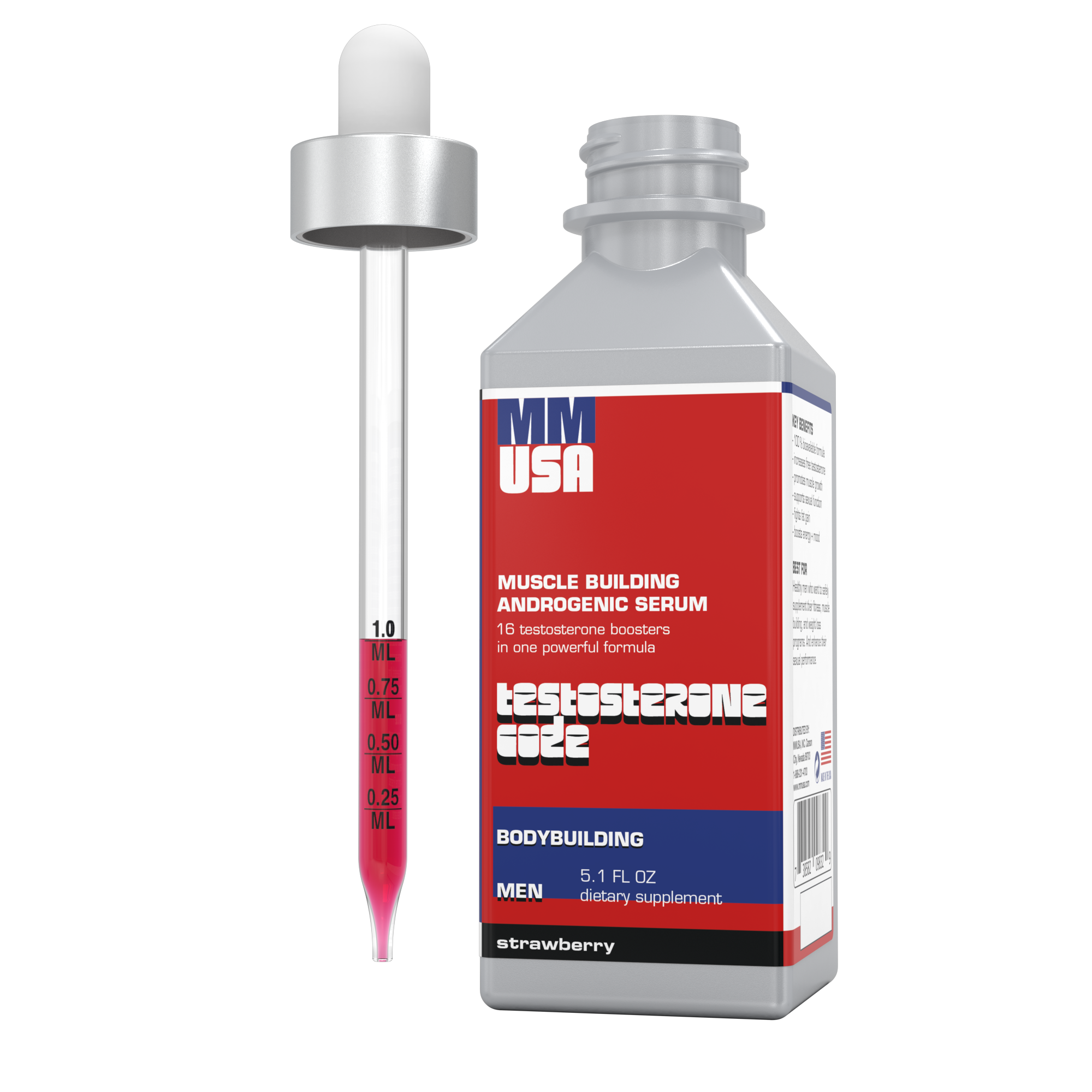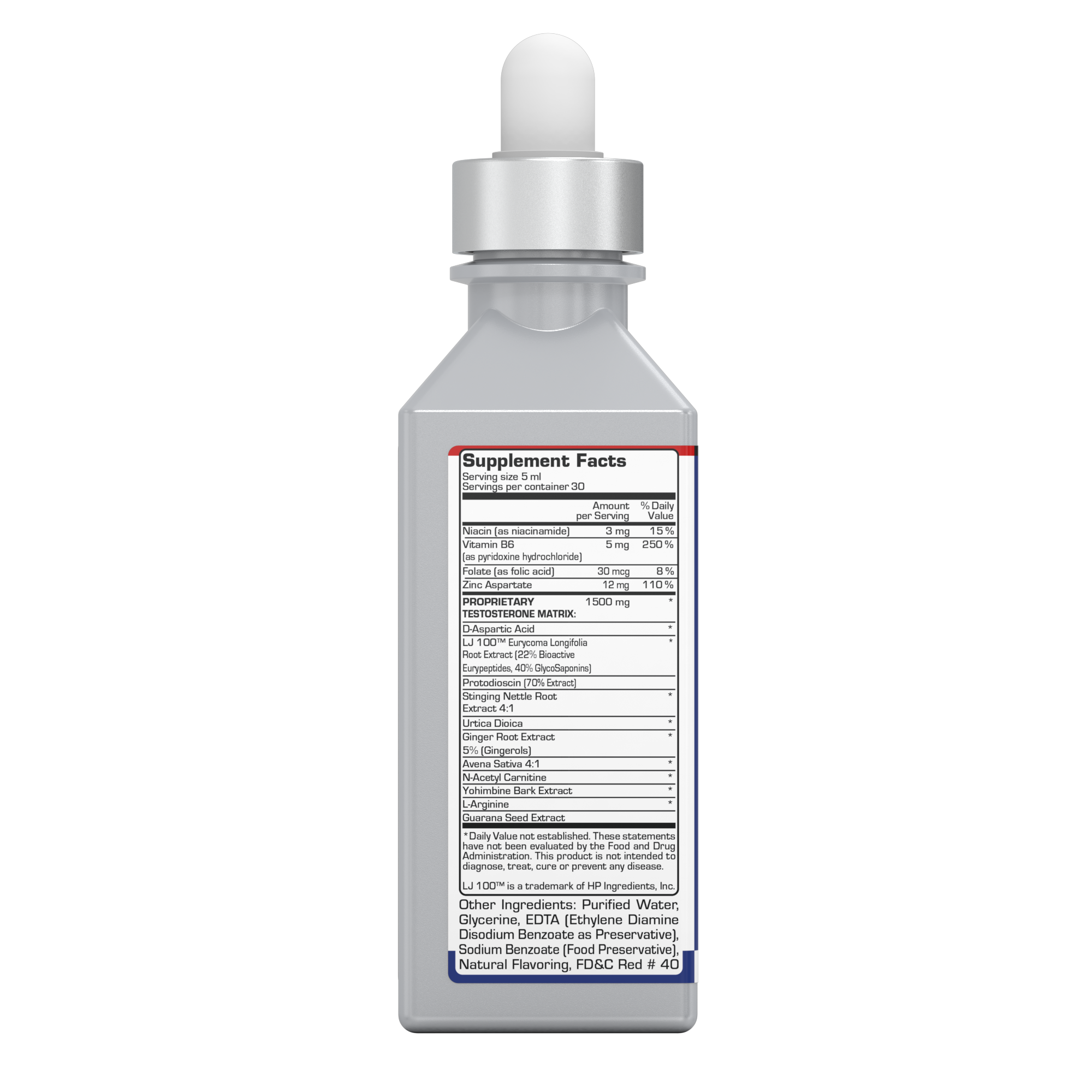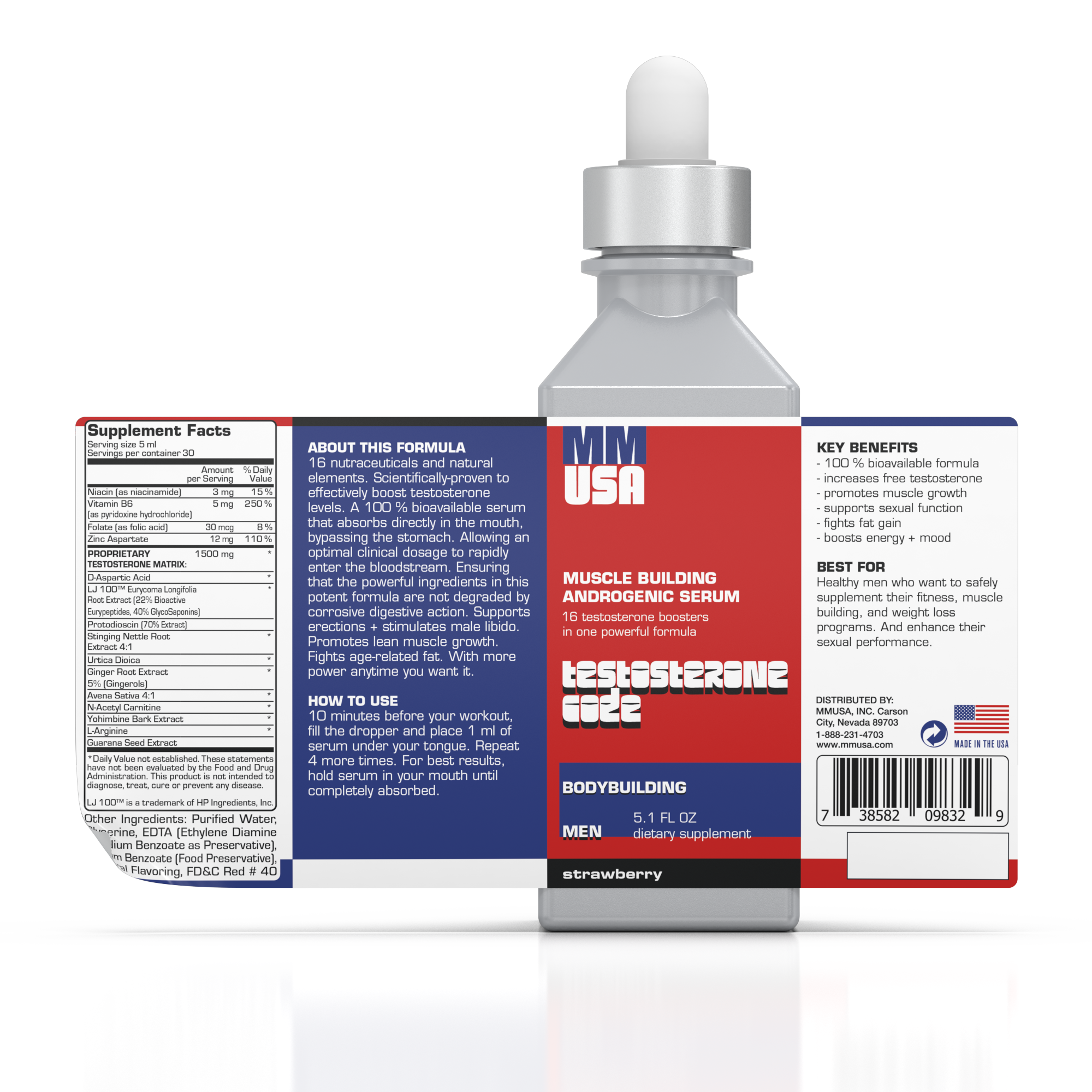 Testosterone Code Muscle Building Androgenic Serum

Boost testosterone naturally and maximize your potential with Testosterone Code Serum, enriched with the power of Tongkat Ali. Our clinically tested formula improves intimate performance, increases muscle gain, mental focus, and elevates your mood. Experience the benefits of testosterone without harmful side effects and regain your productivity to be the best version of yourself.
Shipping info: Fast Shipping. Arrives in 3-5 business days for orders within US.
DETAILS
key benefits
SUPERCHARGE YOUR TESTOSTERONE PRODUCTION. Make your testosterone levels skyrocket with this naturally-derived, pure supplement that's formulated to grow muscle faster, increase your strength, stamina, and testosterone faster and stronger than any other product on the market.
HELPS MEN INCREASE ENERGY AND MUSCLE GROWTH. In men, testosterone is the most critical hormone. Having more testosterone boosts your energy, strengthens your muscles, improves muscle growth, and improves your mood and emotional intimacy, enhancing your physical and mental health and overall well-being.
BOOSTS MALE DRIVE FASTER. When Testosterone Code enters your bloodstream it works fast. Because it is not degraded by corrosive digestive action. Bypassing the stomach, these potent all-natural nutraceuticals flow into your brain, testes, adrenal glands, hypothalamus, and pituitary glands. You'll feel more like a man almost immediately.
SUPPORTS MALE COUNT AND MOTILITY. One of the biggest issues with testosterone boosters is that they can suppress natural production and possibly reduce sperm counts. When you take this formula, your zinc levels will increase, which will protect your cells and your vitality processes from oxidative damage. This results in better count and motility and better male performance.
CONTAINS ALL-NATURAL INGREDIENTS THAT ARE SAFE FOR DAILY USE. You can improve your free testosterone level naturally with Testosterone Code Serum, a unique formula that combines several ingredients including Tongkat Ali blended with L-Arginine, Folate, and Zinc.
t code
BEST FOR
Athletes looking for increased muscle mass, leaner body, and energy.
WHAT IT IS
Testosterone Code Serum can improve your intimate life – cranking up your libido and boosting your energy.
WHAT IT DOES
HOW DOES TESTOSTERONE CODE IMPROVE YOUR SEX DRIVE?
It increases the production of luteinizing hormone (LH) to regulate testosterone levels. LH manages your hormone levels, energy, and stamina as you age. The formula reduces chronic stress, lowers cortisol levels, and burns stubborn body fat effortlessly.
‍
nutrition facts
Serving Size 5 ml
Servings per container 30
| | Amount Per Serving | % Daily Value |
| --- | --- | --- |
| Niacin (as Niacinamide) | 3 mg | 15% |
| Vitamin B-6 (Pyridoxine Hydrochloride) | 5 mg | 250% |
| Folate (Folic Acid) | 30 mcg | 8% |
| Zinc Aspartate | 12 mg | 110% |
| PROPRIETARY TESTOSTERONE MATRIX: | 1500 mg | ** |
| D-Aspartic Acid | | |
| LJ 100™ | | |
| Protodioscin (70% Extract) | | |
| Nettle Root Extract (1% Extract) | | |
| Urtica Dioica | | |
| Ginger Root Extract 5% | | |
| Avena Sativa 4:1 | | |
| N- Acetyl Carnitine | | |
| Yohimbine Bark Extract | | |
| L-Arginine | | |
| Guarana Seed Extract | | |
LJ-100 is a trademark of HP Ingredients, Inc
**Daily Value not established.
Other Ingredients: Purified Water, Glycerine, EDTA (Ethylene Diamine Disodium Benzoate as preservative). Sodium Benzoate (Food Preservative), Natural Flavoring, FD&C Red No. 40.
INGREDIENTS
Niacin (Vitamin B3)
Enzyme transporter optimizes cellular energy production.
Vitamin B6
Helps metabolize protein & carbohydrates efficiently for optimal energy production.
Folate (Vitamin B9)
Repairs DNA & nourishes red blood cells for better erections + sperm quality.
PROPRIETARY TESTOSTERONE MATRIX
D Aspartic Acid
Increases the release of a hormone in the brain that will ultimately result in testosterone production.
LJ-100
World's best and clinically-proven Long Jack isolate with the intensity and speed of sexual athletes.
Protodioscin
Triggers male hormone secretion contradicts estrogen and drives pro-erectile Nitric Oxide production.
Nettle Root Extract
Releases bound Testosterone from SHBG, sex hormone-binding globulin.
N-Acetyl Carnitine
Powerful antioxidant increases sperm motility and volume.
Ginger Root Extract
Powerful anti-inflammatory + anti-coagulant is a proven aromatase inhibitor.
Avena Sativa
Enhances erotic sensation. contains avenalin, a vital hormone-building block.
Yohimbine Bark Extract
Stimulates the release of certain chemicals that can help you get an erection.
L-Arginine
Makes nitric oxide, opening penis blood vessels for thick and lasting erections.
Guarana Extract
Maintains stamina + physical endurance by promoting an invigorated physical state.
Zinc Aspartate
A mineral compound signals testes to produce optimal serum testosterone.
‍
HOW TO USE
10 minutes before your workout, fill the dropper to place 1 ml of serum under your tongue. Repeat 4 more times.
‍
For best results, hold the serum in your mouth until completely absorbed.
February 26, 2023
Walton W.
Was hesitant at first, but it has given me a great boost of stamina. A lot of struggle to just get the energy to make it through the day, but this has helped immensely.
February 23, 2023
Nate Roche
I recommend this product if you feel tired or needed a boost when performing. I take it everyday and I feel like in my 20's again. It definitely works!
February 18, 2023
W. McClain
Excellent quality testosterone booster that includes tongkat ali for muscle growth, energy, strength and drive.
January 29, 2023
F. Hill
I feel they work very well. I could feel a difference in about a week. The serum is very easy to swallow with no after taste.
Thanks for submitting your review!
We will publish it once approved.
CONTINUE SHOPPING