Mass Muscle Maximizing Creatine Serum
---
Mass Muscle Maximizing Creatine Serum is formulated with pure stable and soluble creatine. A perfect option for the results -obsessed bodybuilder. Superior molecular solubility that delivers faster muscle volumization. Without side effects. Because our serum absorbs directly in your mouth bypassing the digestive system there is no loading. You'll get explosive workout power right away. Now there's a time-saving shortcut to building the kind of body you're sweating to achieve.
Shipping info: Fast Shipping. Arrives in 3-5 business days for orders within US.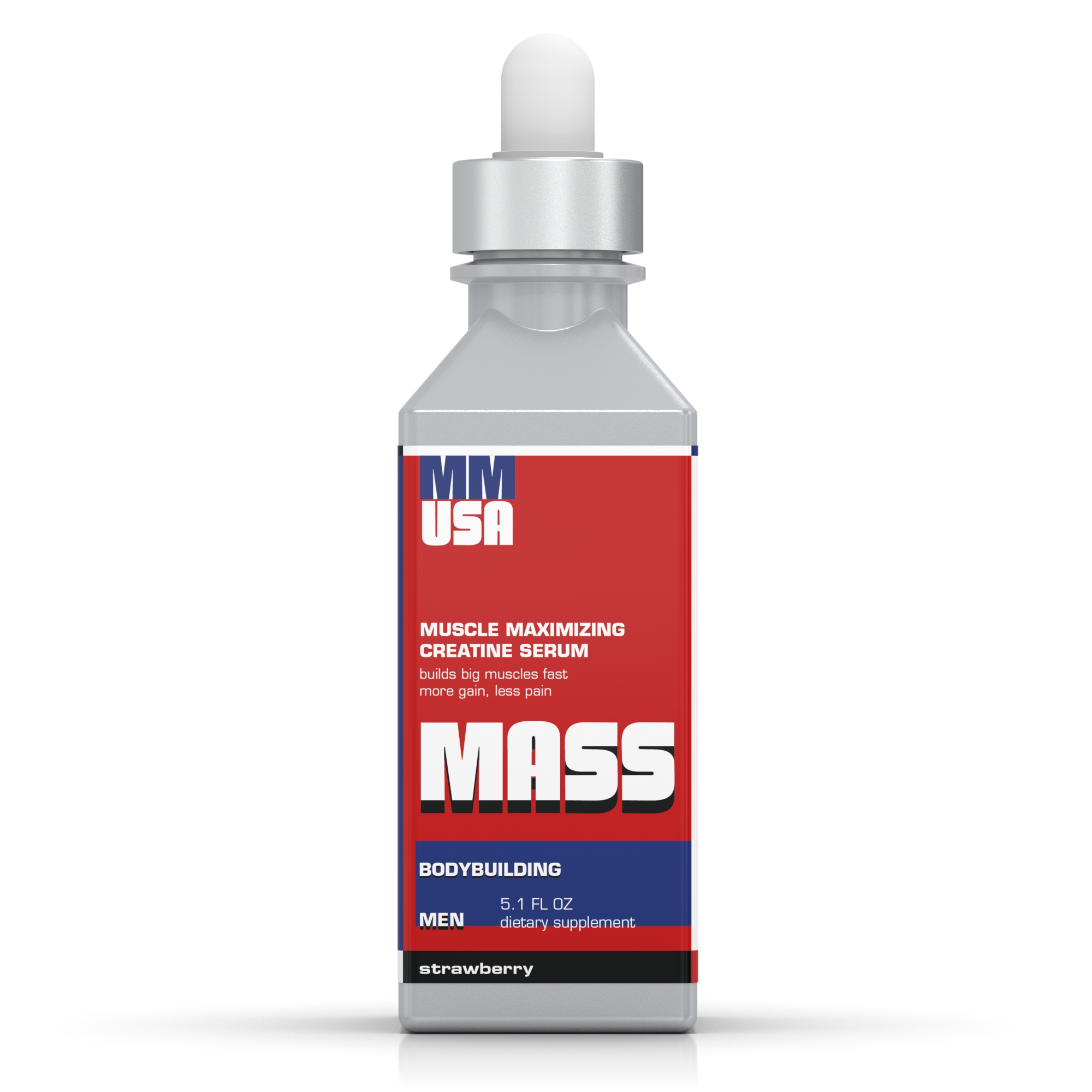 This product is for:
Individuals Who Want To Increase Their Muscle Mass And Strength
Build Serious Mass And Gain Optimal Power Safely
Description
BUILD BIG MUSCLES FAST
Mass Muscle Maximizing Creatine Serum is formulated for individuals who want to build serious mass. It is completely a safe pre-workout creatine supplement. Designed by MMUSA – it gives athletes the much-needed dose of nutrients essential for building muscles.
It will give you a burst of energy so you can enjoy intense workouts and achieve powerful results without any stimulants, jitters, or any kind of side-effects.
PROUDLY MADE IN THE USA
Muscle is our first name. But our family name is USA. All our products are sourced and manufactured in the United States. We comply with all good manufacturing practices.
SINCE 1995
We have been committed to empowering athletes all over the world. Since our invention of Creatine Serum over 25 years ago, we have changed the way the world works out. By offering everyone who wants to try, the power to be their best.
How to use
10 mins. before your workout, fill the dropper and place 1 ml of serum under your tongue. Repeat 4 more times. For best results, hold serum in your mouth until completely absorbed.
Ingredients
Vitamin B-5 (Calcium Pantothenate)
Unlocks energy from fats, controls enzyme and hormonal balance
ATP-MATRIX-VII
Creatine hydrochloride (HCL)
Potent, explosive, increases muscle cell volumization
Creatinol-O-Phosphate
Radical muscle building compound supercharges strength + power
Trehalose
Fast Metabolizing Disaccharide for Rapid High-Energy
Glucosamine Sulfate
Supports structural integrity of joints, connective tissues, & blood vessels
Eleutheroccus Senticosus
Anti-inflammatory fights fatigue, stress and muscle soreness
Glutamine HCL
Stimulates protein synthesis and HGH production + helps build lean muscle tissue
L-Carnitine
Accelerates energy production by enabling fatty acid transport into cellular mitochondria
Taurine
Stimulates protein synthesis- supports cell hydration, metabolism and cardiac function
Zinc Gluconate
Supports protein synthesis, hormone balance and digestive functions
Key Benefits
• Pre-Workout Formula
• Boosts Muscle Volume
• Faster Muscle Growth
• Powers Intense Workouts
• No Loading
• No Side Effects