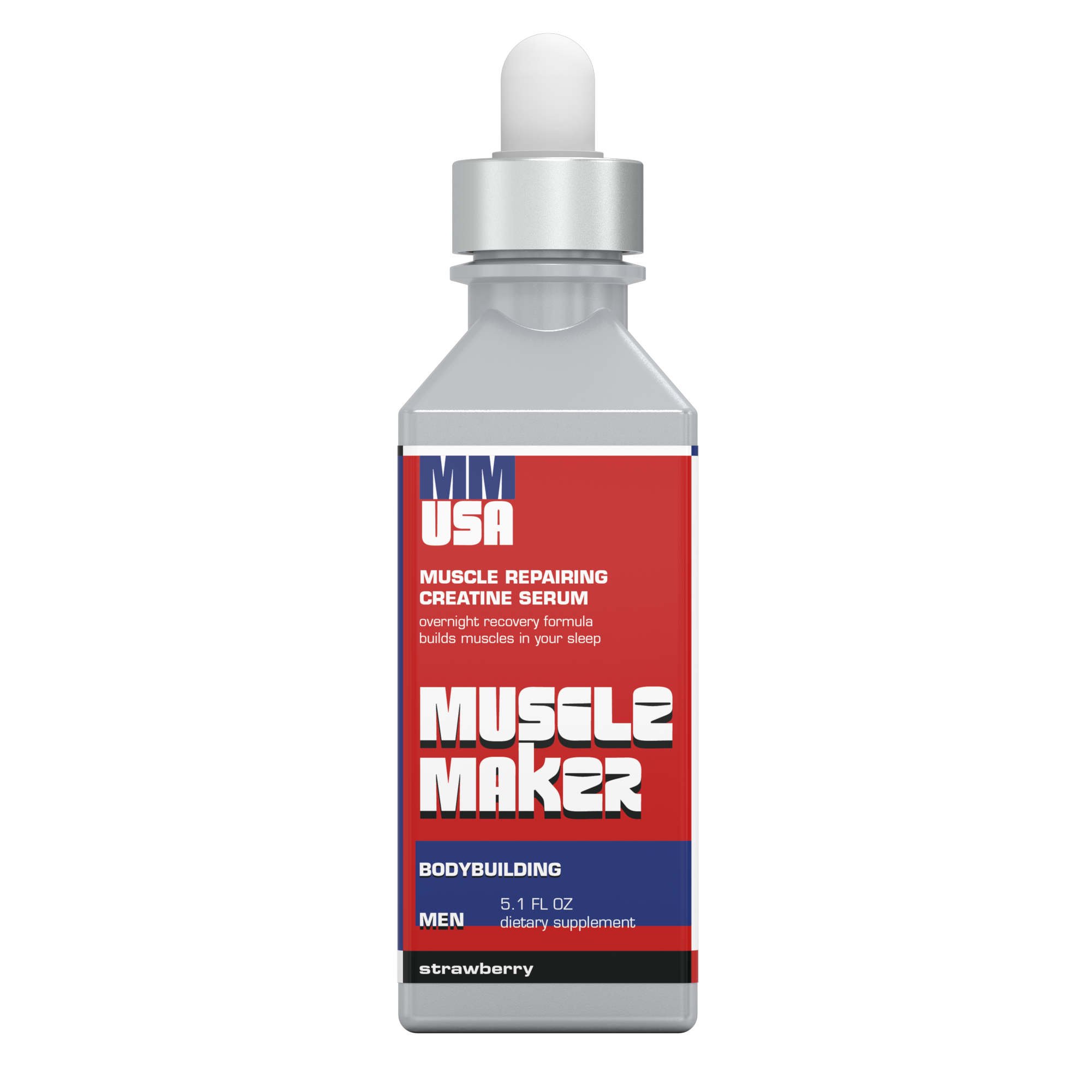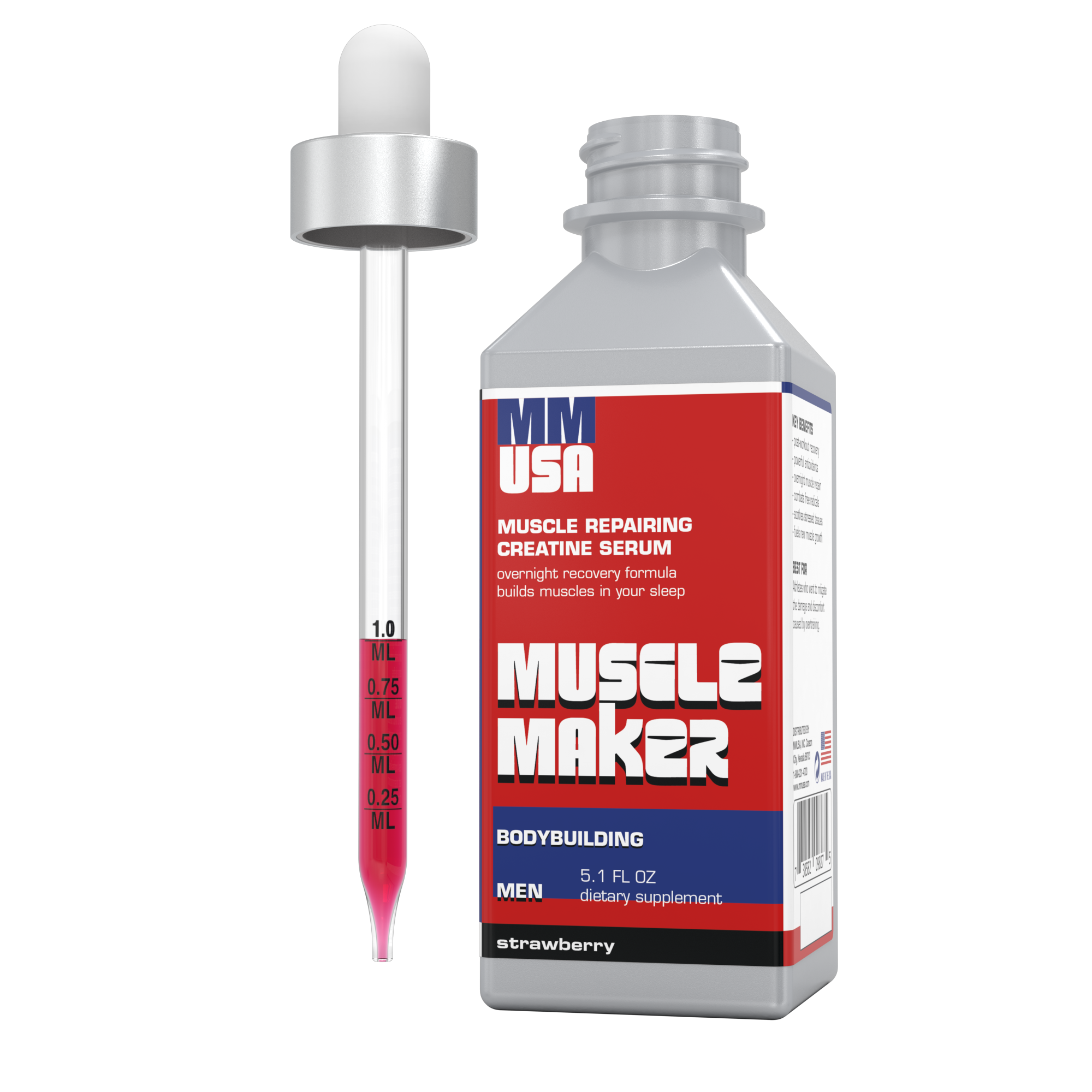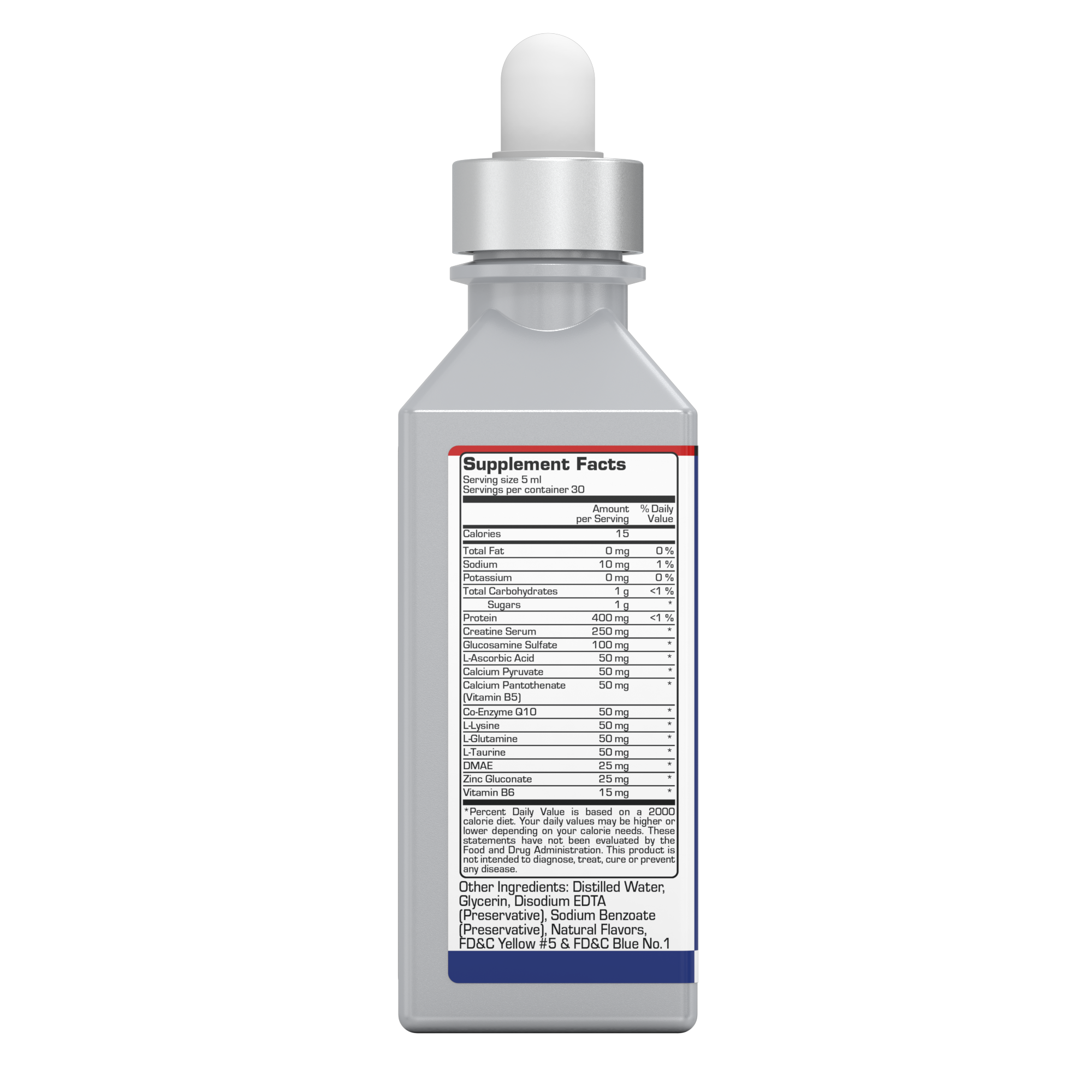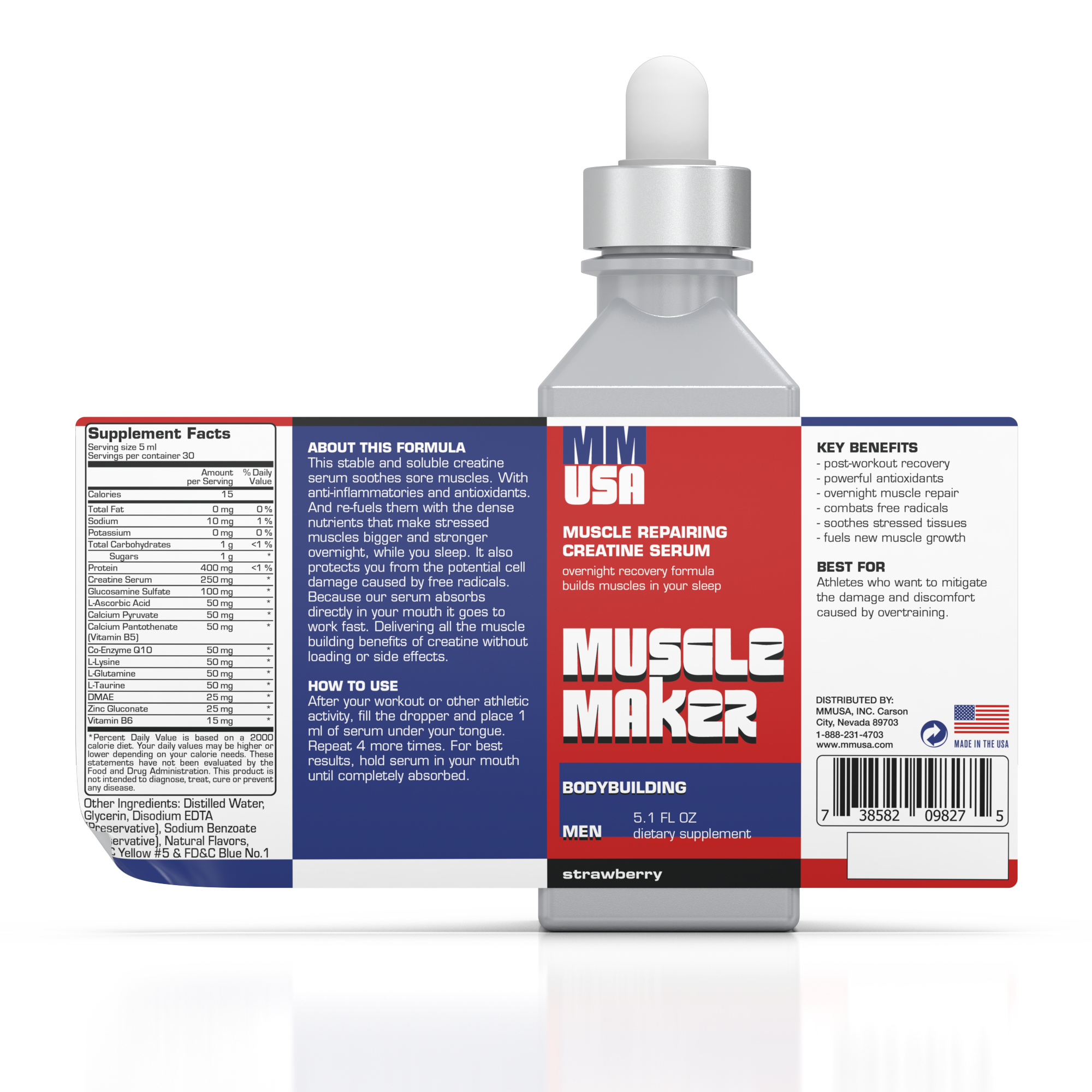 Muscle Maker Repairing Creatine Serum
Muscle Maker supports muscle recovery after intense activity with a blend of high-quality antioxidants, essential vitamins, and nutrients like Vitamin C, Calcium, Zinc, Vitamin B6, Creatine, L-Lysine, L-Glutamine, L-Taurine, and glucosamine to help repair and protect muscles. Ideal for athletes or those seeking fitness support.
Shipping info: Fast Shipping. Arrives in 3-5 business days for orders within US.
DETAILS
key benefits
PACKED WITH ANTIOXIDANTS AND HIGH POTENCY BLEND.  We are pleased to introduce Muscle Maker. First post-workout supplement with the highest blend of antioxidants and muscle protectors, such as Vitamin C, Creatine, L-Lysine, L-Glutamine, L-Taurine, and two powerful Calcium/Zinc complexes.
INCREASE THE SPEED OF YOUR RECOVERY AND MUSCLE GROWTH. Muscle Maker helps protect muscle cells from damage caused by free radicals and helps muscles to repair themselves more quickly following intense exercise.  It reduces soreness and improves stamina and overall recovery.
GET THE MOST OUT OF YOUR NEXT WORKOUT. Muscle Maker provides sufficient recovery and muscle-repair mechanisms while stimulating immune function. It's a complete nutritional solution that is perfect to fuel energy and physical performance.
HELPS REPLENISH ENERGY STORES. Muscle Maker supplies your body with everything it needs to repair and recover while also encouraging muscle growth. It also helps in replenishing energy stores and assisting in stimulating muscle growth.
FAST, EASY, AND EFFECTIVE. Muscle Maker is water-soluble, bioavailable, and potent making it fast and easy to absorb. It is most effective when taken immediately after workouts.
muscle maker
BEST FOR
Bodybuilders and athletes. It also works well as a general health supplement that can be taken on a daily basis.
WHAT IT IS
Muscle Maker is a post-workout antioxidant that repairs the damage caused by free radicals. Additionally, it gives you more energy over time and improves your performance to have better workouts and more power throughout the day.
WHAT IT DOES
Prevent workout-induced muscle soreness and promote faster recovery. It protects your muscle from oxidative stress,  suppresses inflammation, and reduces muscle damage.
nutrition facts
Serving Size 5 ml
Servings per container 30
| | Amount Per Serving | % Daily Value |
| --- | --- | --- |
| Calories | 15 | |
| Total Fat | 0 mg | 0% |
| Sodium | 10 mg | 1% |
| Potassium | 0 mg | 0% |
| Total Carbohydrates | 1 g | <1% |
| Sugars | 1 g | |
| Protein | 400 mg | <1% |
| Creatine Serum | 250 mg | |
| Glucosamine Sulfate | 100 mg | |
| L-Ascorbic Acid | 50 mg | |
| Calcium Pyruvate | 50 mg | |
| Calcium Pantothenate (Vitamin B5) | 50 mg | |
| Co-Enzyme Q10 | 50 mg | |
| L-Lysine | 50 mg | |
| L-Glutamine | 50 mg | |
| L-Taurine | 50 mg | |
| DMAE | 25 mg | |
| Zinc Gluconate | 25 mg | |
| Vitamin B6 | 15 mg | |
**Daily Value not established.
Other Ingredients: Distilled Water, Glycerin, Disodium EDTA (preservative), Sodium Benzoate (preservative), Natural Flavors, FD&C Yellow #5 and FD&C Blue #1.
INGREDIENTS
Protein
Helps restore the muscle and build strength by providing the body the necessary amino acids.
Creatine
Helps prevent muscle damage and enhances the recovery process after exercise. It minimizes muscle soreness and fatigue.
Glucosamine Sulfate
Plays a vital role in building and repairing cartilage plus it helps alleviate joint pain.
L-Ascorbic Acid
A highly effective antioxidant protecting cells from damage by free radicals.
Calcium Pyruvate
Helps retention of muscle building plus it helps boost metabolism and increases energy levels.
Calcium Pantothenate (Vitamin B5)
Necessary for making blood cells and it helps you convert the protein, carbohydrates, and fats you eat into energy.
Co-Enzyme Q10
Decreases oxidative stress in the cells and reduces exhaustive exercise-induced muscular injury by enhancing stabilization of muscle cell membrane.
‍
L-Lysine
Helps the body absorb calcium and plays an important role in the formation of collagen, a substance important for bones and connective tissues including skin, tendons, and cartilage.
L-Glutamine
Helps in overall muscle recovery after exercise. It helps decrease muscle soreness through improved muscle repair and glycogen repletion.
L-Taurine
A powerful endogenous antioxidant which increases muscle mass and strength, reduces muscle damage caused by exercise, accelerate recovery between workouts, and may also have an insulin-like effect in the body.
DMAE
Acts as an anti-inflammatory agent.
Zinc Gluconate
Boosts immune function and fights inflammation. It acts as an antioxidant and helps protect against chronic conditions, such as heart disease and diabetes.
Vitamin B6
Promotes normal red-cell formation, regulates the excretion of water, increases energy production and resistance to stress.
‍
HOW TO USE
After your workout or other athletic activity, fill the dropper and place 1 ml of serum under your tongue. Repeat 4 more times.
‍
For the best result, hold serum in your mouth until completely absorbed
March 2, 2023
Steve L.
Faster recovery. I'm never sore after a workout. Results have come pretty quick. I'm quite satisfied.
February 20, 2023
Mikey Welsh
This is my third bottle and so far it works great and is not filled with a bunch of junk. Just clean recovery. As a weightlifter, I care about what I put in my body, and this is my number one product.
February 9, 2023
Josh Grunden
I've been using it for about a month and delivering good results. It is the best post-workout and muscle gains supplement I have taken.
January 16, 2023
Caleb Turner
I've tried many post-workout supplements in the past, but this post workout creatine serum is the best by far. The unique blend of ingredients helps me recover faster, reducing muscle fatigue and soreness. I'm seeing more gains than ever before!
Add Review
Thanks for submitting your review!
We will publish it once approved.
CONTINUE SHOPPING