CREABEV™
soluble & stable creatine monohydrate for superior performance beverages. the most stable form of creatine monohydrate
Stable at High Processing Temps
Improved Short Term Stability
Improved Dispersion
Features a patent pending encapsulation technology that facilitates a more stable creatine monohydrate.
Contains 68-74% of creatine monohydrate.
suitable for:
1

Acidic and Neutral pH Ready-to-Drink Beverages Extended stability at high processing temperatures

2

Ready-to-Mix Powdered Beverages Improved short term stability and dispersion
what is creatine and what does it do?
What is creatine and
what does it do?
Creatine occurs naturally in the body and is commonly sold as creatine monohydrate as a dietary supplement.
Creatine is the body's first choice of energy for anaerobic activity.
Studies have consistently indicated that creatine supplementation increases muscle creatine and phosphocreatine concentrations by approximately 15–40% which is used to supply energy to muscles.
Increase cellular energy supplies
Enhances anaerobic exercise capacity
Increases training volume
Greater gains in strength, power, and muscle mass
drawbacks of standard creatine monohydrate
Unstable in solution
Standard sources of creatine have poor solubility and are not stable in water due to the degradation to Creatinine 1
Degrades at room temperature
The rapid degradation of creatine in solution impedes the manufacture of shelf-stable beverages containing efficacious amounts of creatine2

CREABEV™ offers a creatine
solution that is stable and
soluble in water beverages
with less degradation
Creatine is readily degraded to creatinine when stored at room temperature
Creatinine is the waste product derived from creatine and provides no benefits to the body
Creatinine is removed from the body as waste
drawbacks of Standard Creatine Monohydrate
Creabev™ is the ideal solution for your sports nutrition and energy beverage needs
1

Soluble source of creatine for ready-to-drink acidic and neutral pH beveragesHeat stable during heat processing with no crystallization

2

Improved dispersion for ready-to-mix powdered beverages Highly stable creatine in water at room temperature in water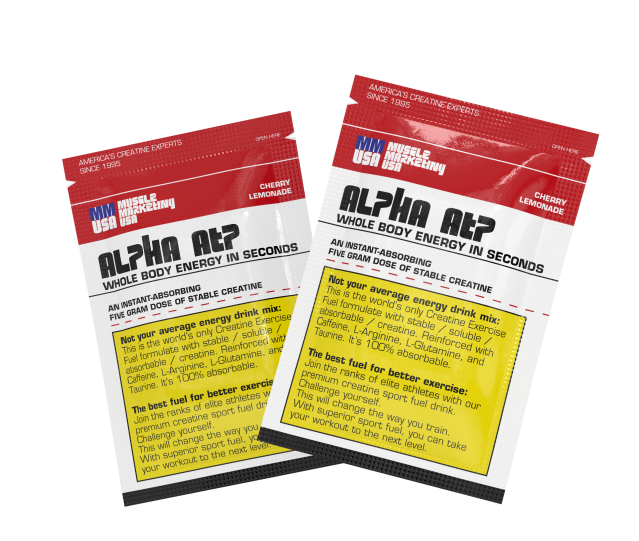 short term acceleration studies
Creabev™'s Superior Short Term Stability
CREATINE.com VS. STANDARD CREATINE MONOHYDRATE

CREABEV™ versus standard creatine
monohydrate in ready-to-mix powdered
beverages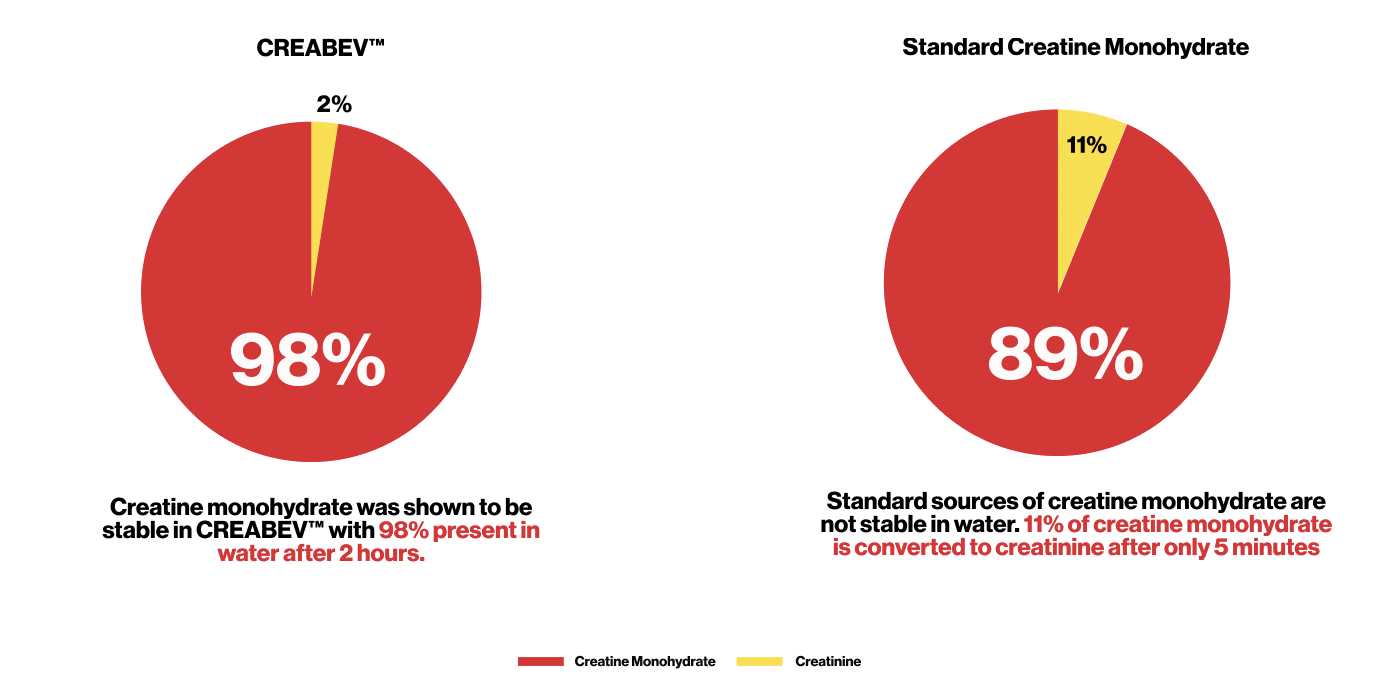 CREABEV™ is more dispersible than standard creatine monohydrate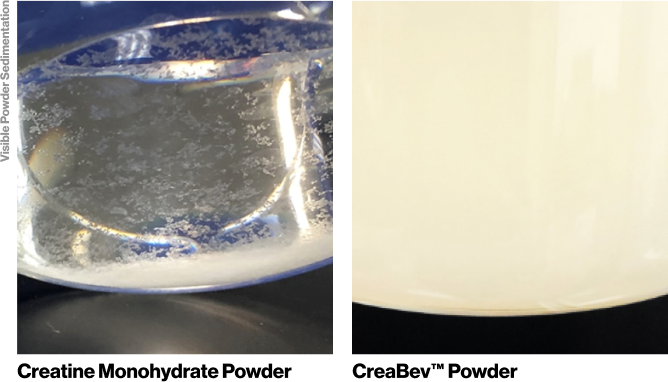 long term shelf life studies ready-to-drink beverages
12 month stability study of creatine.com and standard creatine monohydrate at a neutral ph

CREABEV™ versus standard creatine
monohydrate in ready-to-mix powdered
beverages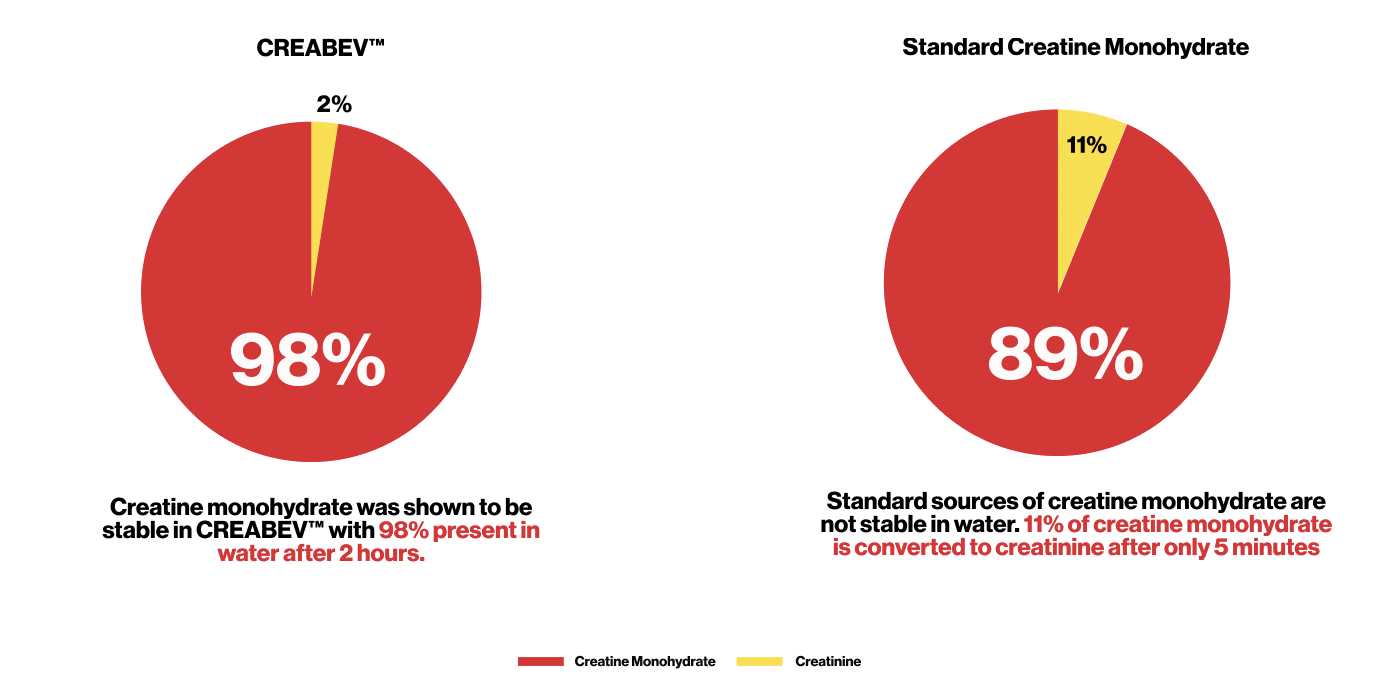 CREABEV™ is more dispersible than standard creatine monohydrate