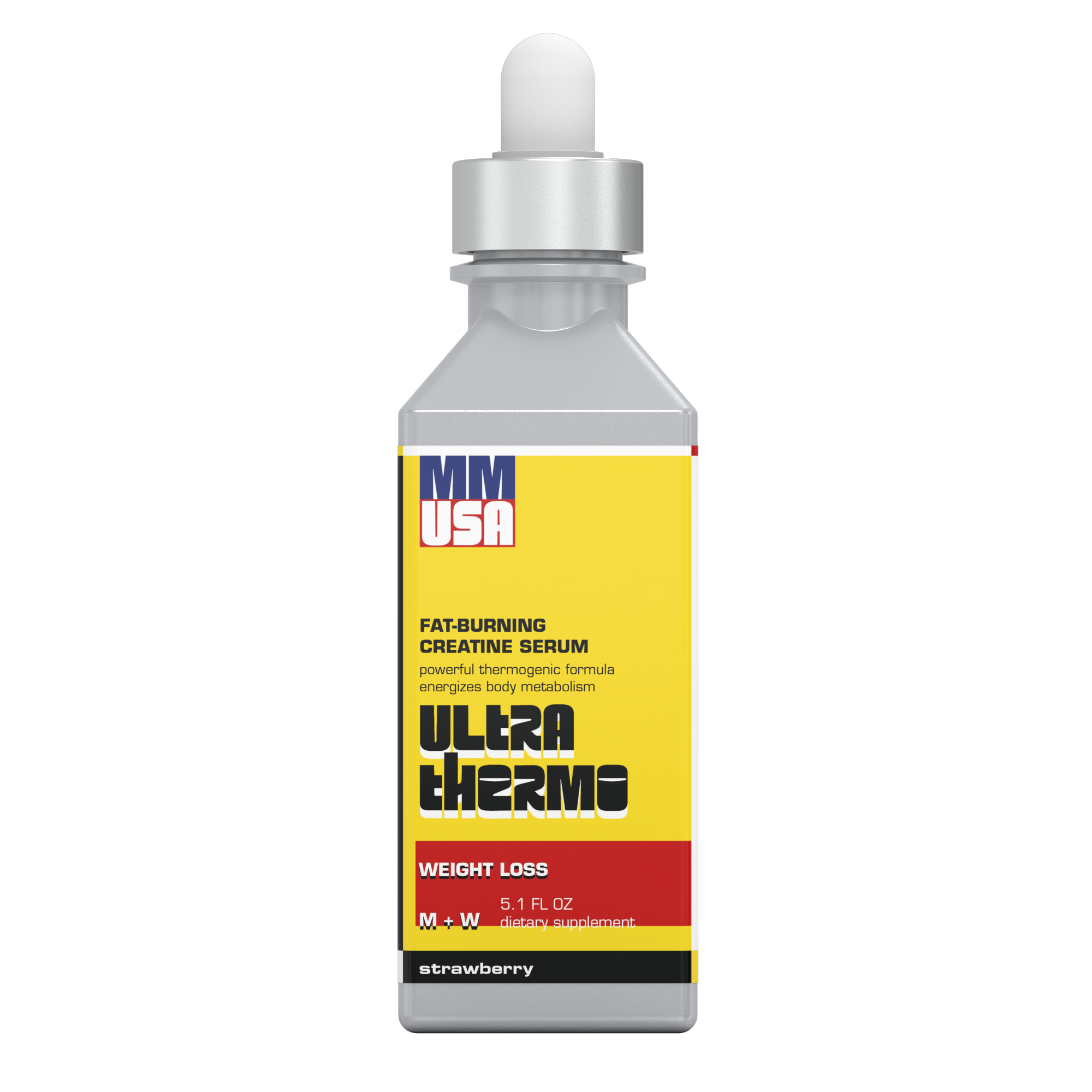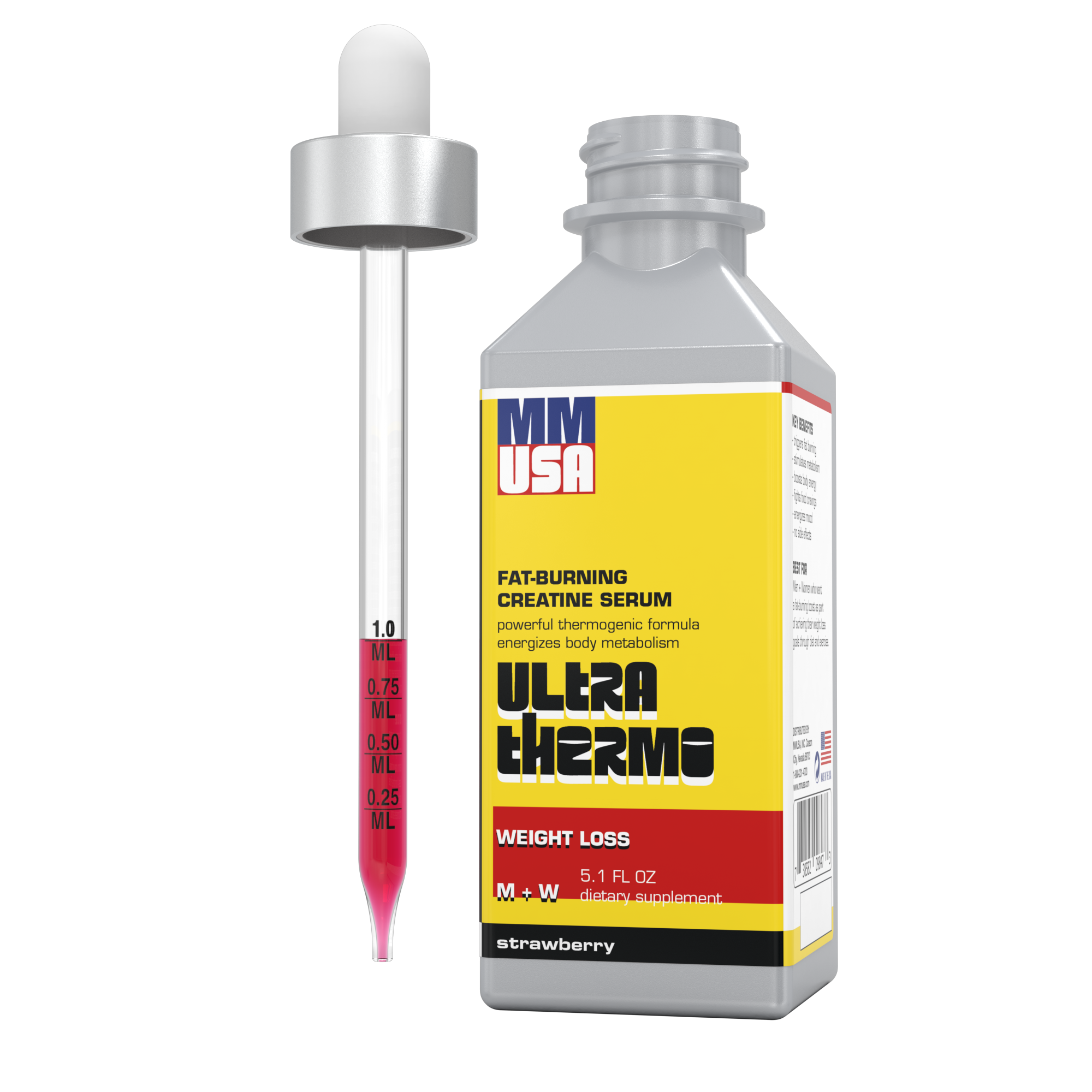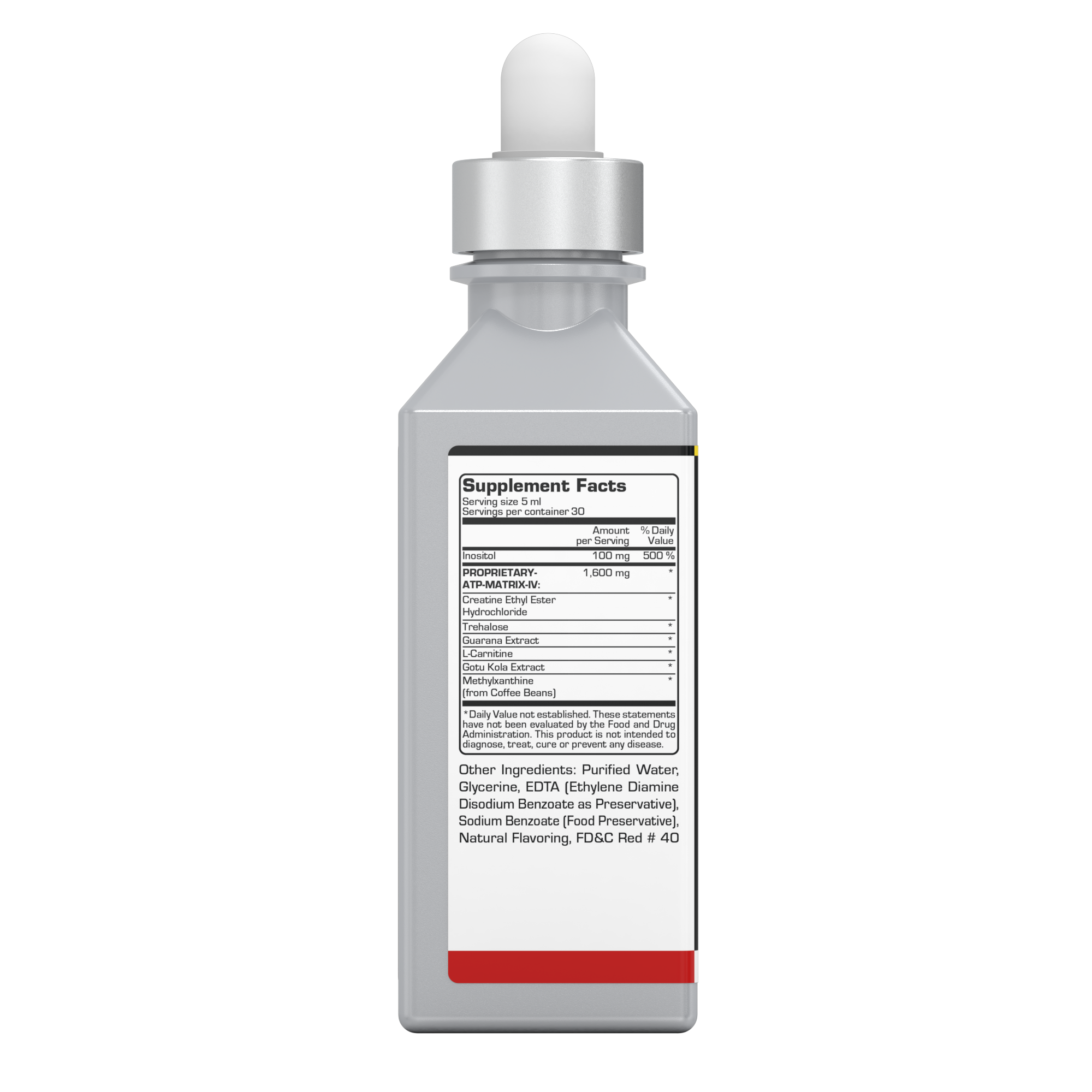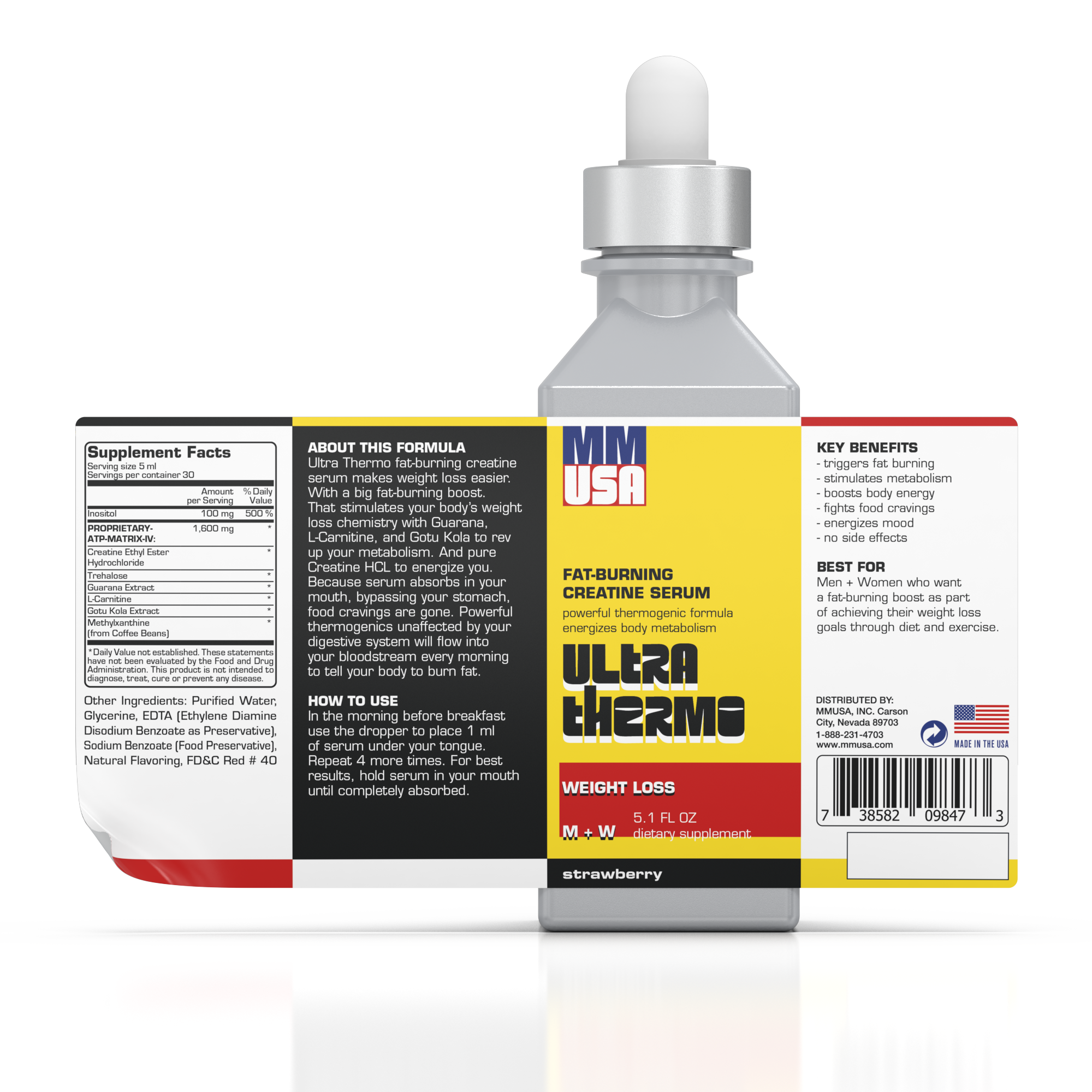 Ultra Thermo Fat-Burning Creatine Serum
Burn fat, not muscle, with Ultra Thermogenic Serum. This supplement accelerates fat burn, increases energy levels, boosts metabolism, and targets belly fat without harsh stimulants or side effects. It's 100% bioavailable and safe for anyone looking to get leaner, stronger, and fitter.
Shipping info: Fast Shipping. Arrives in 3-5 business days for orders within US.
DETAILS
key benefits
FOR ENERGY, APPETITE CONTROL & INCREASED METABOLISM. What can you expect from this formula? Ultra Thermo boosts energy, curbs appetite, and recharges your ATP cycle, allowing you to work out longer and harder.
ULTRA THERMO – BURN CALORIES & IMPROVE OVERALL HEALTH! It is a safe alternative to high-caffeine products that can harm your body, cause you to jitter, and lack energy when you need it most. It is a fat burner and an energy booster that improves your physical performance.
SUPERCHARGE YOUR PERFORMANCE. BOOST YOUR ENERGY. This cutting-edge formula increases metabolic rate, stimulates thermogenesis, and may inhibit protein breakdown, which may promote muscle growth. Supports cardio or aerobic exercise-an excellent formula to burn calories and improve overall health.
GET LEAN, BURN FAT, AND BUILD MUSCLE. Using Ultra Thermo thermochemically stimulates your metabolism by producing heat, converting your body into a fat-burning machine that efficiently burns fat. Your metabolic rate will rise steadily. As a result, it allows you to train harder and more often with better results.
SLIM DOWN. Ultra Thermo combines five scientifically proven ingredients which include Inositol, Guarana extract, Gotu kola extract,  L-Carnitine, and Creatine to help you stay energized,  fit, and healthy and burn fat, safely.
ultra thermo
BEST FOR
Individuals who are looking for a safe source of intensive physical energy that will help them build lean muscles faster without any side effects all the while bolstering their fat-burning metabolism.
WHAT IT IS
Ultra Thermo Serum is made of natural ingredients that improve the metabolism rate all the while encouraging the body to burn fat faster and covering it into energy more quickly. What's more, it contains creatine HCL to improve your ATP energy levels when the workout is intense.
WHAT IT DOES
It boosts metabolism and energy levels without causing any side effects. It does not burn lean muscles, or cause nervousness, tremors, or sleep loss.
nutrition facts
Serving Size 5 ml
Servings per container 30
| | Amount Per Serving | % Daily Value |
| --- | --- | --- |
| Inositol | 100 mg | 500% |
| PROPRIETARY-ATP-MATRIX-IV: | 1600 mg | ** |
| Creatine Ethyl Ester HCL | | |
| Trehalose | | |
| Guarana Extract | | |
| L Carnitine | | |
| Gotu Kola Extract | | |
| Methylxanthine (from coffee beans) | | |
**Daily Value not established.
Other Ingredients: Purified Water, Glycerine, EDTA (Ethylene Diamine Disodium Benzoate as preservative). Sodium Benzoate (Food Preservative), Natural flavoring, FD&C Red No. 40.
INGREDIENTS
Inositol
Regulates blood sugar ans boosts your metabolism.
PROPRIETARY- ATP-MATRIX-IV
Creatine Ethyl Ester HCL
Radical muscle powering compound. Supercharges energy levels.
Trehalose
Fast metabolizing disaccharide for rapid high energy.
Guarana Extract
Catalyzes energy production, mental alertness, endurance, and fat metabolism.
‍
L-Carnitine
Triggers energy by enabling fatty acid transport into cellular mitochondria.
Gotu Kola Extract
Natural anti-inflammatory increases energy and stimulates circulation.
Methylxanthine
Enhances high-intensity cognitive + neuromuscular performance.
HOW TO USE
In the morning before breakfast, use the dropper to place 1 ml of serum under your tongue.  Repeat 4 more times.
‍
For best results, hold serum in your mouth until completely absorbed.
March 9, 2023
J. Nguyen
Great product, and works on day one. Nice appetites suppressor, high energy without the tremors!!
February 26, 2023
Ollie G.
As someone who has struggled with weight my entire life, I was skeptical about trying another weight loss product. But Ultra Thermo exceeded my expectations! Not only did it help me lose weight, but it also gave me a much-needed energy boost that has helped me be more productive throughout the day.
January 27, 2023
Luke Mitchell
I've tried so many weight loss products in the past, but Ultra Thermo is the first one that has really worked for me. This serum is easy to use, tastes great, and has helped me shed the pounds I've been struggling to lose. I highly recommend giving it a try.
January 13, 2023
Quinn M.
I've been using this product for two weeks now. They seem to be doing very well and give me the incentive to drink more water throughout the day which I really needed as well.
Thanks for submitting your review!
We will publish it once approved.
CONTINUE SHOPPING