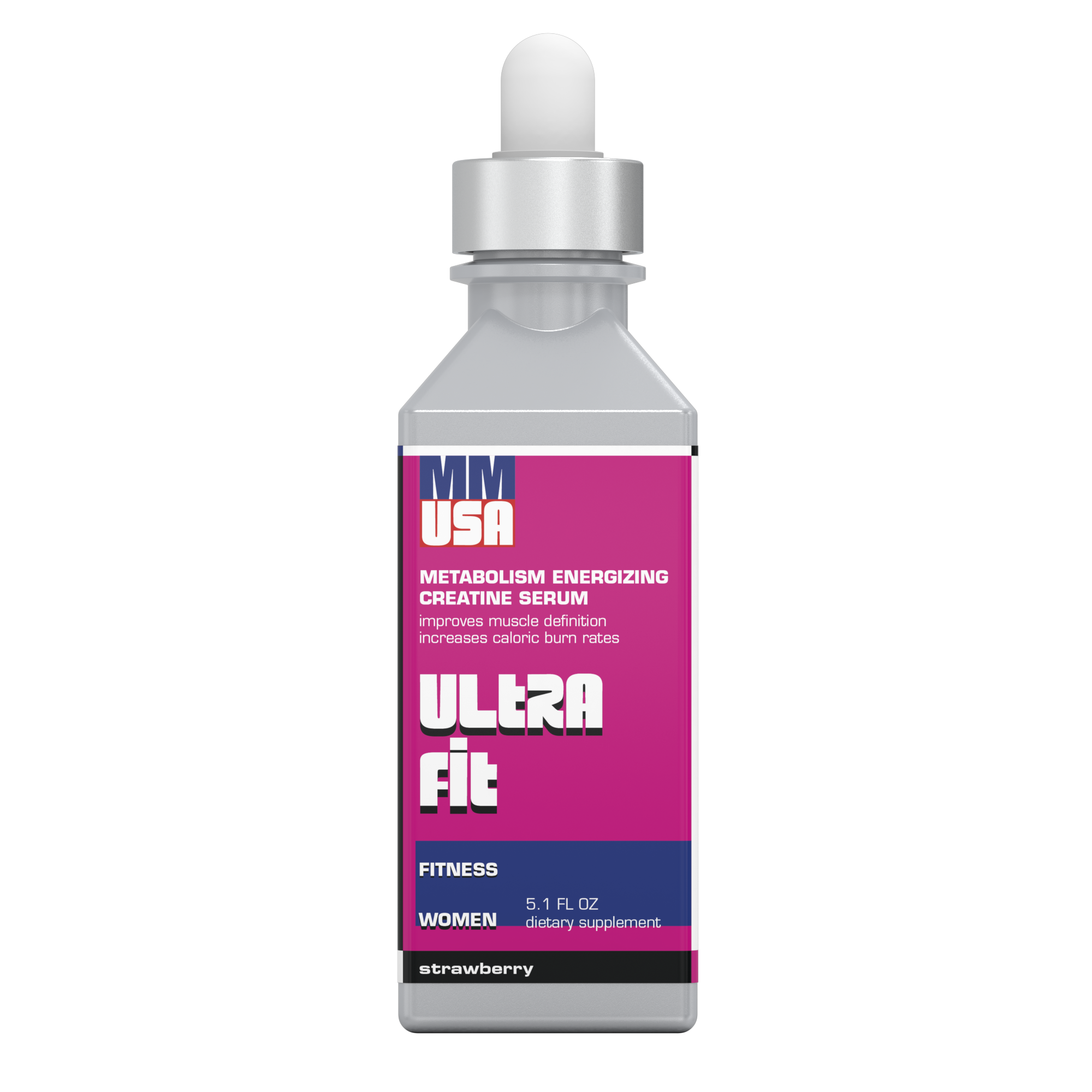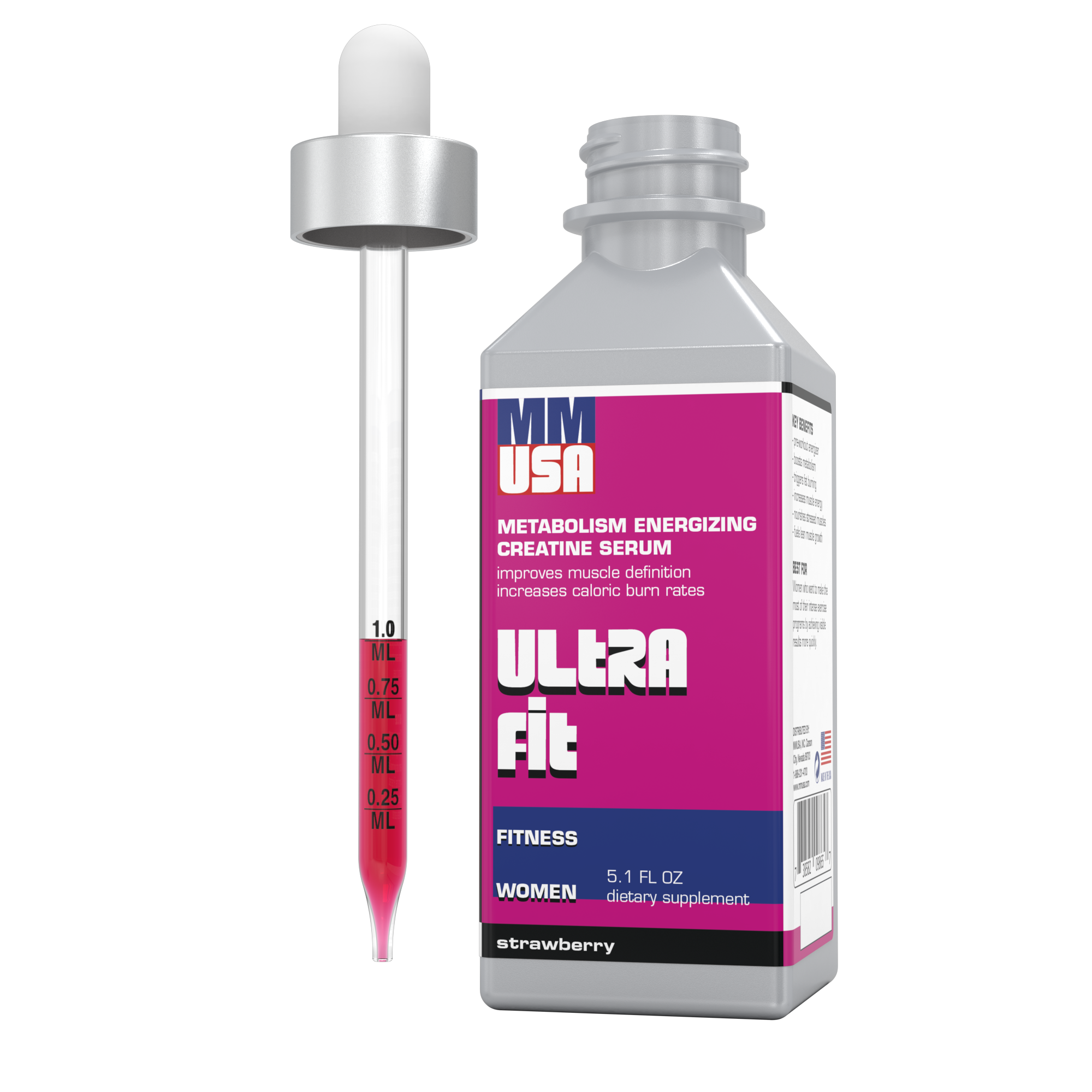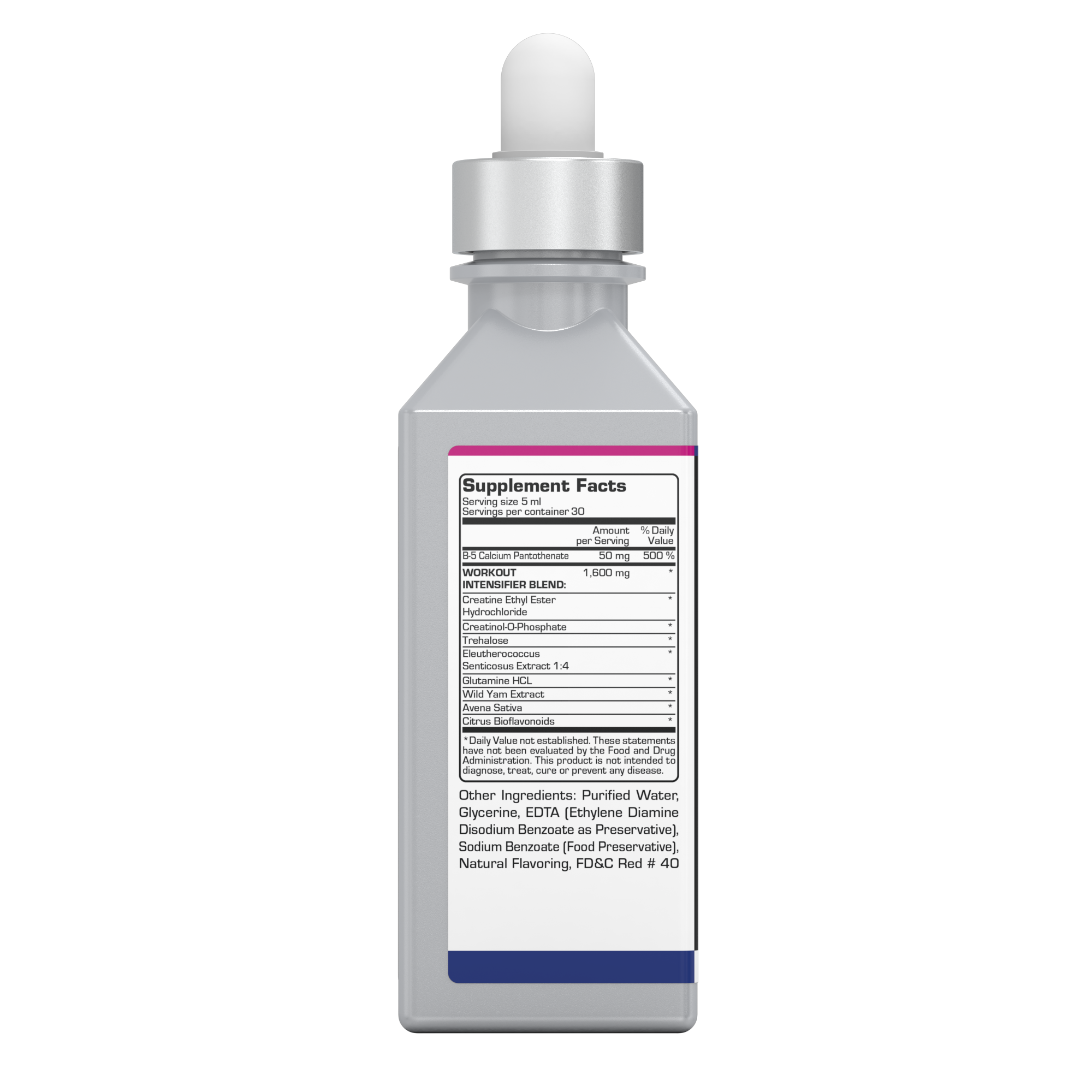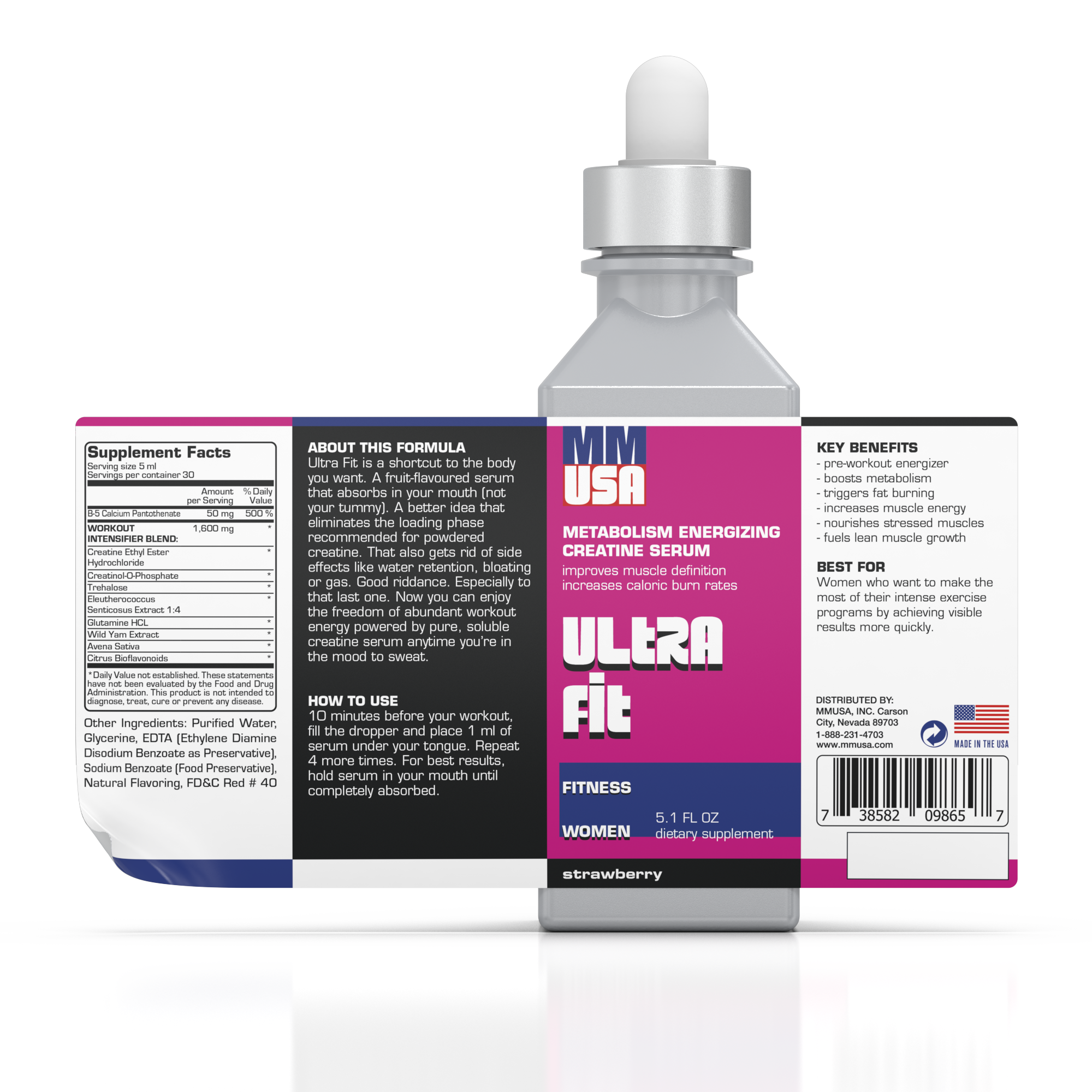 Ultra Fit Metabolism Energizing Creatine Serum

Ultra Fit for Women increases strength, power, and stamina without adverse side effects like bloating or water retention. It supports muscle strength, bone mass, and high-intensity exercise while aiding in recovery. Safe and gentle, it provides an energy boost for women serious about strength training and high-intensity sports.
Shipping info: Fast Shipping. Arrives in 3-5 business days for orders within US.
DETAILS
key benefits
NEW CREATINE FORMULA DESIGNED SPECIFICALLY FOR WOMEN.  The formula provides maximum energy and power by combining two forms of stable liquid creatine and other ingredients and maximizing intensity and recharge. Water retention will not occur, and a constant recharge of the ATP cycle is continuous throughout the workout. No lactic acid development either.
INCREASE POWER; INTENSE WORKOUT; NO BLOATING. MMUSA introduced a stable form of creatine that absorbs directly into the bloodstream when taken minutes before training. This formula is designed exclusively for women because some have complained of bloating and water retention after using creatine.
BOOST YOUR WORKOUTS INSTANTLY. An MMUSA sports nutrition serum has an energizing effect, is fast-acting, and is convenient. No more waiting hours for pills or powders to absorb, and you absorb 98% of the nutrients from these liquid supplements straight into your bloodstream.
FEEL THE POWER AT LIGHTNING SPEED! Feel the power of a pre-workout supplement that delivers results at lightning speed when you take a delicious, fruit-flavored microdose under your tongue before training.
WOMEN'S STRENGTH AND POWER FITNESS. Creatine is safe to use. This formula does not require loading, maintenance, or any other traditional method of using creatine. Take 5 ML under the tongue a few minutes before working out, and you're ready to go. It's guaranteed.
‍
ultra fit
BEST FOR
Women looking to improve their strength. With Ultra Fit, you will be able to increase your strength while increasing your power and stamina.
WHAT IT IS
Ultra Fit is a women's pre-workout supplement that is scientifically formulated to enhance your training. It will give you more power, stamina, and endurance.
WHAT IT DOES
Ultra Fit is designed to help women increase their strength and power. It is a non-hormonal formula that will help women with high-intensity training, like sports or weight training.
nutrition facts
Serving Size 5 ml
Servings per container 30
| | Amount Per Serving | % Daily Value |
| --- | --- | --- |
| B5 Calcium Pantothenate | 50 mg | 500% |
| WORKOUT INTENSIFIER BLEND: | 1600 mg mg | ** |
| Creatine Ethyl Ester HCL | | |
| Creatinol-O-Phosphate | | |
| Trehalose | | |
| Eleutherococcus Senticosus Extract 1:4 | | |
| Glutamine HCL | | |
| Wild Yam Extract | | |
| Avena Sativa | | |
| Citrus Bioflavonoids | | |
**Daily Value not established.
Other Ingredients: Purified Water, Glycerine, EDTA (Ethylene Diamine Disodium Benzoate as preservative). Sodium Benzoate (Food Preservative), Natural flavoring, FD&C Red No. 40.
INGREDIENTS
Calcium Pantothenate
Vital for high-energy muscular contractions and strong bones.
WORKOUT INTENSIFIER BLEND:
Creatine Ethyl Ester Hydrochloride (HCL)
Potent, most explosive hybrid creatine molecule which helps increase muscle cell volumization, eliminates the need for all loading and scheduling. 99 times more absorbable than creatine monohydrate.
Creatinol-O-Phosphate
Radical muscle-building compound supercharges strength.
Trehalose
Fast-metabolizing disaccharide recharges exhausted muscle energy stores.
‍
Eleutherococcus Senticosus Extract
Anti-inflammatory adaptogen extends energy + endurance.
Glutamine
Stimulates protein synthesis and HGH production + helps build lean muscle.
Wild Yam
Helps improve gastric health and promotes good gut bacteria.
Citrus Bioflavonoids
Increase muscular strength and muscle endurance.
‍
HOW TO USE
10 minutes before your workout, fill the dropper and place 1 ml of serum under your tongue. Repeat 4 more times.
‍
For best results, hold serum in your mouth until completely absorbed.
‍
March 3, 2023
Kelly Schassburger
I was surprised at how great the results was! This is some really great energy without the jitters! 10 out of 10 recommend!
February 23, 2023
Sue Albert
I bought this product to gain strength and motivate me to get up and workout after a long day at work. I am trying it right now for the 1st time. I gave 4 stars since I don't know yet how I'll feel but the taste is pretty good.
February 16, 2023
Cynthia Berg
Ultra Fit is very effective and doesn't leave the tingling feeling or bloating that other creatine preworkout gives.
January 25, 2023
Rosa O.
Great boost of energy. This product delivers the right amount of energy needed without giving you the well known pre-workout itch.
Thanks for submitting your review!
We will publish it once approved.
CONTINUE SHOPPING