Ultra Fit Metabolism Energizing Creatine Serum
---
Ultra Fit Metabolism Energizing Creatine Serum is a safe energy booster engineered for women's bodies. No bulk. No bloating. No excess weight gains. Just increased pure energy, leaner muscles, and a toned-up body.
Shipping info: Fast Shipping. Arrives in 3-5 business days for orders within US.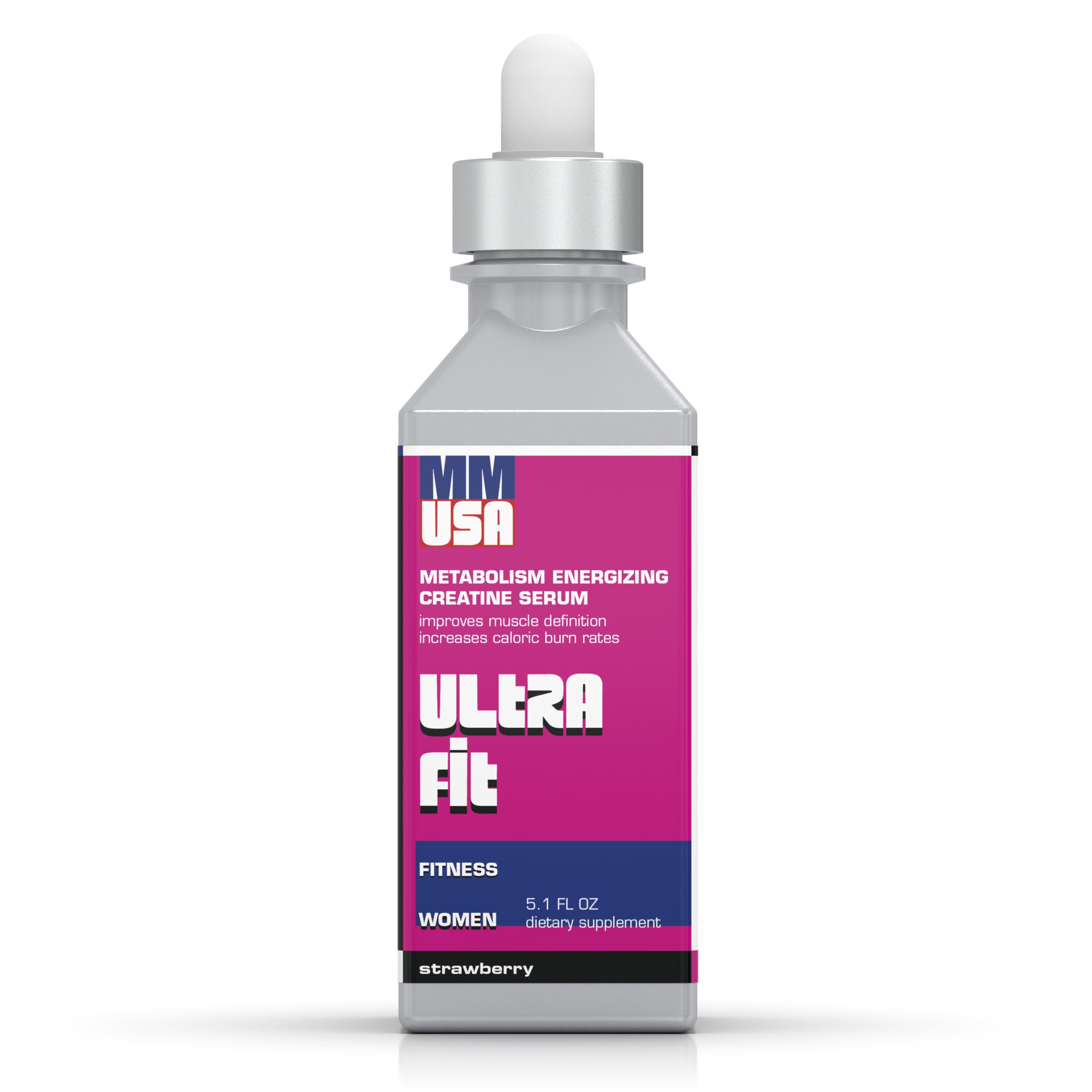 This product is for:
Women Who Want To Improve Their Muscle Definition
Pre-Workout Energizer + Nourishes Stressed Muscles
Description
GET A TONED UP BODY WITHOUT BEING BULKY
Ultra Fit Metabolism Energizing Creatine Serum helps women do strength training without looking bulky like a bodybuilder. This pre-workout formula lets you increase your intensity and get leaner without getting into a catabolic state (when your muscles are breaking down, not building up). Water-soluble TONED UP is quickly absorbed and generates energy fast while avoiding the water retention and bloating that female athlete often experience using creatine and other amino acids in powder form. Ready, set, get Ultra Fit.
PREVENTS WATER RETENTION AND BLOATING
Ultra Fit is a shortcut to the body you want. A fruit-flavored serum that absorbs in your mouth (not your tummy). A better idea that eliminates the loading phase recommended for powdered creatine. That also gets rid of side effects like water retention, bloating, or gas. Good riddance. Especially to that last one. Now you can enjoy the freedom of abundant workout energy powered by pure, soluble creatine serum any time you're in the mood to sweat.
100% ABSORBABLE SERUM
Ultra Fit absorbs in your mouth, not your gut. Pure and soluble creatine flows into your power-hungry muscles instantly. ATP levels are immediately supercharged. The hassle and delay of loading and maintenance are a thing of the past. Water weight gain is eliminated.
PROUDLY MADE IN THE USA
Muscle is our first name. But our family name is USA. All our products are sourced and manufactured in the United States. We comply with all good manufacturing practices.
SINCE 1995
We have been committed to empowering athletes all over the world. Since our invention of Creatine Serum over 25 years ago, we have changed the way the world works out. By offering everyone who wants to try, the power to be their best.
How to use
10 mins. before your workout, fill the dropper and place 1 ml of serum under your tongue. Repeat 4 more times. For best results hold serum in your mouth until completely absorbed.
Ingredients
Calcium Pantothenate
Vital for high-energy muscular contractions and strong bones.
WORKOUT INTENSIFIER BLEND:
Creatine Ethyl Ester Hydrochloride (HCL)
Potent, most explosive hybrid creatine molecule which helps increase muscle cell volumization, eliminates the need for all loading and scheduling. 99 times more absorbable than creatine monohydrate.
Creatinol-O-Phosphate
Radical muscle-building compound supercharges strength.
Trehalose
Fast-metabolizing disaccharide recharges exhausted muscle energy stores.
Eleutherococcus Senticosus Extract
Anti-inflammatory adaptogen extends energy + endurance.
Glutamine
Stimulates protein synthesis and HGH production + helps build lean muscle.
Wild Yam
Increase muscular strength and muscle endurance.
Citrus Bioflavonoids
Increase muscular strength and muscle endurance.
Key Benefits
• Pre-Workout Energizer
• Boosts Metabolism
• Triggers Fat Burning
• Increases Muscle Energy
• Nourishes Stressed Muscles
• Fuels Lean Muscle Growth