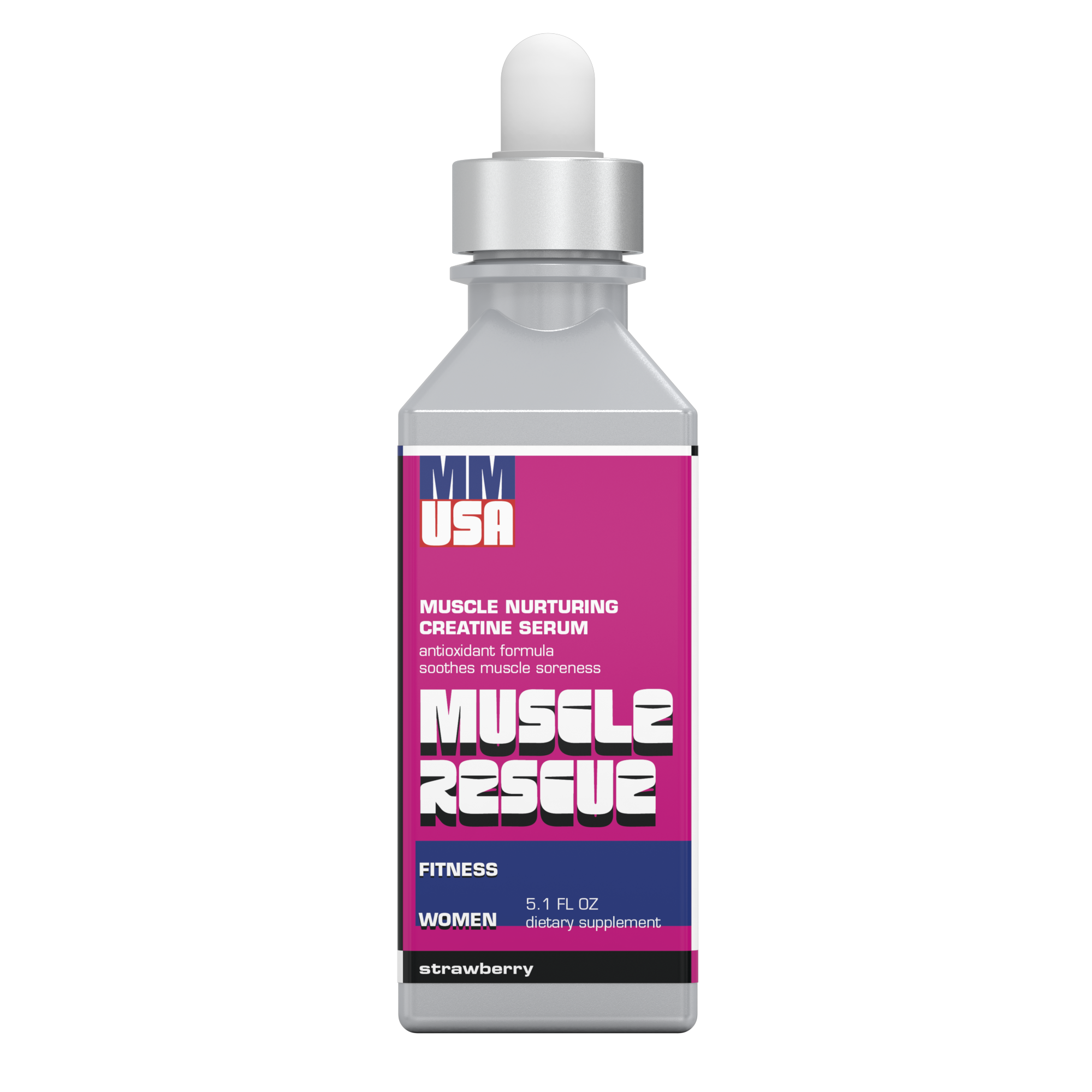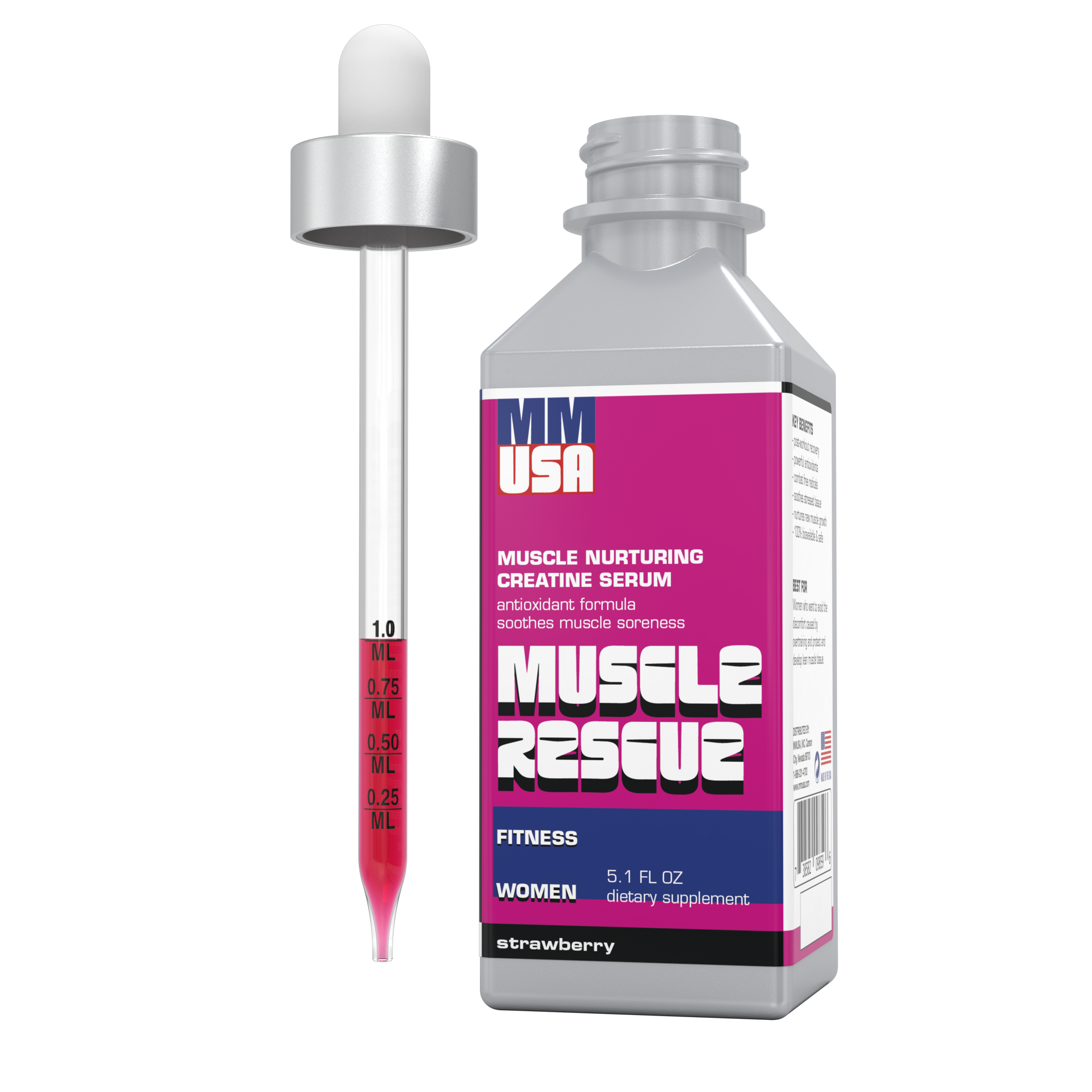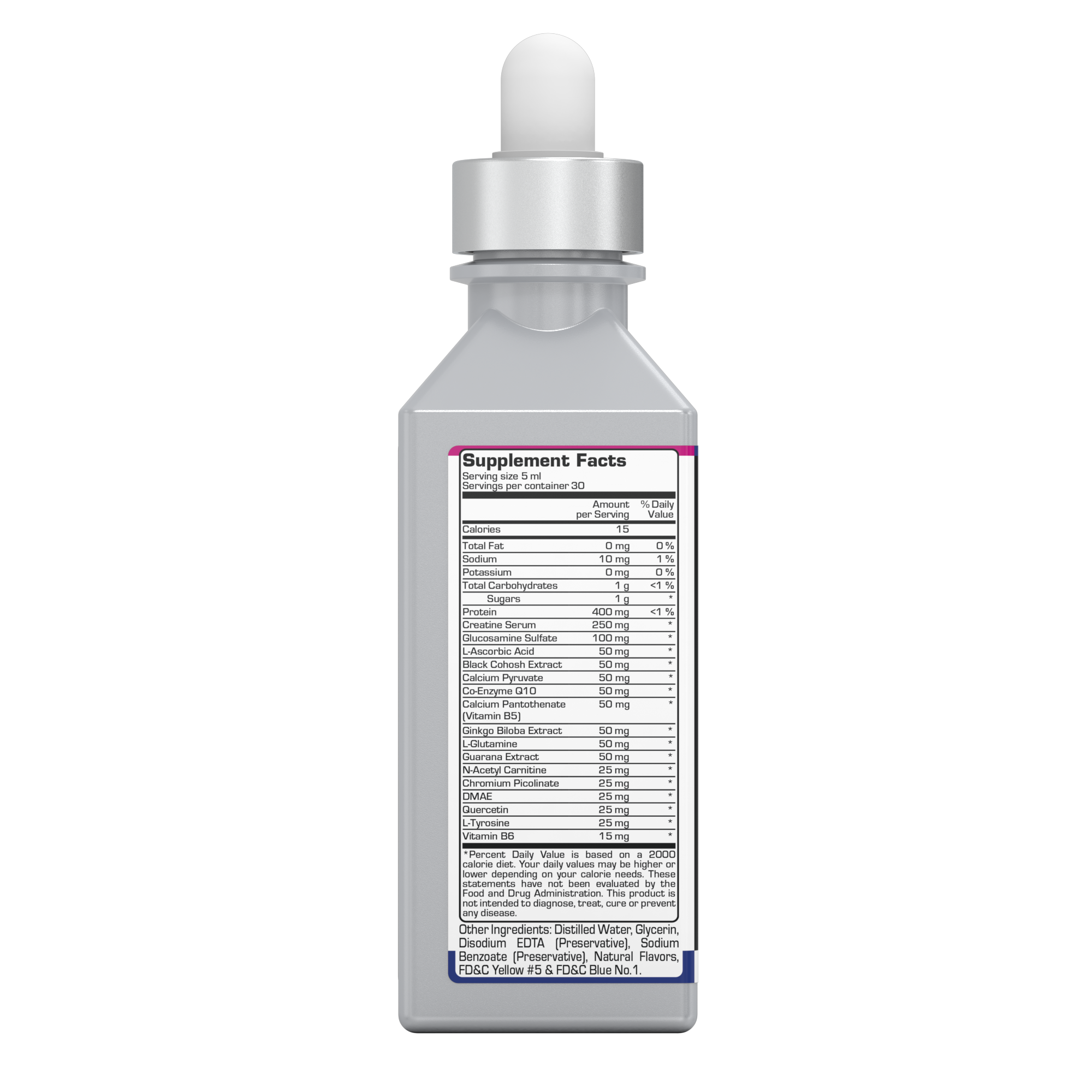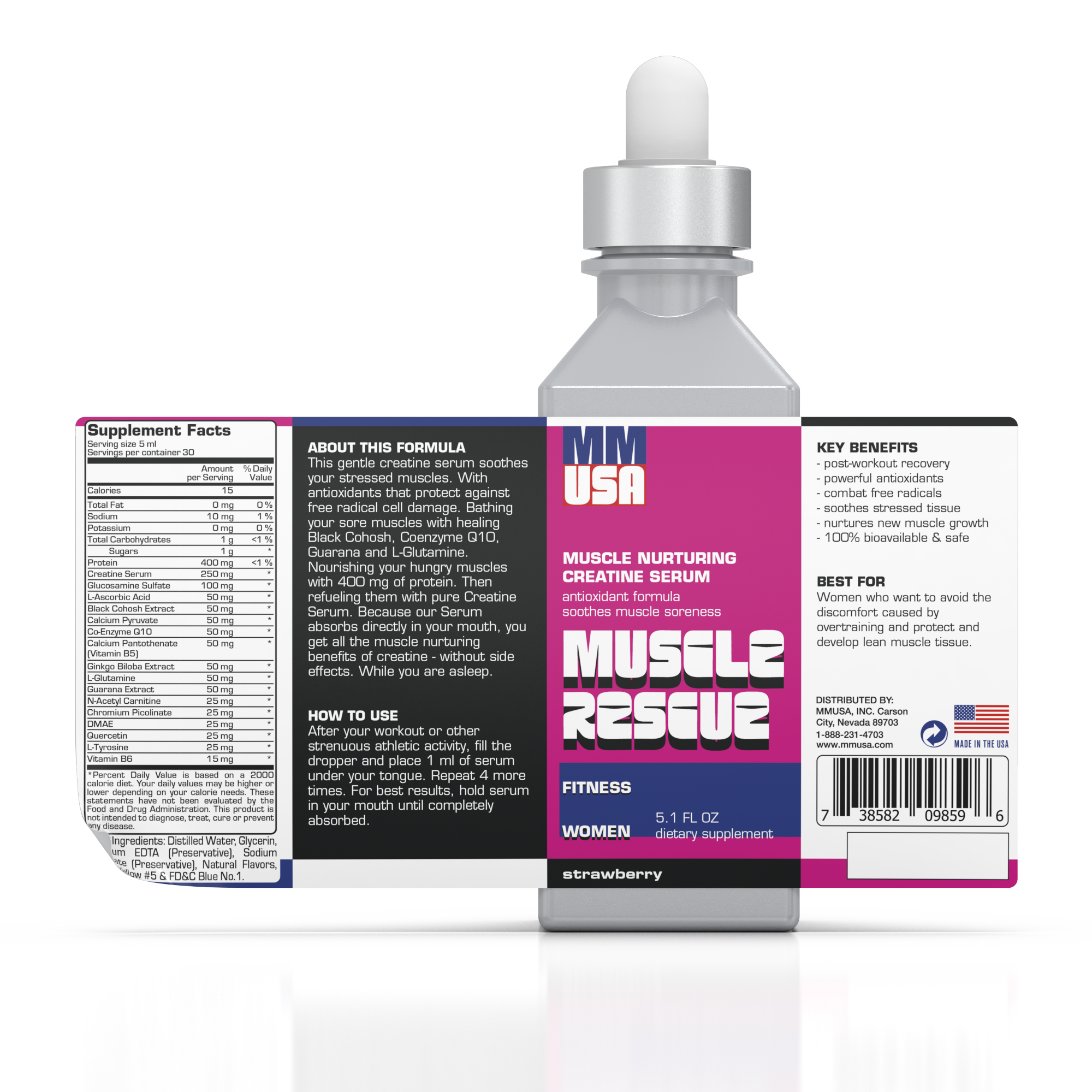 Muscle Rescue Nurturing Creatine Serum

Muscle Rescue Post Workout supplement maximizes protection and recovery after strenuous physical activity with its innovative blend of antioxidants and joint-protecting ingredients. Reduce aches and pains, increase muscle synthesis, and protect your joints and connective tissue. Train harder without the worry of injury or overtraining.
Shipping info: Fast Shipping. Arrives in 3-5 business days for orders within US.
DETAILS
key benefits
PREMIUM POST-WORKOUT RECOVERY FOR WOMEN. A healthy and well-balanced lifestyle is essential for optimum health, but sometimes our busy schedules can get in the way. Muscle Rescue Post Workout supplement for women helps you stay on track by delivering everything you need to recover faster after a hard workout.
REBUILD YOUR TORN MUSCLES AS FAST AS POSSIBLE. Muscle Rescue is a combination of powerful antioxidants that helps improve the body's ability to repair and regenerate damaged muscle tissue after strenuous exercise while encouraging muscle growth all at the same time.
RETURN TO YOUR NORMAL ACTIVITIES SOONER THAN EXPECTED. By taking Muscle Rescue, you will not feel the effects of your training session for long because it will help your body alleviate delayed onset muscle soreness and reduce fatigue so you can get ready right away for your next training.
REPLENISHES ENERGY STORES. Muscle Rescue Post Workout supplement helps boost energy levels so you can get back into your daily routine without feeling depleted or fatigued. It also contains ingredients that support joint health and reduces inflammation so you can enjoy pain-free movements throughout the day.
HIT YOUR TRAINING GOALS FASTER.  Each ingredient in Muscle Rescue is added to provide the best workout recovery for the female body, from muscle recovery, hydration, and energy replenishment to muscle growth. The faster you recover, the faster you can get back to the gym and train at a high intensity, allowing you to achieve your training goals faster.
‍
muscle rescue
BEST FOR
Exercise depletes carbohydrate stores while breaking down protein structures in the muscles.
By supplementing with muscle rescue, you can enhance performance and recovery, as well as help your muscles generate ATP (Adenosine Triphosphate), the molecule that provides them with energy. Enhance your endurance and strength by keeping your creatine stores full.
WHAT IT IS
A unique blend of antioxidants protects from free radical cell damage caused by excessive exertion. Muscle Rescue Nurturing Creatine Serum includes every antioxidant the body needs to prevent muscle cell damage caused by exercise. This serum increases blood flow and strengthens your immune system, and it will help you recover faster. You will be able to exercise more frequently, and it will help you reach your fitness goals more quickly.
WHAT IT DOES
Muscle Rescue for Women is a post-workout supplement and antioxidant that has been designed to increase muscle rehabilitation, hydrate muscles, and joints, improve stamina, and reduce stress during workouts.
‍
nutrition facts
Serving Size 5 ml
Servings per container 30
| | Amount Per Serving | % Daily Value |
| --- | --- | --- |
| Calories | 15 | |
| Total Fat | 0 mg | 0% |
| Sodium | 10 mg | 1% |
| Potassium | 0 mg | 0% |
| Total Carbohydrates | 1 g | <1% |
| Sugars | 1 g | |
| Protein | 400 mg | <1% |
| Creatine Serum | 250 mg | |
| Glucosamine Sulfate | 100 mg | |
| L-Ascorbic Acid | 50 mg | |
| Black Cohosh Extract | 50 mg | |
| Calcium Pyruvate | 50 mg | |
| Co-Enzyme Q10 | 50 mg | |
| Calcium Pantothenate (Vitamin B5) | 50 mg | |
| Ginkgo Biloba Extract | 50 mg | |
| L-Glutamine | 50 mg | |
| Guarana Extract | 50 mg | |
| N-Acetyl Carnitine | 25 mg | |
| Chromium Picolinate | 25 mg | |
| DMAE | 25 mg | |
| Quercetin | 25 mg | |
| L-Tyrosine | 25 mg | |
| Vitamin B6 | 15 mg | |
**Daily Value not established.
Other Ingredients: Distilled Water, Glycerin, Disodium EDTA (preservative), Sodium Benzoate (preservative), Natural Flavors, FD&C Yellow #5 and FD&C Blue #1.
INGREDIENTS
Protein
Helps restore the muscle and build strength by providing the body the necessary amino acids.
Creatine
Helps prevent muscle damage and enhances the recovery process after exercise. It minimizes muscle soreness and fatigue.
Glucosamine Sulfate
Plays a vital role in building and repairing cartilage plus it helps alleviate joint pain.
L-Ascorbic Acid
A highly effective antioxidant protecting cells from damage by free radicals.
Black Cohosh Extract
Boosts restful sleep and prevents pains related to cramps and aches.
Calcium Pyruvate
Helps retention of muscle building plus it helps boost metabolism and increases energy levels.
Calcium Pantothenate (Vitamin B5)
Necessary for making blood cells and it helps you convert the protein, carbohydrates, and fats you eat into energy.
Co-Enzyme Q10
Decreases oxidative stress in the cells and reduces exhaustive exercise-induced muscular injury by enhancing stabilization of muscle cell membrane.
Ginkgo Biloba Extract
Functions as an antioxidant in fighting free radicals plus promotes muscle recovery and growth.
L-Lysine
Helps the body absorb calcium and plays an important role in the formation of collagen, a substance important for bones and connective tissues including skin, tendons, and cartilage.
L-Glutamine
Helps in overall muscle recovery after exercise. It helps decrease muscle soreness through improved muscle repair and glycogen repletion.
N-Acetyl Carnitine
Alleviates muscle injury and reduces markers of cellular damage and free radical formation accompanied by attenuation of muscle soreness.
Chromium Picolinate
Ideal to take after hard exercise as it can alleviate stress in the body and increase cortisol levels.
Quercetin
A naturally occurring dietary flavonoid, quercetin is well known to fight chronic diseases and aging processes as well as its antiviral properties.
L-Tyrosine
L Tyrosine is an amino acid with health benefits for your brain, mood, stress and recovery. It help keeps your brain performing at its best during stress and improves your focus with tasks that demand mental endurance.
DMAE
Acts as an anti-inflammatory agent.
Zinc Gluconate
Boosts immune function and fights inflammation. It acts as an antioxidant and helps protect against chronic conditions, such as heart disease and diabetes.
Vitamin B6
Promotes normal red-cell formation, regulates the excretion of water, increases energy production and resistance to stress.
‍
HOW TO USE
After your workout or other strenuous athletic activity, fill the dropper and place 1 ml of serum under your tongue. Repeat 4 more times.
For best results, hold serum in your mouth until completely absorbed.
March 12, 2023
Y. Jones
As someone who frequently engages in intense workouts, I am always on the lookout for products that can help me repair my muscles and improve my overall performance. Muscle Rescue has been providing excellent muscle repair benefits that have allowed me to push myself harder and recover more quickly.
February 21, 2023
Amanda L.
I think this is great. The flavor is fine to me and it helps reduce muscle soreness.
February 17, 2023
G. Garcia
This recovery formula truly does help after your workout. Helps boost my energy and makes me feel great after weight lifting. Definitely helps ease muscle soreness and let's me get back into the gym faster.
January 27, 2023
Kate Brown
Muscle Rescue is an essential part of my post-workout routine. It helps me recover faster and reduces soreness, making it easier to stay consistent with my fitness goals. I've seen a significant improvement in my muscle definition and strength.
Thanks for submitting your review!
We will publish it once approved.
CONTINUE SHOPPING