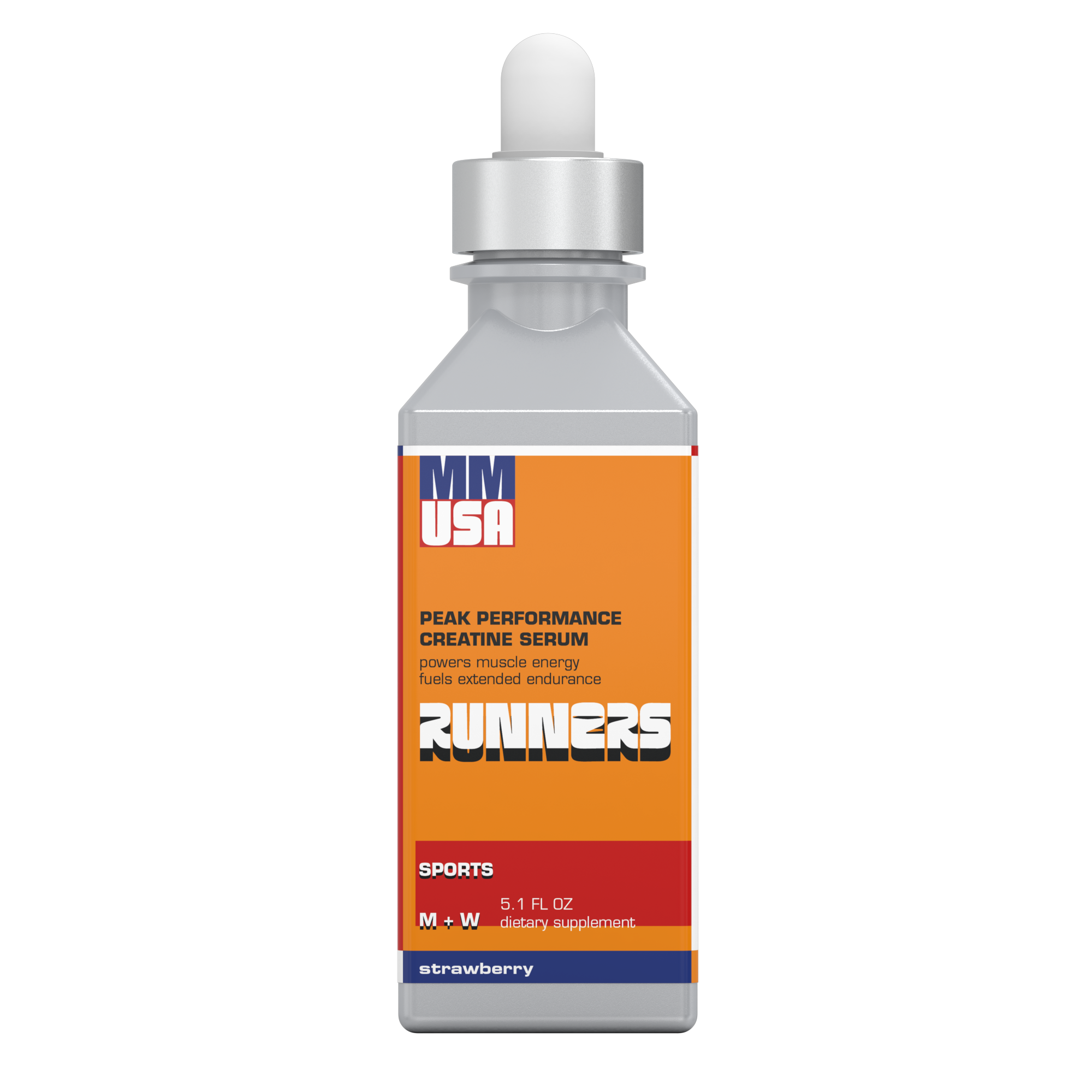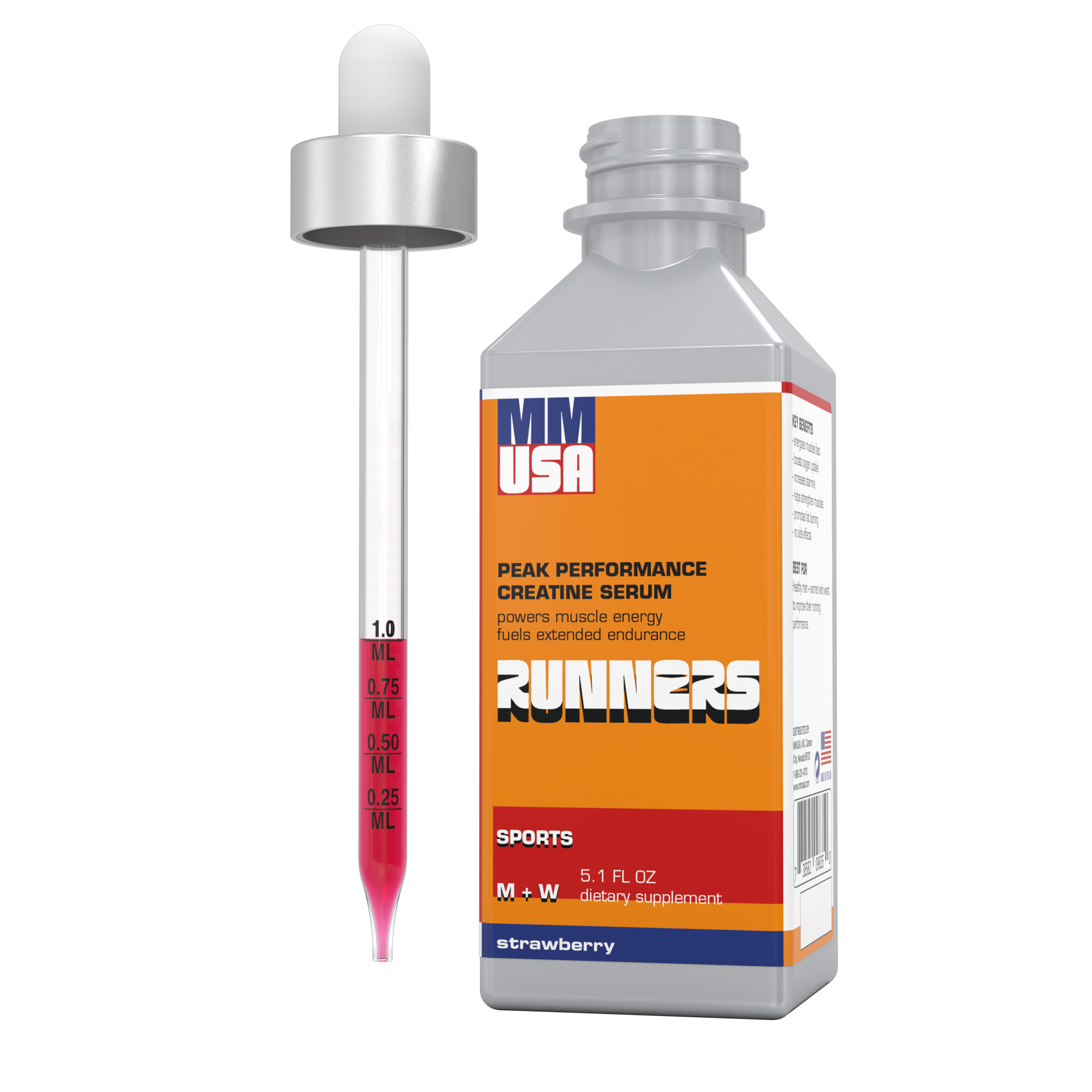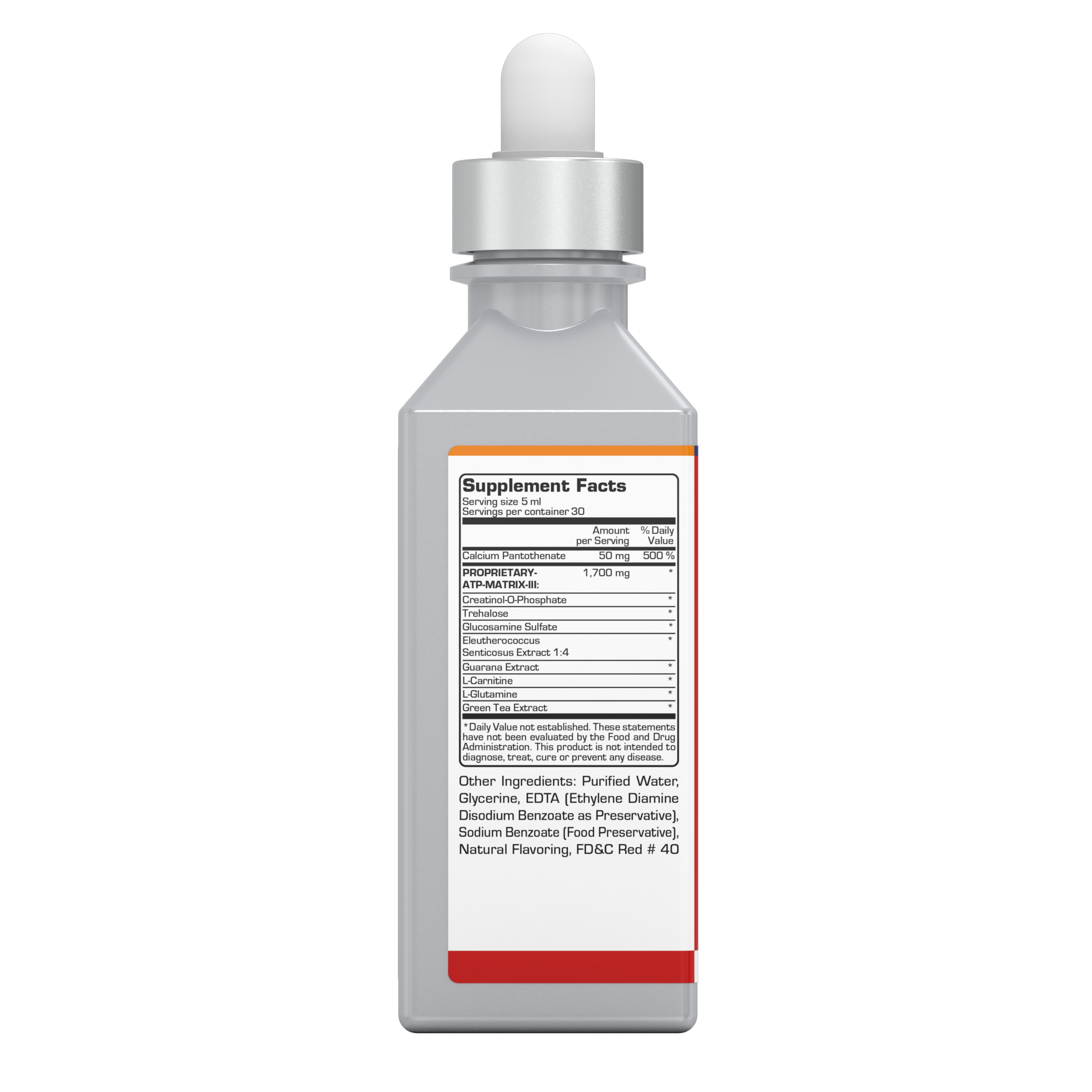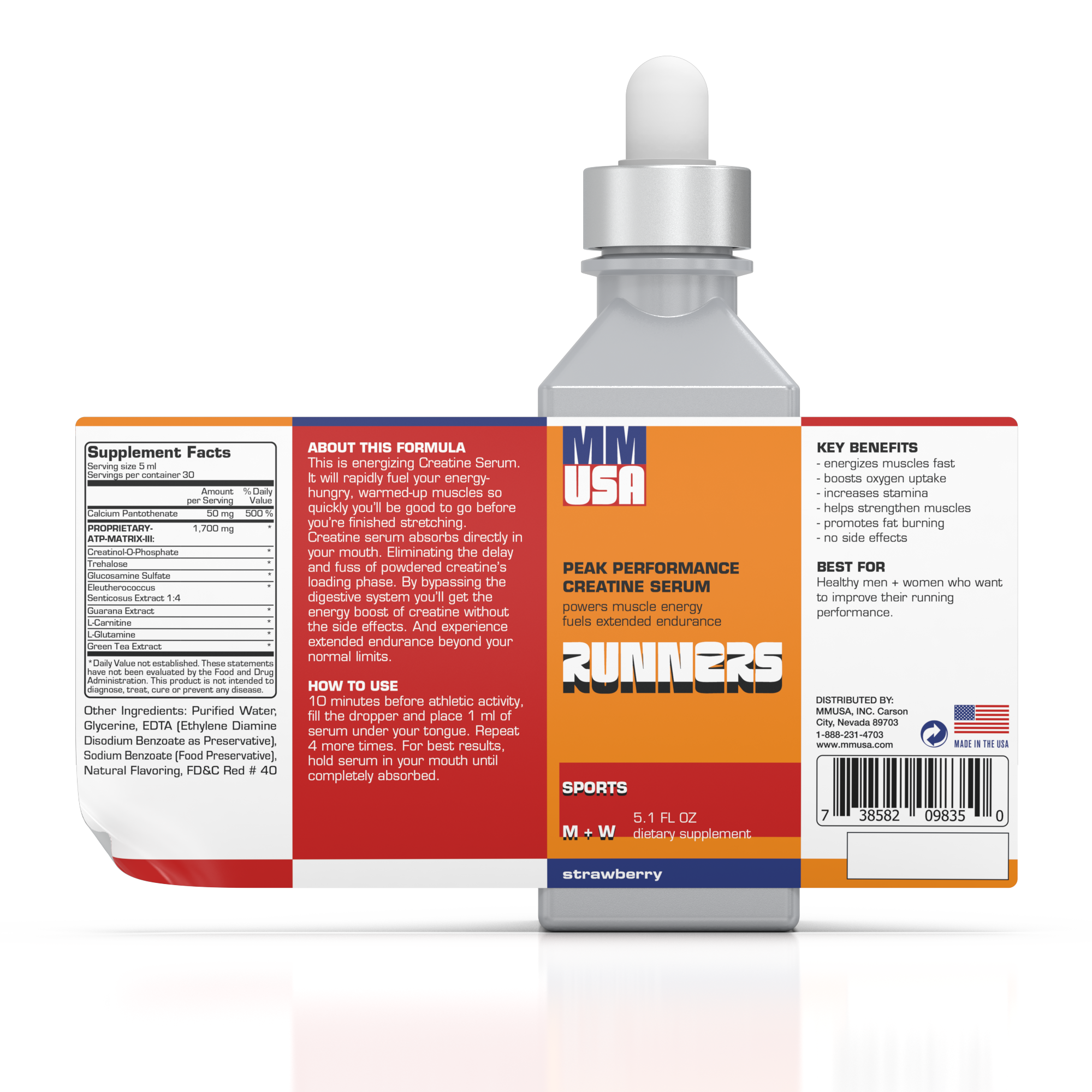 Runners Peak Performance Creatine Serum
Maximize your running potential with Runner's Peak. Our formula provides an energy boost and reduces fatigue caused by a drop in pH, increasing stamina and performance in long-distance sprinting races. With more efficient oxygen consumption, you can run faster and lift heavier weights. Our bioavailable formula won't cause dehydration or water loss. Reach your peak performance with Runner's Peak.
Shipping info: Fast Shipping. Arrives in 3-5 business days for orders within US.
DETAILS
key benefits
STAY AHEAD OF THE PACK, NO MATTER WHERE YOU'RE RUNNING! More stamina and endurance, less lactic acid build-up in muscles, muscle soreness, and damage. Helps delay muscle burning or fatigue.
BOOST MUSCLE METABOLISM, STRONGER AND LEANER FASTER. Increase lean muscle mass and reduce body fat. No weight gain or water retention. Stable creatine for runners.
ENHANCES RECOVERY. Runners Peak help improves the supply of oxygen to the working muscles and improves blood flow through nitric oxide production. Work harder than the competition without breaking down or experiencing muscle soreness.
A PREMIUM PERFORMANCE BLEND FOR POWER AND EXTENDED ENDURANCE. Runners Peak is the perfect long-lasting endurance-boosting supplement for runners, cyclists, fitness enthusiasts, and athletes. Our formula will allow you to run, cycle, and exercise longer with less fatigue. Don't be left behind in your training or competition – choose Runners Peak today!
RUN LONGER WITH LESS FATIGUE & MORE FOCUS. Runners Peak contains a more powerful and safe natural stimulant, Guarana. Improving focus and energy levels enables runners to be more productive throughout the day. It contains up to four times as much caffeine as coffee and can boost energy levels significantly.
runners
BEST FOR
Runners and endurance athletes because it provides strength, stamina, and joint protection throughout your body, throughout your run. It also lactic acid build-up, preventing muscle fatigue so you can exercise longer.
WHAT IT IS
Runners Peak is 100% bioavailable, perfect for boosting stamina, and strength and aiding joint protection with every single run. It is engineered to boost the production of lactic acid build-up so you don't experience fatigue even after running for miles at a stretch.
WHAT IT DOES
Runners Peak Performance Creatine Serum will enhance the energy available from your "phosphagen" pathway.
Enjoy the perks of a powerful formula without having to endure the dreadful side effects of creatine. Runners Peak is water-soluble, which means it is more easily absorbed into the bloodstream, bypassing the digestive system and thus eliminating typical side effects of other types of creatine. Runners Peak promotes muscular energy, helps avoid lactic acid build-up, and allows for more intense workouts.
nutrition facts
Serving Size 5 ml
Servings per container 30
| | Amount Per Serving | % Daily Value |
| --- | --- | --- |
| Calcium Pantothenate | 50 mg | 500% |
| PROPRIETARY- ATP-MATRIX-III: | 1700 mg | ** |
| Creatinol-O-Phosphate | | |
| Trehalose | | |
| Glucosamine Sulfate | | |
| Eleutherococcus Senticosus Extract 1:4 | | |
| Guarana Extract | | |
| L Carnitine | | |
| L Glutamine | | |
| Green Tea Extract | | |
**Daily Value not established.
Other Ingredients: Purified Water, Glycerine, EDTA (Ethylene Diamine Disodium Benzoate as preservative). Sodium Benzoate (Food Preservative), Natural flavoring, FD&C Red No. 40.
INGREDIENTS
CALCIUM PANTOTHENATE
The calcium salt of Vitamin B5 is a cell-protecting anti-oxidant.
PROPRIETARY- ATP-MATRIX-III
CREATINOL-0-PHOSPHATE
Easily absorbed muscle-powering compound supercharges strength + power.
TREHALOSE
Fast-metabolizing disaccharide fuels rapid high energy.
GLUCOSAMINE SULFATE
Supports structural integrity of joints, connective tissues, + blood vessels.
ELEUTHEROCOCCUS SENTICOSUS EXTRACT
Anti-Inflammatory adaptogen extends energy + endurance.
GUARANA EXTRACT
Extends endurance and stimulates mental alertness.
L-CARNITINE
Triggers energy by stimulating fatty acid transport into cellular mitochondria.
L-GLUTAMINE
This anti-catabolic is essential to protein synthesis as well as aiding muscle recovery.
GREEN TEA EXTRACT
Boosts energy production and accelerates fat-burning metabolism.
‍
HOW TO USE
10 minutes before an athletic activity, use the dropper to place 1 ml of serum under your tongue. Repeat 4 more times.
For best results, hold the serum in your mouth until completely absorbed.
March 5, 2023
Ahmed J.
I've tried several other creatine supplements, but Runners is by far the best. It's easy to use, doesn't cause any bloating or discomfort, and has helped me see real improvements in my running performance. I'm definitely a convert!
February 18, 2023
Ed Pizzurro
As a sprinter, I need something that will give me that extra edge during my races. Runners Peak Performance Creatine Serum has helped me do just that. It's given me more energy and has helped me improve my times. I wouldn't go to a race without it.
January 24, 2023
Brian Miller
Marathon training is tough, but Runners Peak Performance Creatine Serum has made it easier. It's helped me improve my overall performance and has even helped me avoid injuries during my training. If you're training for a marathon, this product is a must-have.
January 12, 2023
Kai Ridgell
I've been using Runners for a few weeks now and I've seen a significant improvement in my speed. It's helped me power through tough sprint workouts without feeling fatigued and has even helped me recover faster. I highly recommend this product to any sprinter
Thanks for submitting your review!
We will publish it once approved.
CONTINUE SHOPPING