Runners Peak Performance Creatine Serum
---
Runners Peak Performance Creatine Serum will rapidly fuel your energy-hungry, warmed-up muscles so quickly that you'll be good to go before you're finished stretching. Creatine Serum absorbs directly into your mouth. Eliminating the delay and fuss of powdered creatine's loading phase. By bypassing the digestive system you 'II get the energy boost of creatine without the side effects. And experience extended endurance beyond your normal limits.
Shipping info: Fast Shipping. Arrives in 3-5 business days for orders within US.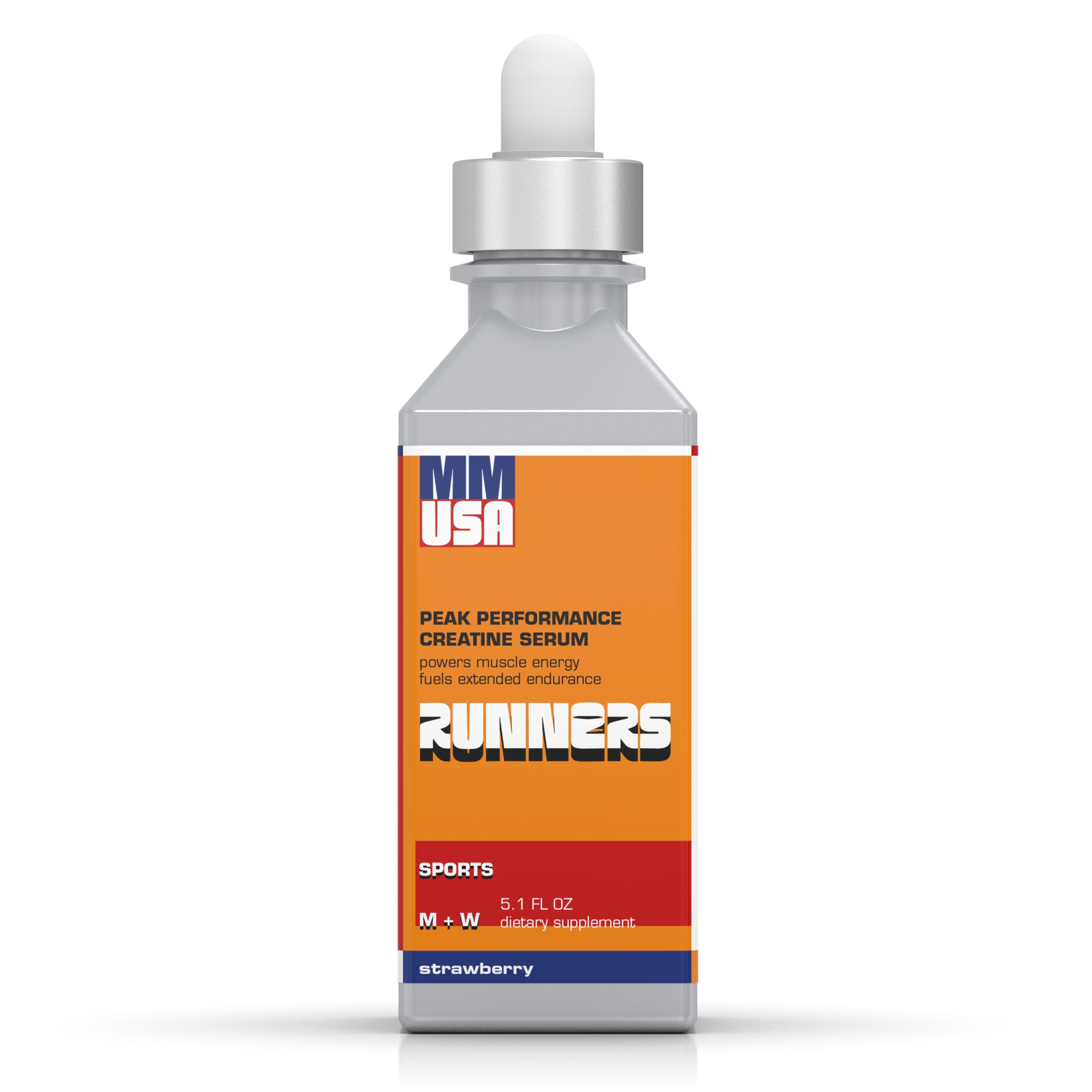 This product is for:
Runners Who Want To Improve Their Running Performance
Energizes Muscle Fast, Boosts Oxygen Uptake With Joint Protection Added
Description
NATURALLY ADDS STRENGTH AND STAMINA
For a runner, running is life. It's a form of walking. And runners, the goal is never static. With every run, it's always moving farther. With that in mind – MMUSA created a formula designed specifically for hardcore runners and endurance athletes called – Runners Peak Performance Creatine Serum.
A 100% bio-available formula is perfect for boosting stamina, and strength and aiding joint protection with every single run. Runners Peak is formulated to boost the production of lactic acid build-up so you don't experience fatigue even after running for miles at a stretch.
ADVANCE FORMULATION for INSTANT ENERGY
The ingredients that went into the formulation of Runners Peak are absolutely bio-available and water-soluble making them quick to absorb by the body. It's taken in small doses under the tongue. Water solubility aids in the absorption of each nutrient directly by the mucous membrane; thus avoiding the need to go through the digestive tract. It takes only a few minutes for it to work its way into the system.
No loading or water retention and absolutely no dehydration. No side effects whatsoever.
BETTER RIDES WITHOUT CRAMPS
Enjoy a strenuous workout without experiencing potential side effects of creatine supplementation, like water weight gain and cramps. No loading phase is required, and you need not worry about mixing. Your supplement is ready to go and it comes in three delicious natural flavors.
100% ABSORBABLE SERUM
Runners Peak Performance Creatine Serum absorbs in your mouth, not your gut. Pure and soluble creatine flows into your power-hungry muscles instantly. ATP levels are immediately supercharged. The hassle and delay of loading and maintenance are a thing of the past. Water weight gain is eliminated.
PROUDLY MADE IN THE USA
Muscle is our first name. But our family name is USA. All our products are sourced and manufactured in the United States. We comply with all good manufacturing practices.
SINCE 1995
We have been committed to empowering athletes all over the world. Since our invention of Creatine Serum over 25 years ago, we have changed the way the world works out. By offering everyone who wants to try, the power to be their best.
How to use
10 mins. before your athletic activity, fill the dropper and place 1 ml of serum under your tongue. Repeat 4 more times. For best results, hold serum in your mouth until completely absorbed.
Ingredients
Calcium Pantothenate
The calcium salt of Vitamin B5 is a cell-protecting anti-oxidant
PROPRIETARY- ATP-MATRIX-III
Creatinol-0-Phosphate
Easily absorbed muscle powering compound supercharges strength + power
Trehalose
Fast-metabolizing disaccharide fuels rapid high energy
Glucosamine Sulfate
Supports structural integrity of joints, connective tissues, + blood vessels
Eleutherococcus Senticosus Extract
Anti-Inflammatory adaptogen extends energy + endurance
Guarana Extract
Extends endurance and stimulates mental alertness
L-Carnitine
Triggers energy by stimulating fatty acid transport into cellular mitochondria
L-Glutamine
This anti-catabolic is essential to protein synthesis promotes muscle recovery
Green Tea Extract
Boosts energy production and accelerates fat-burning metabolism
Key Benefits
• Energizes Muscles Fast
• Boosts Oxygen Uptake
• Increases Stamina
• Helps Strengthen Muscles
• Promotes Fat Burning
• No Side Effects