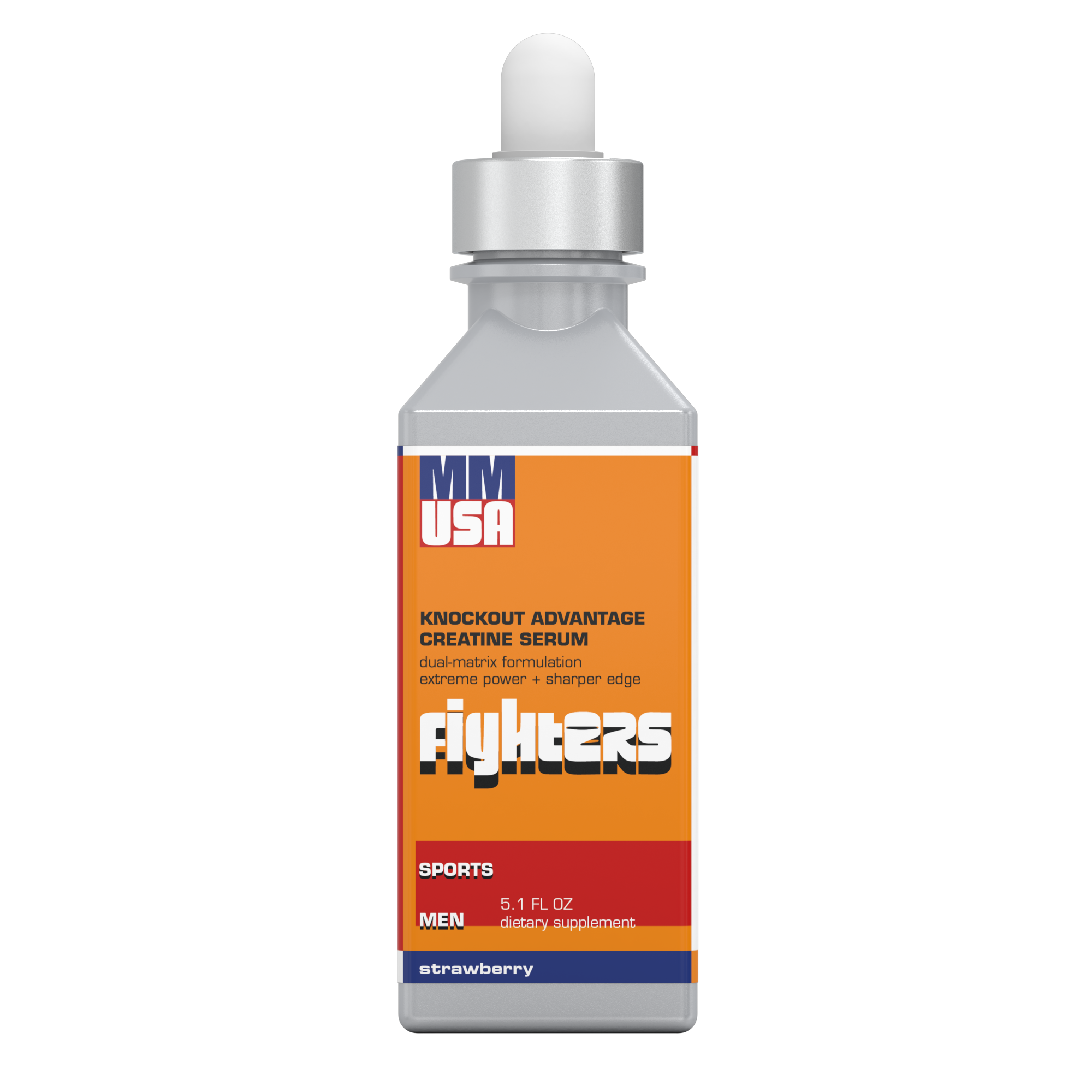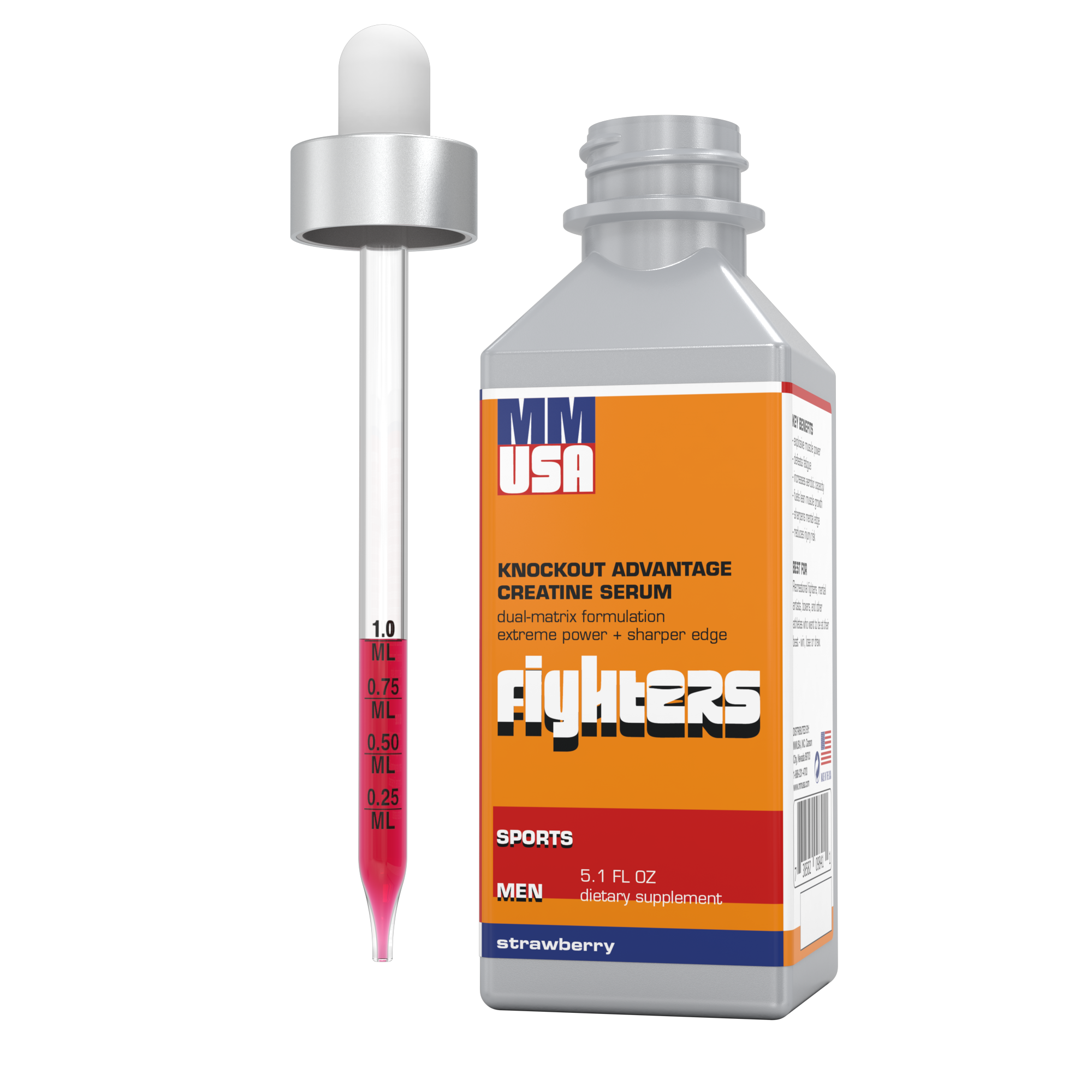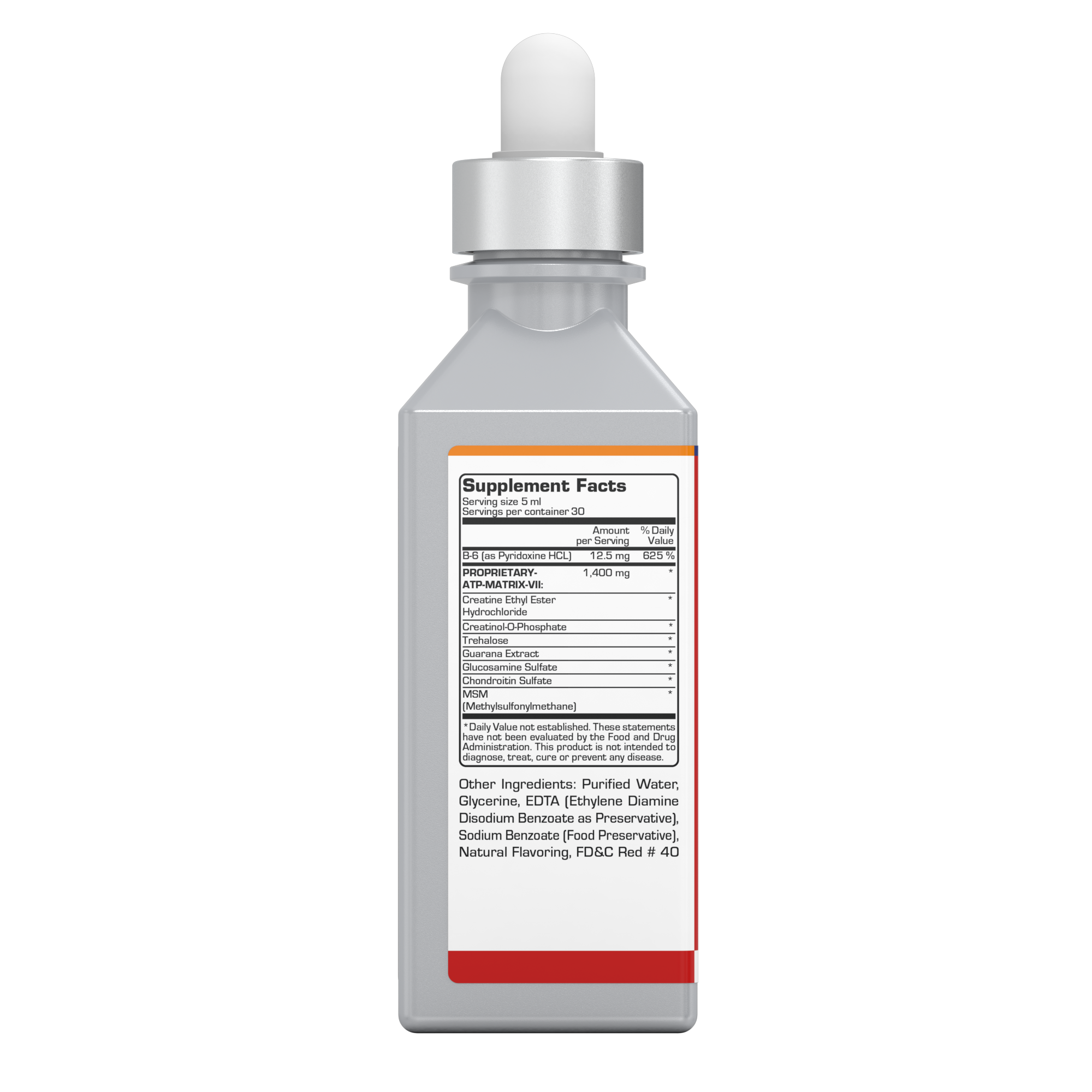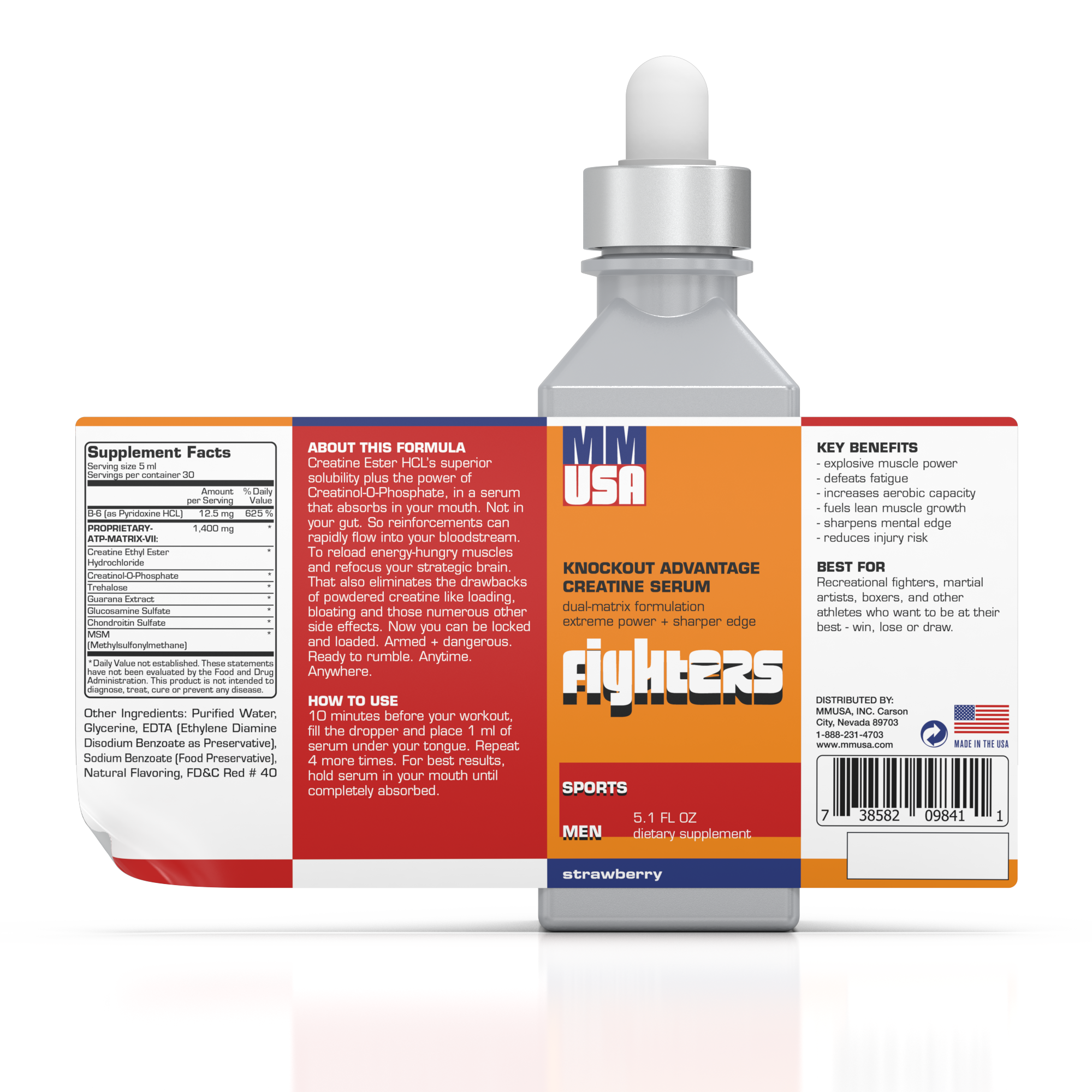 Fighters Knockout Advantage Creatine Serum
Fighters Knockout Advantage Creatine Serum is the ultimate energy refill for combat sports athletes. This powerful mixture of Creatinol-O-Phosphate and water-soluble Creatine Ester HCL helps enhance muscle mass, speed up recovery time, and boost stamina during fights and competitions. Added joint ingredients like glucosamine, MSM, and chondroitin sulfate help reduce muscle inflammation and pain. With Fighter's Pre Workout Serum, you'll always perform at your highest peak, whether you're training or competing.
Shipping info: Fast Shipping. Arrives in 3-5 business days for orders within US.
DETAILS
key benefits
FIGHT FASTER AND HARDER THAN EVER WITH THIS EXPLOSIVE PRE-WORKOUT FORMULA. Fighters' Pre-workout formula provides unstoppable stamina, muscle growth, and extraordinary strength for fighters and martial artists. Boost your performance with creatine HCL and creatinol-o-phosphate, two compounds that increase power and endurance.
BOOST YOUR PERFORMANCE. Fighters Serum will help you do just that by enhancing your MMA performance by improving muscular power, doing more repetitions at the same weight, and increasing anaerobic strength.
UNLEASH YOUR TRUE POTENTIAL. You'll be able to punch harder, more efficiently, and recover faster from sparring sessions. Unlike other forms of creatine, which require loading and maintenance, the fighter serum requires no loading or maintenance, and you only take it minutes before your training and competition.
QUICK ABSORPTION. Fighters Serum goes straight to your muscles so you can kick some asses immediately. It is safe, delicious, and powerful. Moreover, it contains all the necessary ingredients to support your recovery and joints, such as glucosamine.
UNSTOPPABLE STAMINA, MUSCLE GROWTH, AND EXTRAORDINARY STRENGTH. Fighters Serum contains two types of robust and stable creatine. It is an effective ergogenic assistance in increasing muscle strength and power. The perfect formula for fighters who train rigorously.
‍
fighters
BEST FOR
High energy formula for athletes. great for fighters, pro athletes, and the weekend warrior who wants to play like a pro.
WHAT IT IS
Fighters Serum boosts ATP production, the energy cycle, and helps reduce inflammation and joint pain, making it great for helping you recover faster, and preventing muscle wasting during workouts. Supplementing with fighter serum also helps repair muscle fibers after strenuous exercise.
WHAT IT DOES
With Fighters Serum, you can build functional muscle strength for your exercise program. As a result, your body is more likely to adapt to weightlifting exercises and more traditional boxing/fight training programs that may include push-ups and squats.
‍
nutrition facts
Serving Size 5 ml
Servings per container 30
| | Amount Per Serving | % Daily Value |
| --- | --- | --- |
| B-6 (as Pyridoxine HCL) | 12.5 mg | 625% |
| PROPRIETARY- ATP-MATRIX-VII: | 1400 mg | ** |
| Creatine Ethyl Ester Hydrochloride | | |
| Creatinol-O-Phosphate | | |
| Trehalose | | |
| Guarana Extract | | |
| Glucosamine Sulfate | | |
| Chondroitin Sulfate | | |
| MSM (Methyl Sulfonylmethane) | | |
**Daily Value not established.
Other Ingredients: Purified Water, Glycerine, EDTA (Ethylene Diamine Disodium Benzoate as preservative). Sodium Benzoate (Food Preservative), Natural flavoring, FD&C Red No. 40.
INGREDIENTS
Vitamin B6 (Pyridoxine HCL)
Fuels the metabolization of proteins and fats, and promotes the conversion of carbs into energy.
PROPRIETARY- ATP-MATRIX-VII:
Creatine Hydrochloride (HCL)
A potent, explosive energy source, increases muscle cell volumization.
Creatinol-O-Phosphate
Radical muscle-building compound supercharges strength and power without side effects.
Trehalose
Fast-metabolizing disaccharide fuels rapid high energy.
Guarana Extract
Extends endurance and promotes mental alertness.
Hordenine
Accelerates fat-burning metabolism by unlocking fatty acids from surplus body fat.
‍Glucosamine Sulfate
Supports structural integrity of joints, and connective tissues.
Chondroitin Sulfate
A structural cartilage component acts as a natural anti-inflammatory.
Methylsulfonylmethane (MSM)
Eases musculoskeletal pain + enhances the of healing wounds, cuts, and abrasions.
‍
HOW TO USE
10 minutes before your workout, fill the dropper and place 1 ml of serum under your tongue. Repeat 4 more times.
‍
For best results, hold serum in your mouth until completely absorbed.
March 12, 2023
G. McGregor
Really like this creatine. Easy to take. No mixing needed. Results are very noticeable within a week for me. My muscles feel more firm have more explosiveness in my trainings. Also I feel less sore the day after a good work out.
February 26, 2023
Jordan Quinn
I enjoy this and notice a difference in comparison to other Creatine form. Great taste and easy to take with you anywhere. No mixing required just few drops and you're ready to go!
February 19, 2023
Jerry O.
As an MMA fighter, I need every advantage I can get in the ring. Fighters Knockout has given me the extra energy and focus I need to dominate my opponents. I've noticed a significant improvement in my reaction time and speed, and I'm able to maintain my intensity throughout the entire fight. This is a must-have supplement for any serious MMA athlete.
January 23, 2023
Kieran S.
Amazing product! I've been taking Fighters for a couple months and have been seeing great results. Highly recommend this!
Thanks for submitting your review!
We will publish it once approved.
CONTINUE SHOPPING