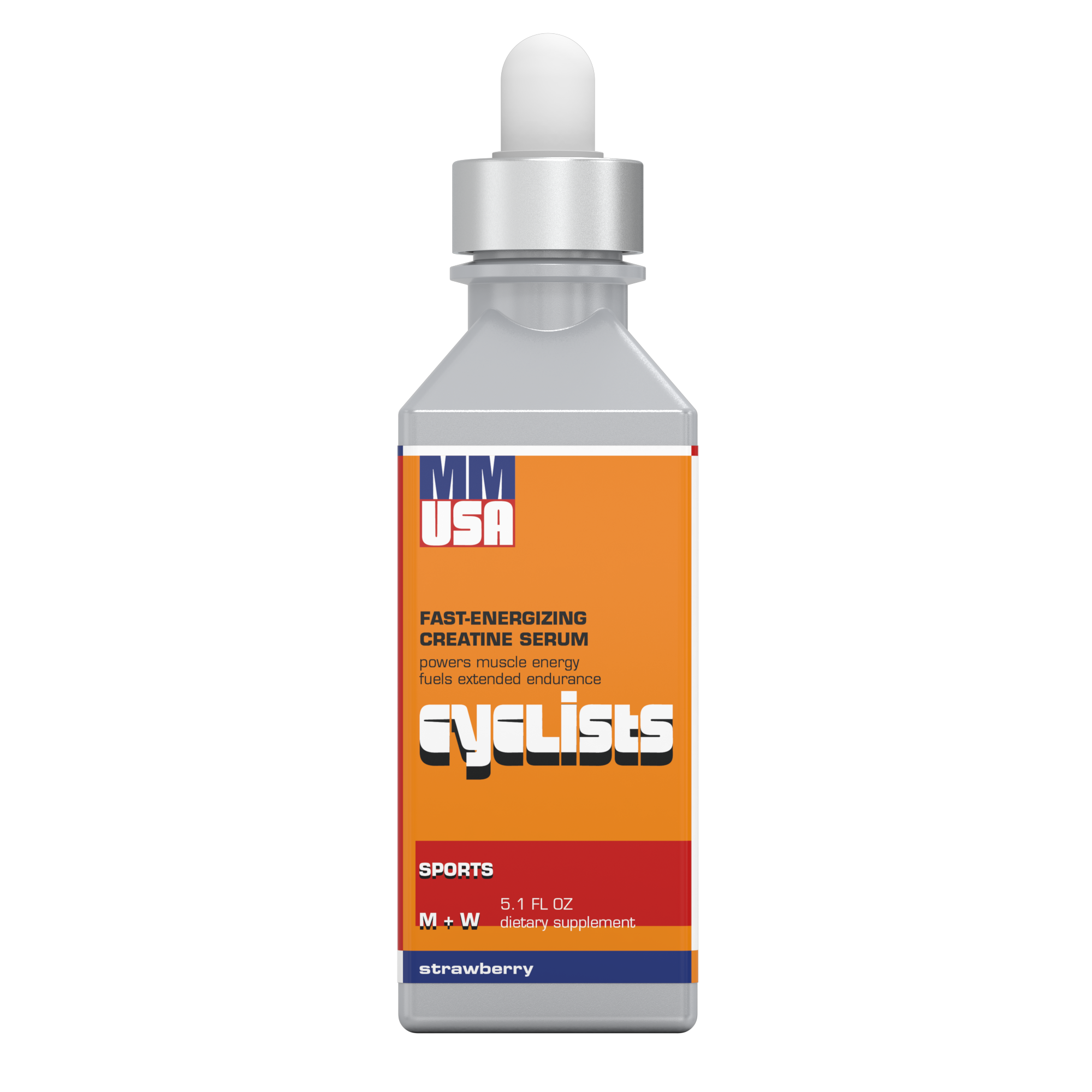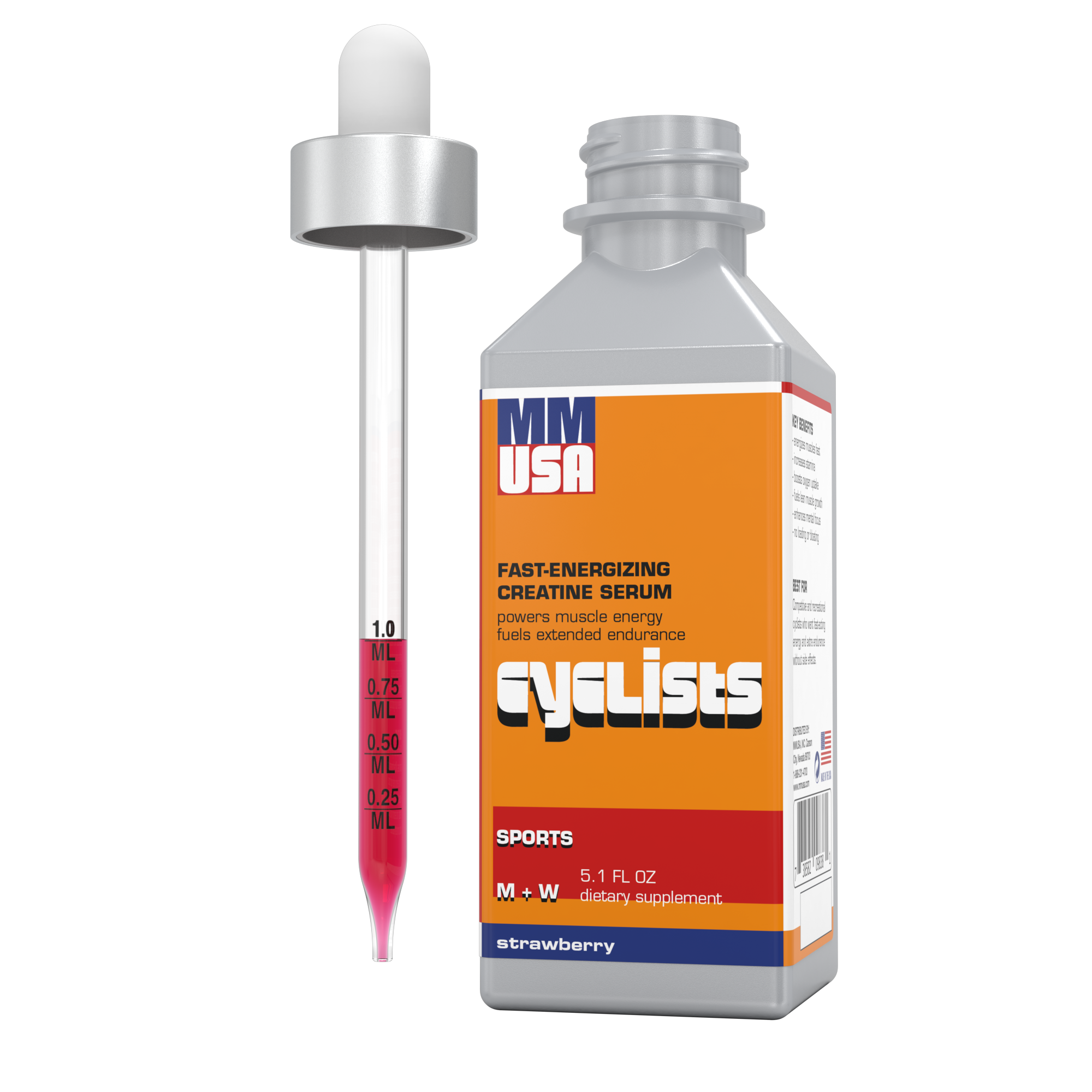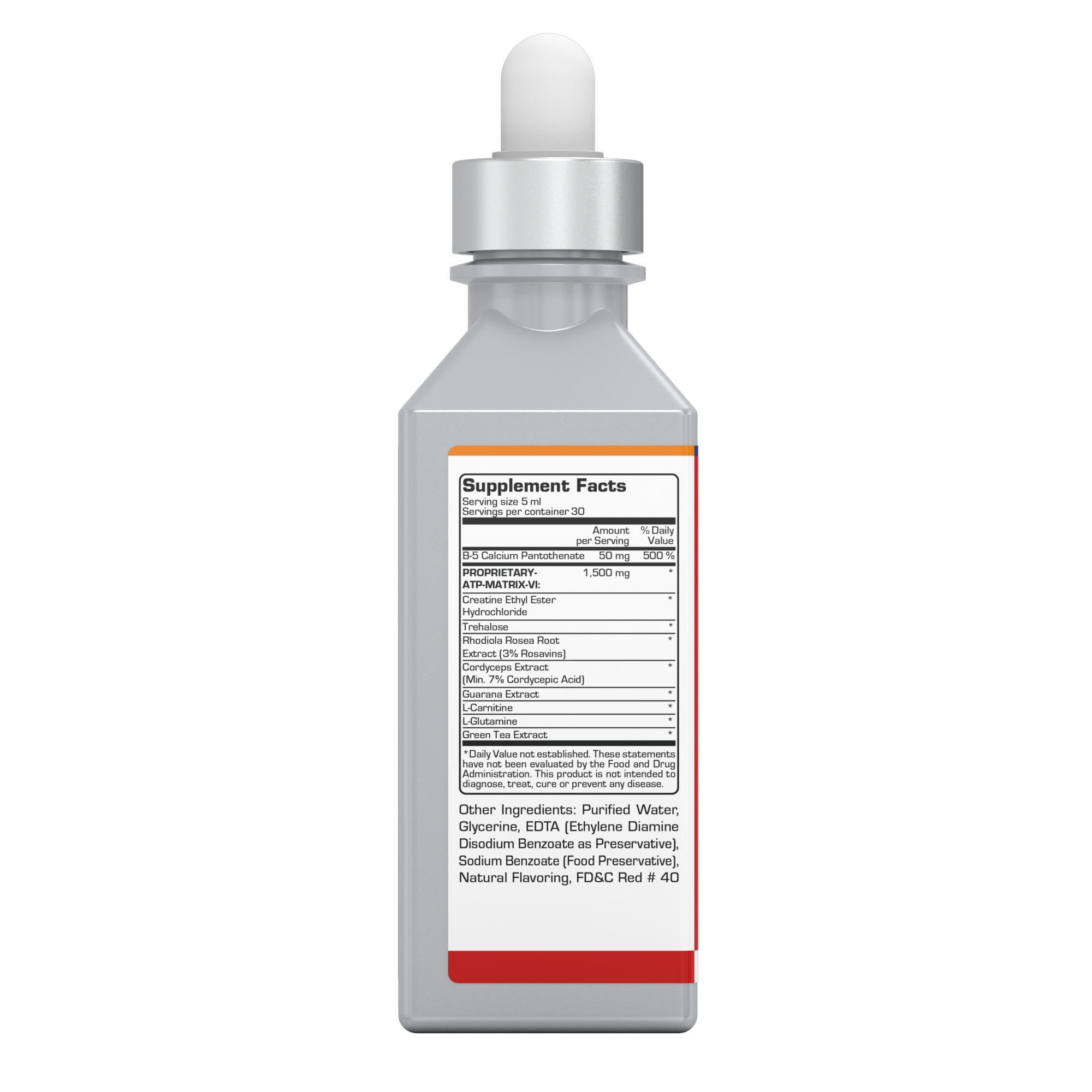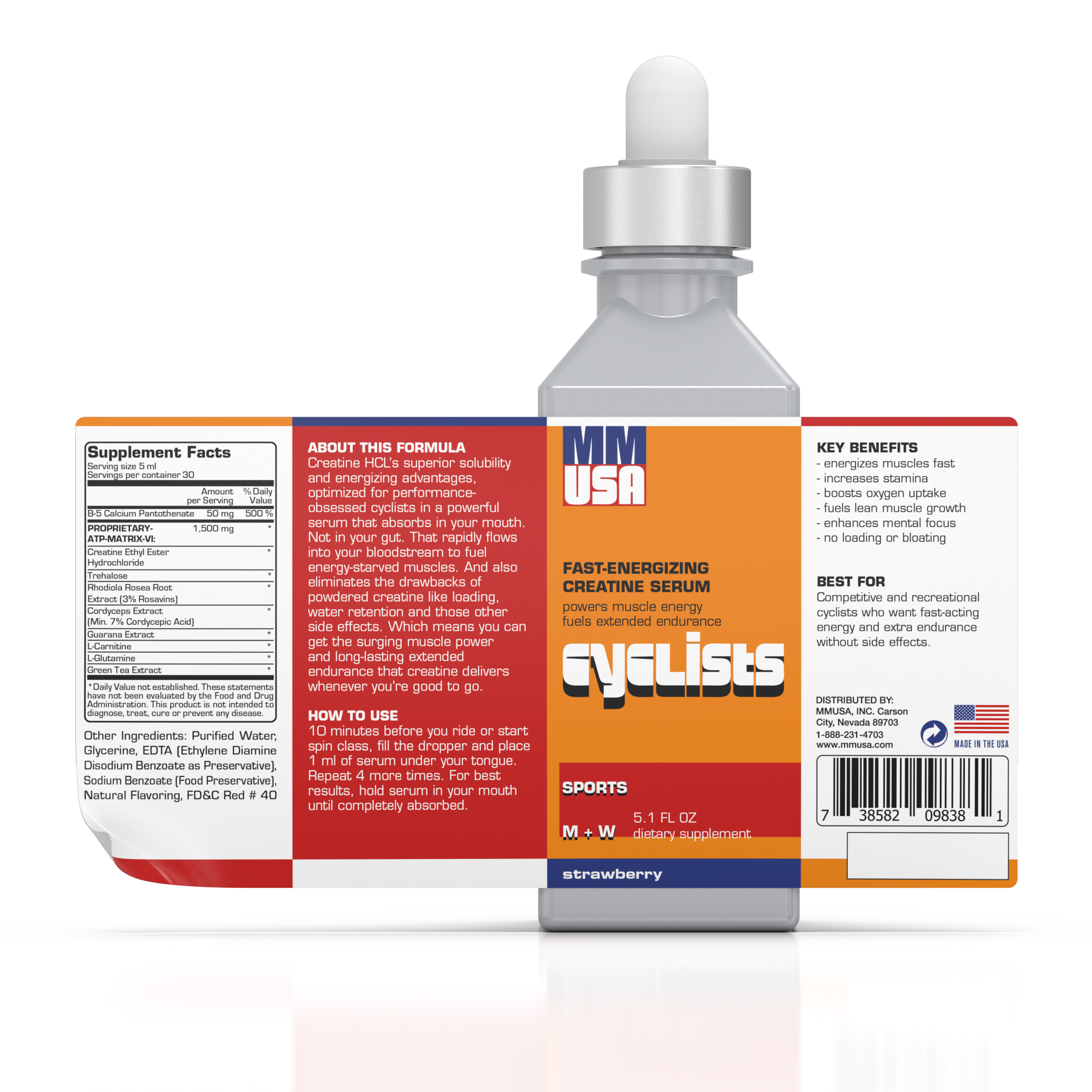 Cyclists Fast-Energizing Creatine Serum
Push your cycling performance to the next level with Cyclists Serum. Our supplement, containing creatine and other performance-enhancing nutrients, helps improve endurance and power-based training sessions. You'll feel the difference in your recovery too, making Cyclists Serum the perfect solution to take your cycling to new heights. Don't let your limits hold you back. Try Cyclists Serum and elevate your cycling game.
Shipping info: Fast Shipping. Arrives in 3-5 business days for orders within US.
DETAILS
key benefits
ENHANCE MUSCLE STRENGTH AND POWER. Cyclists Serum is the first product to contain a fast-absorbing dose of creatine HCL and a novel blend of performance-enhancing nutrients that enhance muscle strength and power production without gaining weight.
INCREASES SPEED AND ENHANCES RECOVERY. Cyclists Serum is designed to maximize your performance as a biker by increasing muscle strength and body composition, enhancing recovery, boosting glycogen synthesis, and increasing speed. Cyclists' Serum also improves performance during both.
CYCLISTS SERUM IS AN ESSENTIAL SUPPLEMENT FOR PRE-WORKOUT AND DURING A RACE OR COMPETITION. This product can help you maintain your speed and growth while riding. You can take it before the race or while riding.
FUEL YOURSELF FOR PERFORMANCE! Designed for cyclists, men, women, and triathletes, this premium supplement helps you ride longer and ride faster. Our 100% safe and bioavailable creatine serum boosts ATP production and reduces lactic acid build-up during even the longest rides and runs. With Stable Creatinol-O-Phosphate catalyzed by Guarana extract, L-Glutamine, and L-Carnitine, you'll be able to focus and train better.
BIOAVAILABLE AND QUICK TO ABSORB. Taken under the tongue as drops in small doses, this cycling energy pre-running supplement is totally bioavailable and water-soluble. With water solubility, each nutrient is absorbed directly through your mucous membrane, avoiding the digestive process, so you won't feel adverse side effects like bloating.
cyclists
BEST FOR
Enthusiastic cyclists and endurance athletes who want to increase their strength and stamina, get better joint support, quick recovery, and improve their overall athletic performance.
WHAT IT IS
Cyclists Fast-Energizing Creatine Serum is a 100% bioavailable formula, perfect for boosting stamina, and strength and aiding joint protection with every performance.
WHAT IT DOES
Cyclists Serum improves your performance and helps you secure an edge over your competitors. It gives you the ability to improve endurance, increase stamina and increase your breathing so you do not experience shortness of breath. On top of that, it will also help you boost your mental strength and focus which you need for any cycling activities.
nutrition facts
Serving Size 5 ml
Servings per container 30
| | Amount Per Serving | % Daily Value |
| --- | --- | --- |
| Calcium Pantothenate | 50 mg | 500% |
| PROPRIETARY- ATP-MATRIX-VI: | 1500 mg | ** |
| Creatine Ethyl Ester Hydrochloride | | |
| Trehalose | | |
| Rhodiola Rosea Root Extract (3% Rosavins) | | |
| Cordyceps Extract (min. 7% Cordycepic Acid) | | |
| Guarana Extract | | |
| L Carnitine | | |
| L Glutamine | | |
| Green Tea Extract | | |
**Daily Value not established.
Other Ingredients: Purified Water, Glycerine, EDTA (Ethylene Diamine Disodium Benzoate as preservative). Sodium Benzoate (Food Preservative), Natural flavoring, FD&C Red No. 40.
INGREDIENTS
Calcium Pantothenate
The calcium salts of Vitamin B5 are cell-protecting antioxidants.
PROPRIETARY- ATP-MATRIX-VI:
Creatine Ethyl Ester Hydrochloride (HCL)
Potent, most explosive hybrid creatine molecule increases muscle cell volumization, eliminates the need for all loading and scheduling, 99 times more absorbable than creatine monohydrate.
Trehalose
Fast-metabolizing disaccharide fuels rapid high energy.
Rhodiola Rosea Extract
Increases physical endurance, and combats fatigue, and depression.
‍‍Cordyceps Extract
Boosts aerobic capacity by accelerating circulation and blood plasma production.
Guarana Extract
Catalyzes energy production, mental alertness, endurance, and fat metabolism.
L-Carnitine
Enables Fatty Acid Transport into Cellular Mitochondria for Energy Production.
L-Glutamine
This anti-catabolic is essential to protein synthesis and promotes muscle recovery.
Green Tea Extract
Boosts energy production and accelerates fat-burning metabolism.
HOW TO USE
10 mins. before you ride or start spin class, fill the dropper and place 1 ml of serum under your tongue. Repeat 4 more times.
‍
For best results, hold serum in your mouth until completely absorbed.
March 8, 2023
David Benette
I was hesitant to try Cyclists because I have a sensitive stomach, but it's been gentle on my system and has given me the extra energy I need to keep up with my cycling group.
February 25, 2023
Viv Hexon
Fast acting! I suffer from excerise cramps from long cycling events. Cyclists had reduced my cramping issues to almost zero while allowing me to keep up with my road team. Great product!
February 12, 2023
Trev Slater
I trained for a Ironman with this and had good success on race day. I did feel like it gave me more smooth distribution of energy, rather than the rush and crash of other endurance products.
January 16, 2023
Dylan J.
I've always struggled with cramping during long rides, but since I started using Cyclists, I haven't had any issues. It keeps me feeling strong and hydrated, and I'm able to enjoy my rides without any discomfort.
Thanks for submitting your review!
We will publish it once approved.
CONTINUE SHOPPING