Cyclists Fast-Energizing Creatine Serum
---
Cyclists Fast-Energizing Creatine Serum is a 100% bio-available formula, perfect for boosting stamina, and strength and aiding joint protection with every performance. It is a creatine supplement formulated for cyclists to boost the production of lactic acid build-up so they won't experience fatigue even after cycling for miles at a stretch.
Shipping info: Fast Shipping. Arrives in 3-5 business days for orders within US.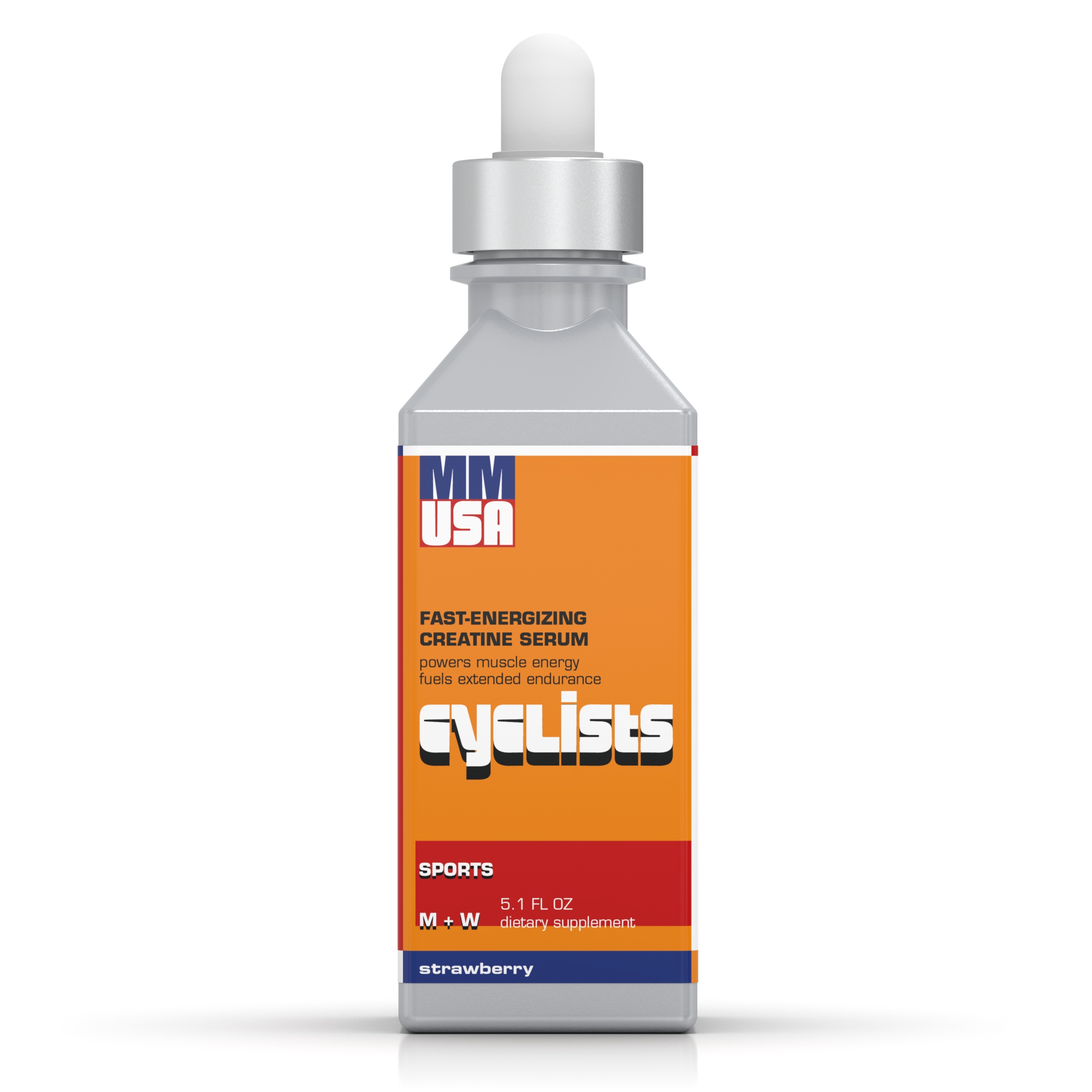 This product is for:
Competitive Cyclists Who Want A Fast-Energizing Formula
Better Strength And Stamina, Joint Support And Quick Recovery
Description
FORMULATED FOR ENTHUSIASTIC RIDERS
Cyclists Fast-Energizing Creatine Serum is a powerful formula for cyclists who love to ride hard. Many avid cyclists avoid using creatine or other forms because they fear it would cause bloating, water retention, and weight gain.
This formula will give you enhanced strength, stamina, and joint protection so you can have a great edge and power surge on every ride.
Whether you are a recreational cyclist or a fierce competitor – Cyclists Serum will provide you with steady support for high-intensity training.
POWERFUL INGREDIENTS – NO HARMFUL STIMULANTS
We have utilized a new form of creatine – Creatine Ester Ethyl HCL and blended it with superb ingredients for endurance athletes. The result is a great formula that replenishes ATP and delays fatigue by combating lactic acid buildup.
Increased ATP availability helps increase power, strength, and endurance during high-intensity exercise and helps muscle recovery.
QUICK RECOVERY FROM UNTIRING TRAINING SESSIONS
This formula will help you increase power, strength, and endurance during high-intensity exercise and help muscle recovery. It eliminates a lot of potential side effects that come with creatine supplementation like water weight gain and cramps.
100% ABSORBABLE SERUM
Cyclists Serum's superior solubility and energizing advantages are optimized for performance-obsessed cyclists in a powerful serum that absorbs in your mouth. Not in your gut. That rapidly flows into your bloodstream to fuel energy-starved muscles And also eliminates the drawbacks of powdered creatine like loading, water retention, and those other side effects. This means you can get the surging muscle power and long-lasting extended endurance that creatine delivers whenever you're good to go.
PROUDLY MADE IN THE USA
Muscle is our first name. But our family name is USA. All our products are sourced and manufactured in the United States. We comply with all good manufacturing practices.
SINCE 1995
We have been committed to empowering athletes all over the world. Since our invention of Creatine Serum over 25 years ago, we have changed the way the world works out. By offering everyone who wants to try, the power to be their best.
How to use
10 mins. before you ride or start spin class, fill the dropper and place 1 ml of serum under your tongue. Repeat 4 more times. For best results, hold serum in your mouth until completely absorbed.
Ingredients
Calcium Pantothenate
The calcium salts of Vitamin B5 are cell-protecting antioxidants.
PROPRIETARY- ATP-MATRIX-VI:
Creatine Ethyl Ester Hydrochloride (HCL)
Potent, most explosive hybrid creatine molecule increases muscle cell volumization, eliminates the need for all loading and scheduling, 99 times more absorbable than creatine monohydrate.
Trehalose
Fast-metabolizing disaccharide fuels rapid high energy.
Rhodiola Rosea Extract
Increases physical endurance, combats fatigue, and depression.
Cordyceps Extract
Boosts aerobic capacity by accelerating circulation and blood plasma production.
Guarana Extract
Catalyzes energy production, mental alertness, endurance, and fat metabolism.
L-Carnitine
Enables Fatty Acid Transport into Cellular Mitochondria for Energy Production.
L-Glutamine
This anti-catabolic is essential to protein synthesis and promotes muscle recovery.
Green Tea Extract
Boosts energy production and accelerates fat-burning metabolism.
Key Benefits
• Energizes Muscles Fast
• Increases Stamina
• Boosts Oxygen Uptake
• Fuels Lean Muscle Growth
• Enhances Mental Focus
• No Loading or Bloating