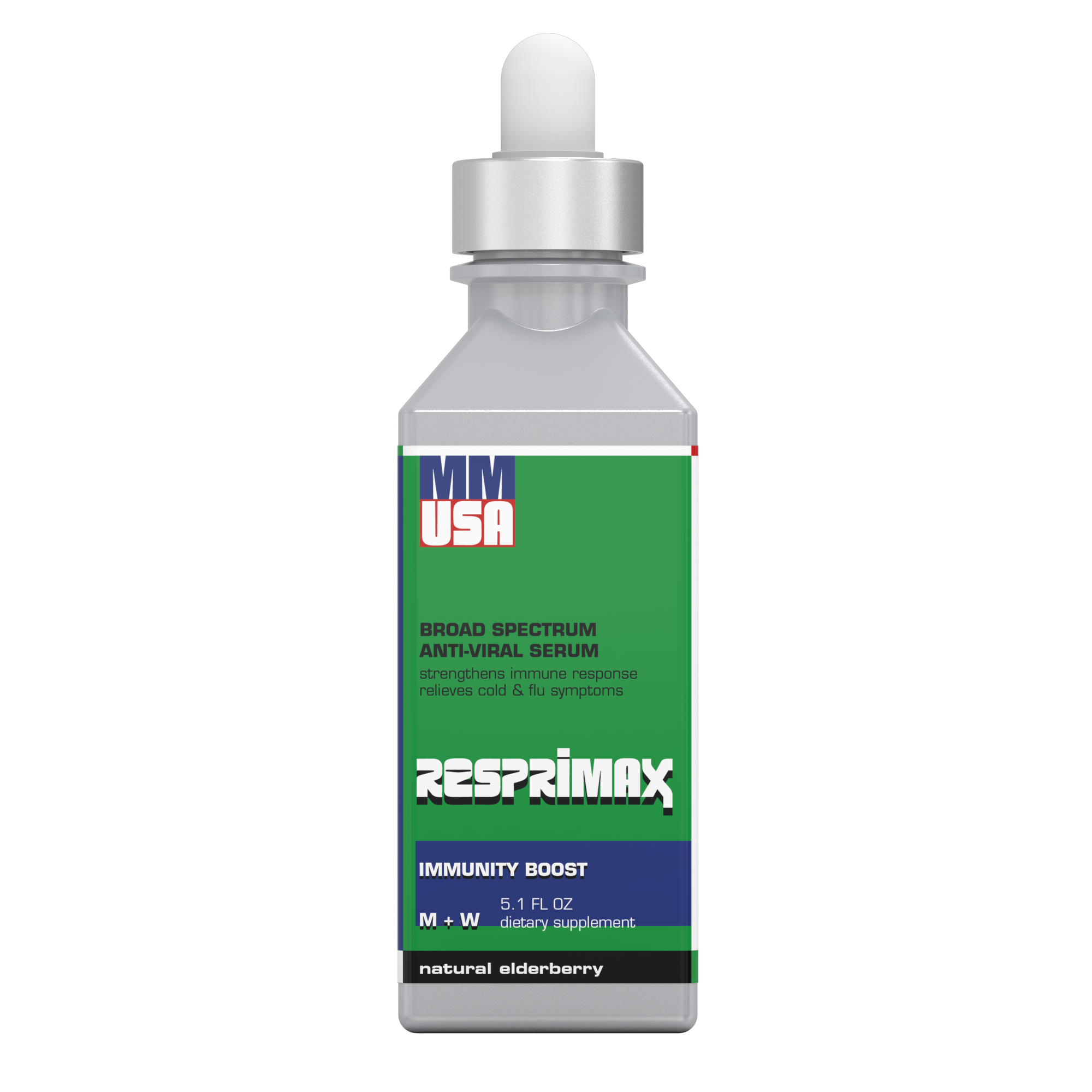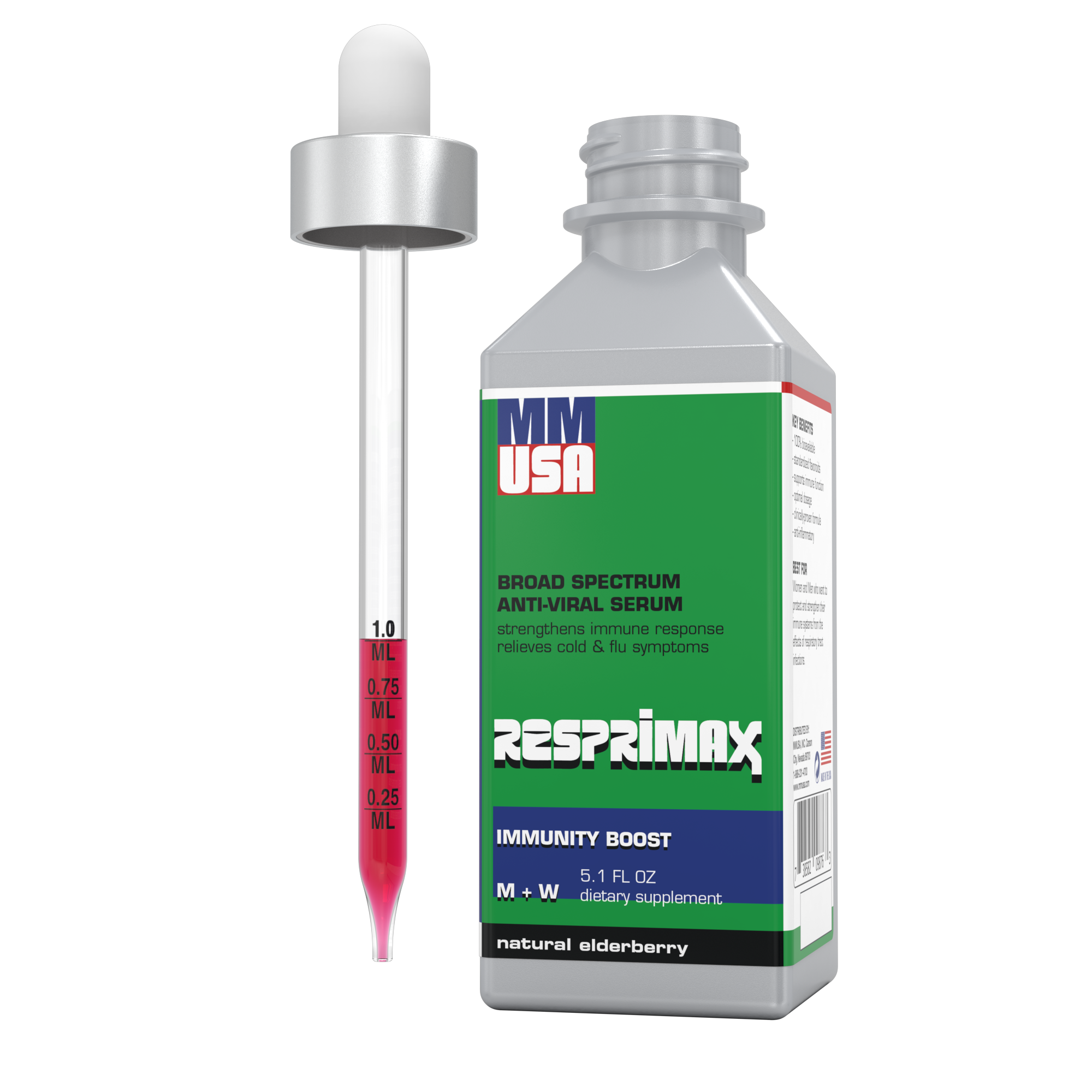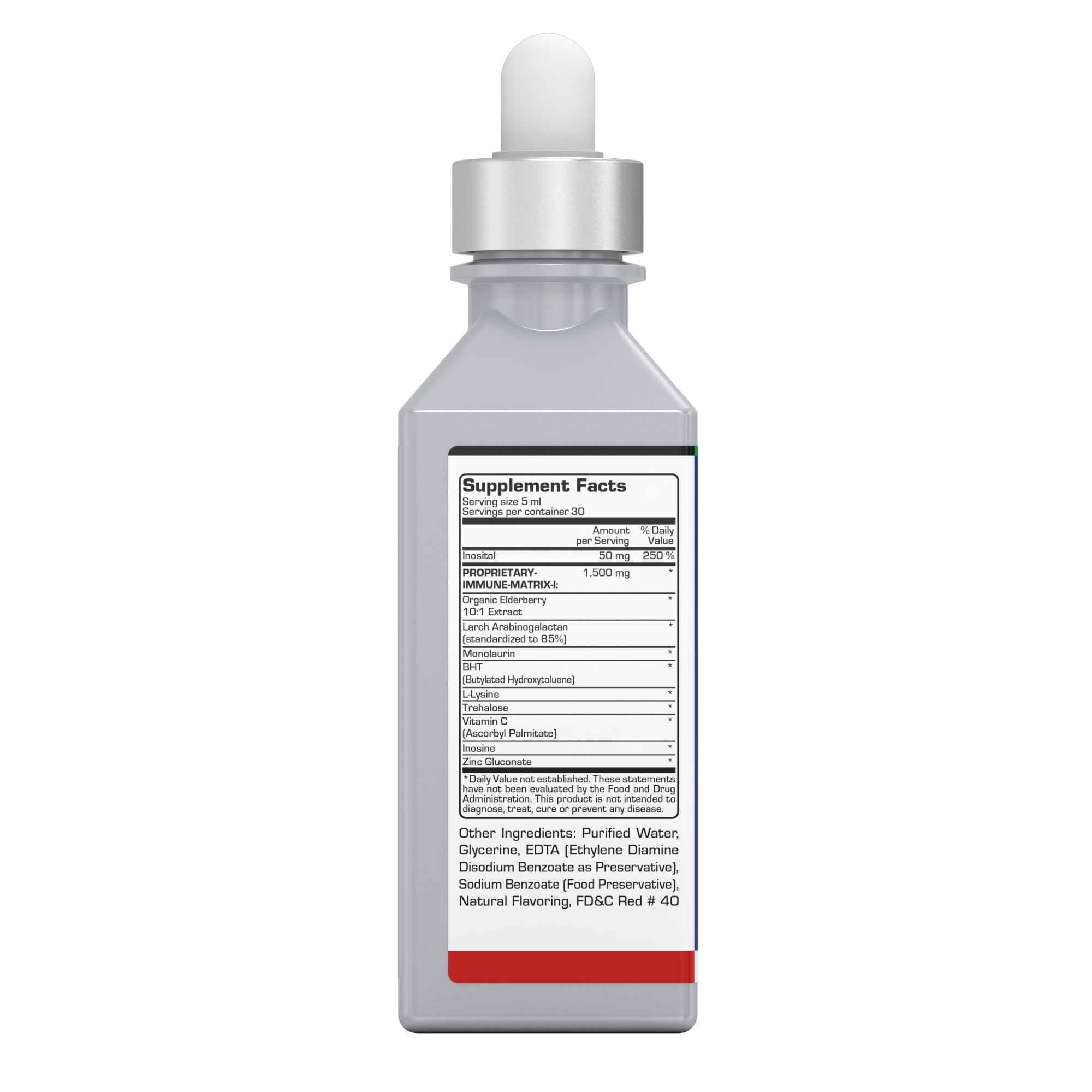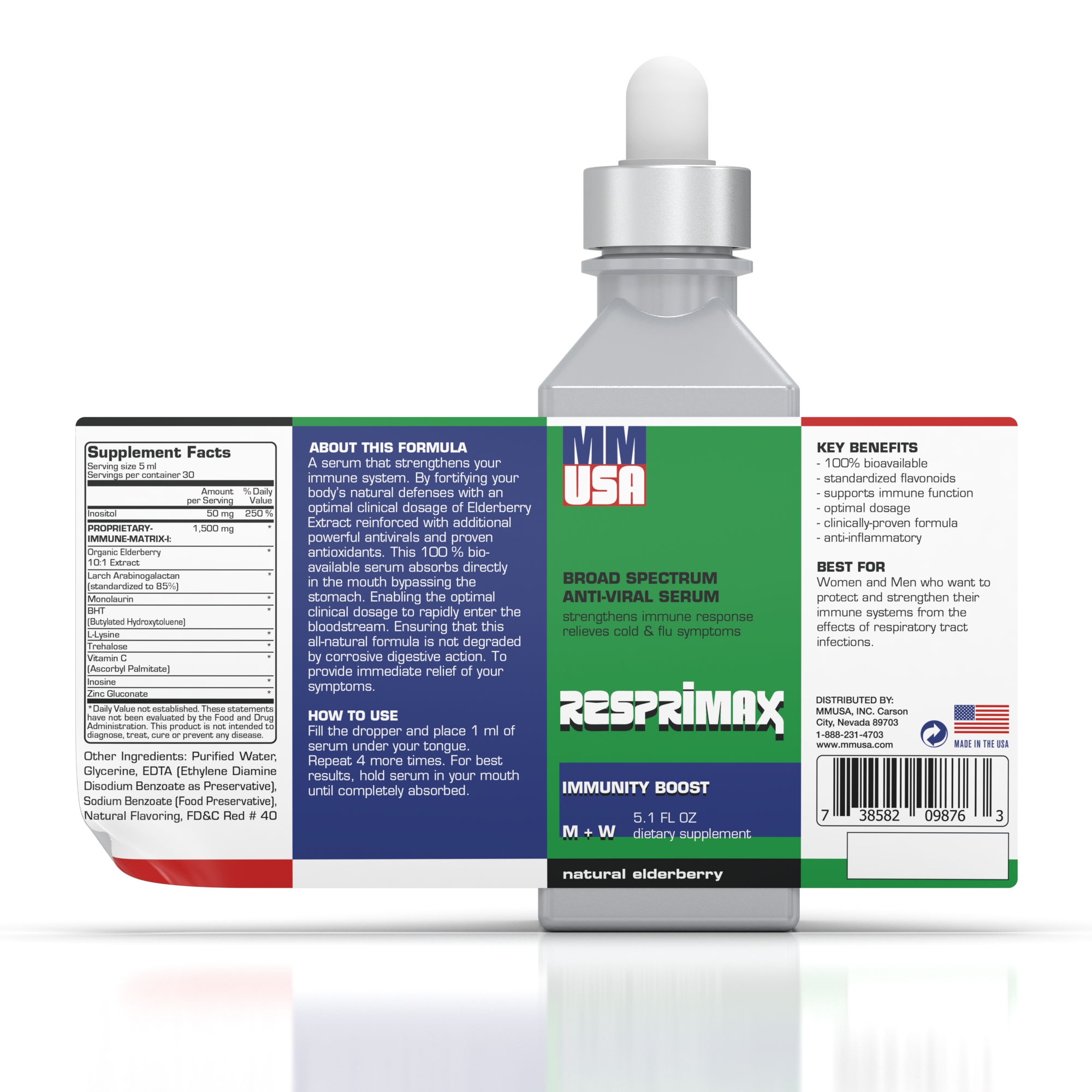 Resprimax Broad Spectrum Anti-Viral Serum
Boost your immune system and maximize your performance with Resprimax. This powerful immune booster contains antioxidants like elderberry and vitamin C to help prevent cellular damage and aid in recovery after intense training. Don't let environmental pollutants and physical stress hold you back. Let Resprimax support your immune system and fight against respiratory infections and the common cold. Feel your best with Resprimax.
Shipping info: Fast Shipping. Arrives in 3-5 business days for orders within US.
DETAILS
key benefits
BOOSTS YOUR IMMUNE SYSTEM. Infused with Zinc, Vitamin C, and Elderberry extract, Resprimax Immune Support will let your body feel its best.
PACKED WITH ANTIOXIDANTS. In addition to providing stress relief during intense training, Resprimax contains antioxidants that fight free radical damage. It reduces inflammation-based respiratory symptoms or severity.
MAKE YOUR IMMUNE SYSTEM STRONGER. Resprimax contains a number of natural ingredients, including elderberry extract. This can help to maintain your immune system and helps you recover after strenuous exercise.
FORMULATED TO BOOST YOUR IMMUNE SYSTEM WHILE TRAVELING. Resprimax is designed to revitalize your immune defense and repair tissues due to intense exercise and stress. It's even totally bioavailable, so the ingredients get into your system quickly!
30-DAY SUPPLY OF IMMUNE SUPPORT. Every bottle is packed with 30 servings. Each daily serving is highly concentrated with a blend of powerful immune-supporting ingredients.
‍
resprimax
BEST FOR
Boosting your immune system to stay healthy by eliminating old cells and replacing them with new ones.
WHAT IT IS
Resprimax is full of powerful vitamins, minerals, and antioxidants such as vitamin C and zinc.  It works efficiently to boost the immune system, regenerating the body and protecting it.
WHAT IT DOES
Protects your body against both endogenous and exogenous oxidative challenges. It reduces oxidative damage,  promotes a healthy immune system, and reduces the risk of potentially harmful invaders from entering the body.
nutrition facts
Serving Size 5 ml
Servings per container 30
| | Amount Per Serving | % Daily Value |
| --- | --- | --- |
| Inositol | 50 mg | 250% |
| PROPRIETARY IMMUNE MATRIX I: | 1500 mg | ** |
| Organic Elderberry Extract (10:1) | | |
| Larch Arabinogalactan (standardized to 85%) | | |
| Monolaurin | | |
| BHT (Butylated Hydroxytoluene) | | |
| Eleutherococcus Senticosus Extract 1:4 | | |
| Trehalose | | |
| Vitamin C (Ascorbyl Palmitate) | | |
| Inosine | | |
| Zinc Gluconate | | |
**Daily Value not established.
Other Ingredients: Purified Water, Glycerine, EDTA (Ethylene Diamine Disodium Benzoate as preservative). Sodium Benzoate (Food Preservative), Natural Flavoring, FD&C Red No. 40.
INGREDIENTS
Inositol
Helps support the immune system and the body's natural ability to maintain thermoregulation
PROPRIETARY IMMUNE MATRIX I
Elderberry Extract
Elderberry is packed with antioxidants and vitamins that help boost your immune system. It could fight inflammation, stress, common colds, and flu and protect your heart too. It works by clearing the body of free radicals that damage cells at the DNA level.
Larch Arabinogalactan
Improves immunity by increasing resistance to common and uncommon infections. It works by stimulating the immune system by increasing the number of probiotic bacteria in the gut as it undergoes fermentation.
Monolaurin
It is known to boost general immunity against any seasonal pathogen attack. It exerts its anti-microbial activity by disrupting the outer covering of the bacteria and virus leaving them vulnerable to attacks from biological acids and immune bodies.
Butylated hydroxytoluene (BHT)
A potent inactivator of lipid-enveloped viruses.
Vitamin C (Ascorbyl Palmitate)
It is a potent antioxidant that contributes to immune defense by supporting various cellular functions of both the innate and adaptive immune systems.
Inosine
Helps improve the immune system by helping fight acute respiratory viral infections.
Zinc Gluconate
Boosts immune function and fights inflammation. It acts as an antioxidant and helps protect against chronic conditions, such as heart disease and diabetes.
Eleutherococcus Senticosus
Boosts the immune system. Found to be effective against several RNA viruses, including influenza A virus, respiratory syncytial virus, and human rhinovirus.
‍
HOW TO USE
Fill the dropper and place 1 ml of serum under your tongue. Repeat 4 more times.
For best results, hold serum in your mouth until completely absorbed.
March 6, 2023
Fiona H.
I'm a big fan of elderberry, so when I saw that Resprimax had elderberry extract in it, I knew I had to try it. I've been taking it for a month now and I feel great. No colds or flu this season!"
February 27, 2023
G. Gomez
I take Resprimax every day and have recommended it to all of my friends and family. It's a must-have for anyone looking to support their immune system and stay healthy.
February 9, 2023
Tyler Collins
I'm not a fan of taking pills, and Resprimax serum is a great alternative. It's easy to swallow and doesn't have any weird aftertaste. Plus, the ingredients are all natural which is a huge plus.
January 19, 2023
Lauren Davis
I started taking Resprimax a few weeks ago and have already noticed a difference in my energy levels. I feel like my immune system is stronger and I haven't been getting sick as easily.
Add Review
Thanks for submitting your review!
We will publish it once approved.
CONTINUE SHOPPING