Resprimax Broad Spectrum Anti-Viral Serum
---
Resprimax Broad Spectrum Anti-Viral Serum strengthens your immune system. By fortifying your body's natural defenses with an optimal clinical dosage of Elderberry Extract reinforced with additional powerful antivirals and proven antioxidants. This 100 % bioavailable serum absorbs directly in the mouth bypassing the stomach. Enabling the optimal clinical dosage to rapidly enter the bloodstream. Ensuring that this all-natural formula is not degraded by corrosive digestive action. To provide immediate relief to your symptoms.
Shipping info: Fast Shipping. Arrives in 3-5 business days for orders within US.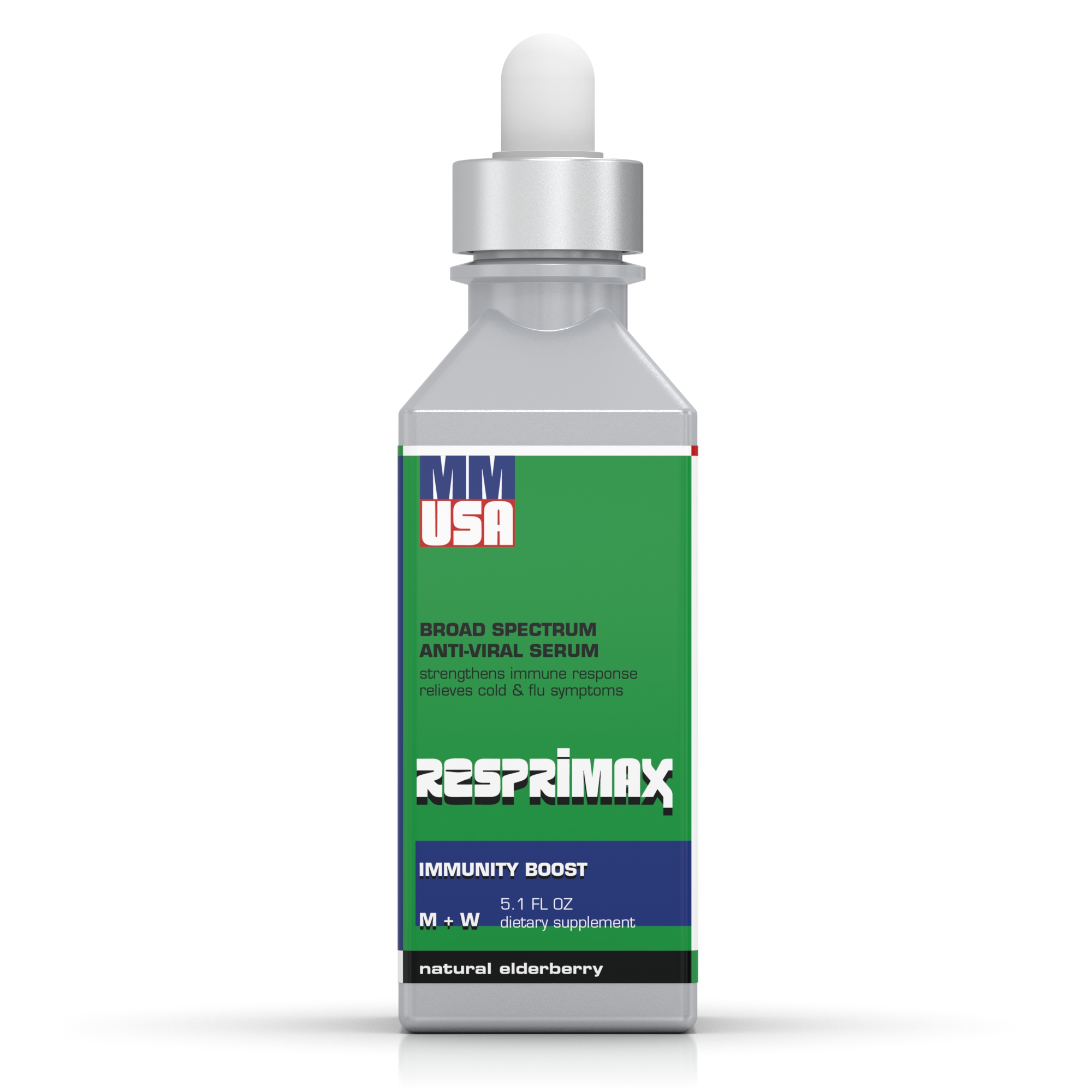 This product is for:
Individuals Who Want To Protect And Strengthen Their Immune System
Improves Immune Response, Relieves Cold And Flu Symptoms
Description
ENERGIZES NATURAL IMMUNITY
Your best defense against illness is a powerful offense. Resprimax Broad Spectrum Anti-Viral Serum is a scientifically-proven proprietary formula that helps neutralize potentially dangerous Lipid Envelope Viruses before they can invade and occupy vulnerable tissues. And helps to eliminate free radicals. Protects your delicate respiratory system. Immediately soothes inflammation. This healing homeopathic matrix in an easily-absorbed optimal clinical dosage can help you maintain optimal respiratory health.
PROUDLY MADE IN THE USA
Muscle is our first name. But our family name is USA. All our products are sourced and manufactured in the United States. We comply with all good manufacturing practices.
SINCE 1995
We have been committed to empowering athletes all over the world. Since our invention of Creatine Serum over 25 years ago, we have changed the way the world works out. By offering everyone who wants to try, the power to be their best.
How to use
Fill the dropper and place 1 ml of serum under your tongue. Repeat 4 more times. For best results, hold serum in your mouth until completely absorbed.
Ingredients
Inositol
Helps support the immune system and the body's natural ability to maintain thermoregulation
PROPRIETARY IMMUNE MATRIX I
Elderberry Extract
Elderberry is packed with antioxidants and vitamins that help boost your immune system. It could fight inflammation, stress, common colds, and flu and protect your heart too. It works by clearing the body of free radicals that damage cells at the DNA level.
Larch Arabinogalactan
Improves immunity by increasing resistance to common and uncommon infections. It works by stimulating the immune system by increasing the number of probiotic bacteria in the gut as it undergoes fermentation.
Monolaurin
It is known to boost general immunity against any seasonal pathogen attack. It exerts its anti-microbial activity by disrupting the outer covering of the bacteria and virus leaving them vulnerable to attacks from biological acids and immune bodies.
Butylated hydroxytoluene (BHT)
A potent inactivator of lipid-enveloped viruses.
Vitamin C (Ascorbyl Palmitate)
It is a potent antioxidant that contributes to immune defense by supporting various cellular functions of both the innate and adaptive immune systems.
Inosine
Helps improve the immune system by helping fight acute respiratory viral infections.
Zinc Gluconate
Boosts immune function and fights inflammation. It acts as an antioxidant and helps protect against chronic conditions, such as heart disease and diabetes.
Eleutherococcus Senticosus
Boosts the immune system. Found to be effective against several RNA viruses, including influenza A virus, respiratory syncytial virus, and human rhinovirus.
Key Benefits
• 100% Bioavailable
• Standardized Flavonoids
• Supports Immune Function
• Optimal Dosage
• Clinically-Proven Formula
• Anti-Inflammatory