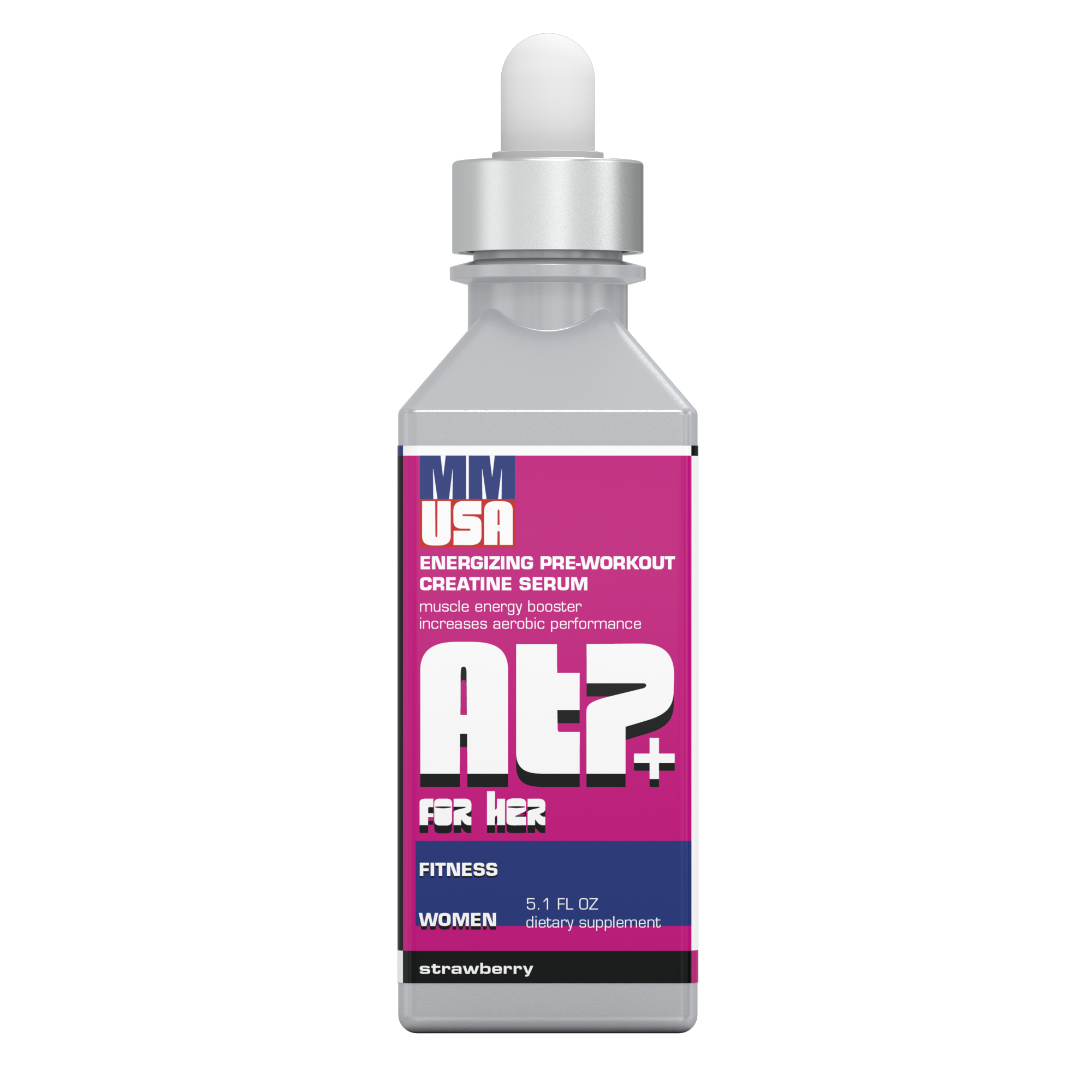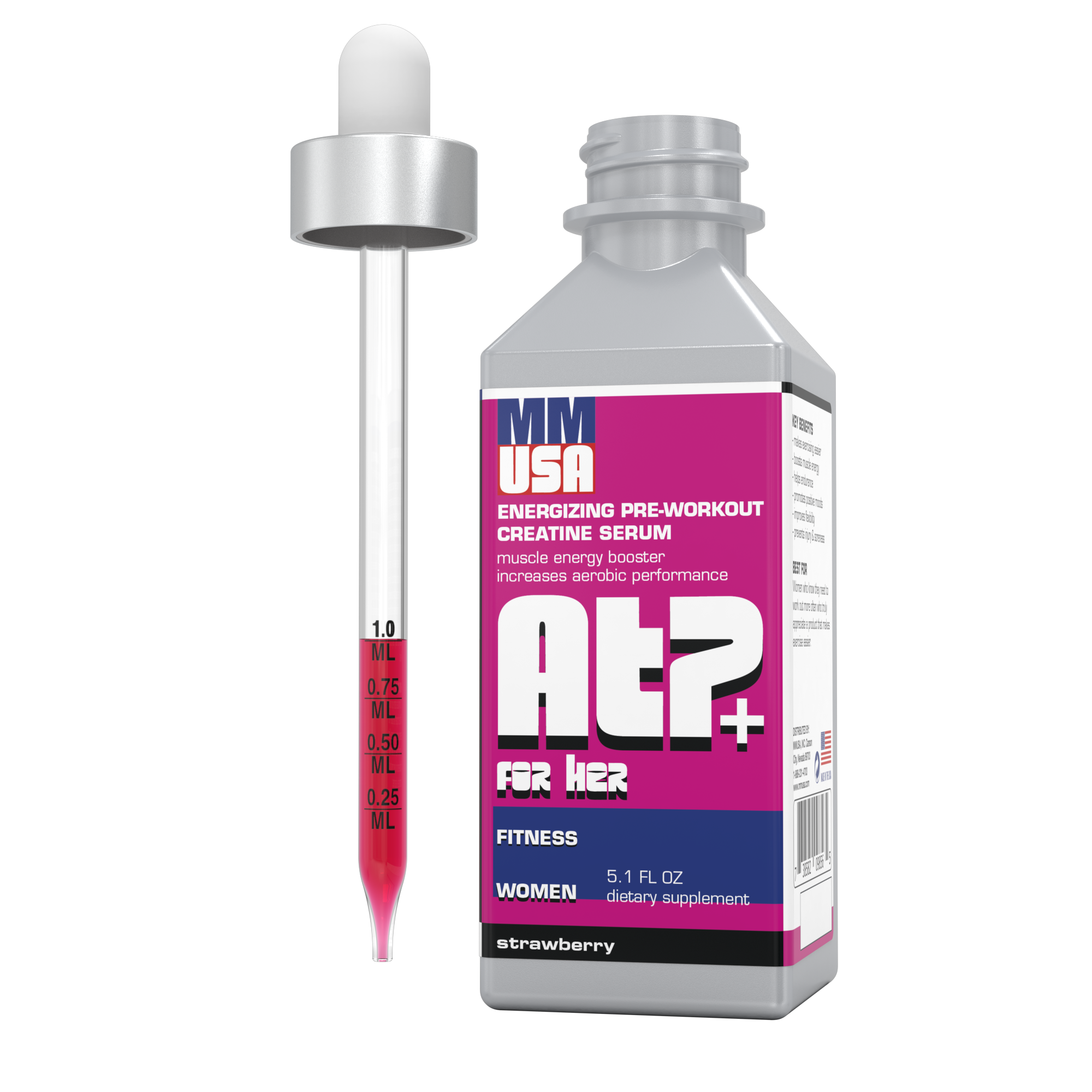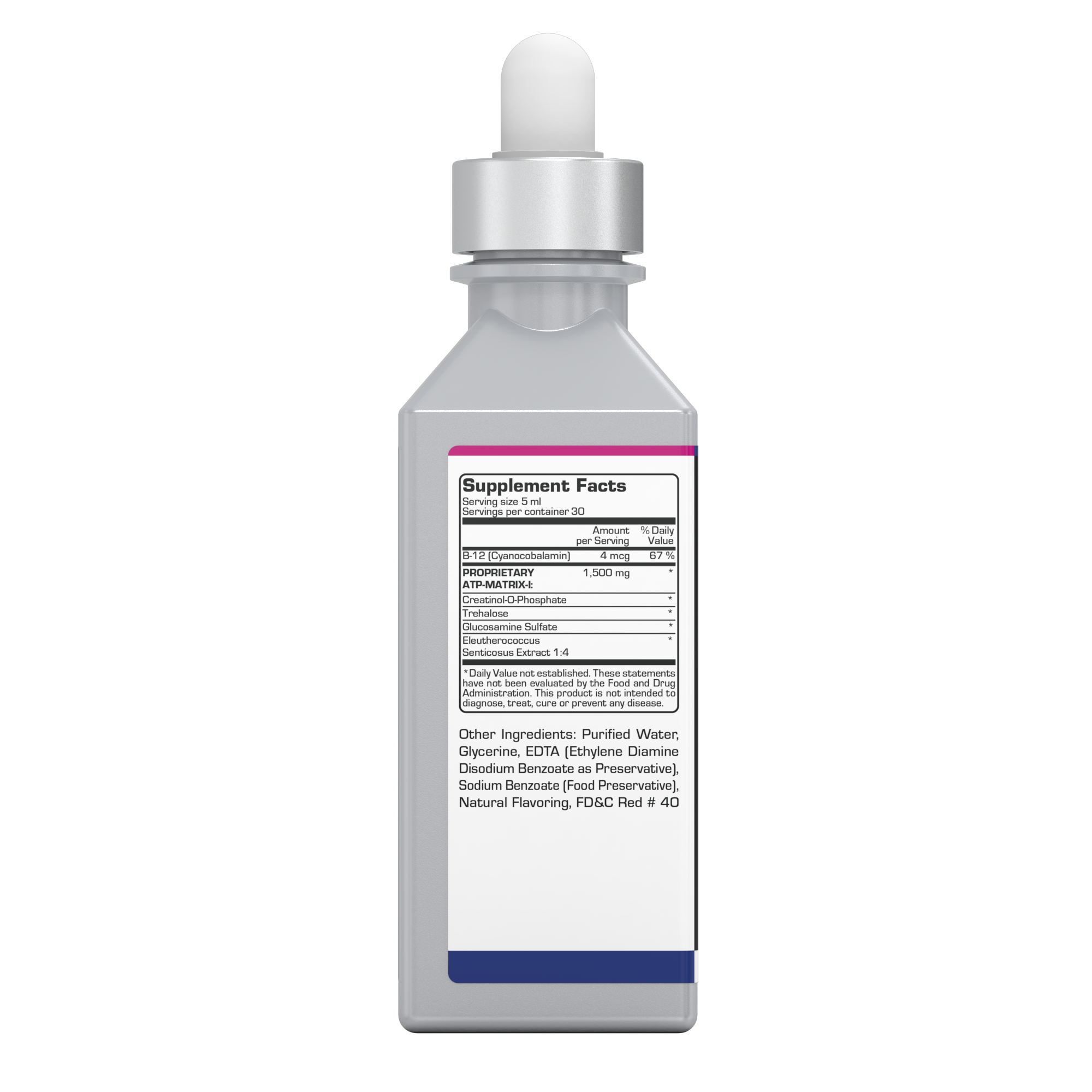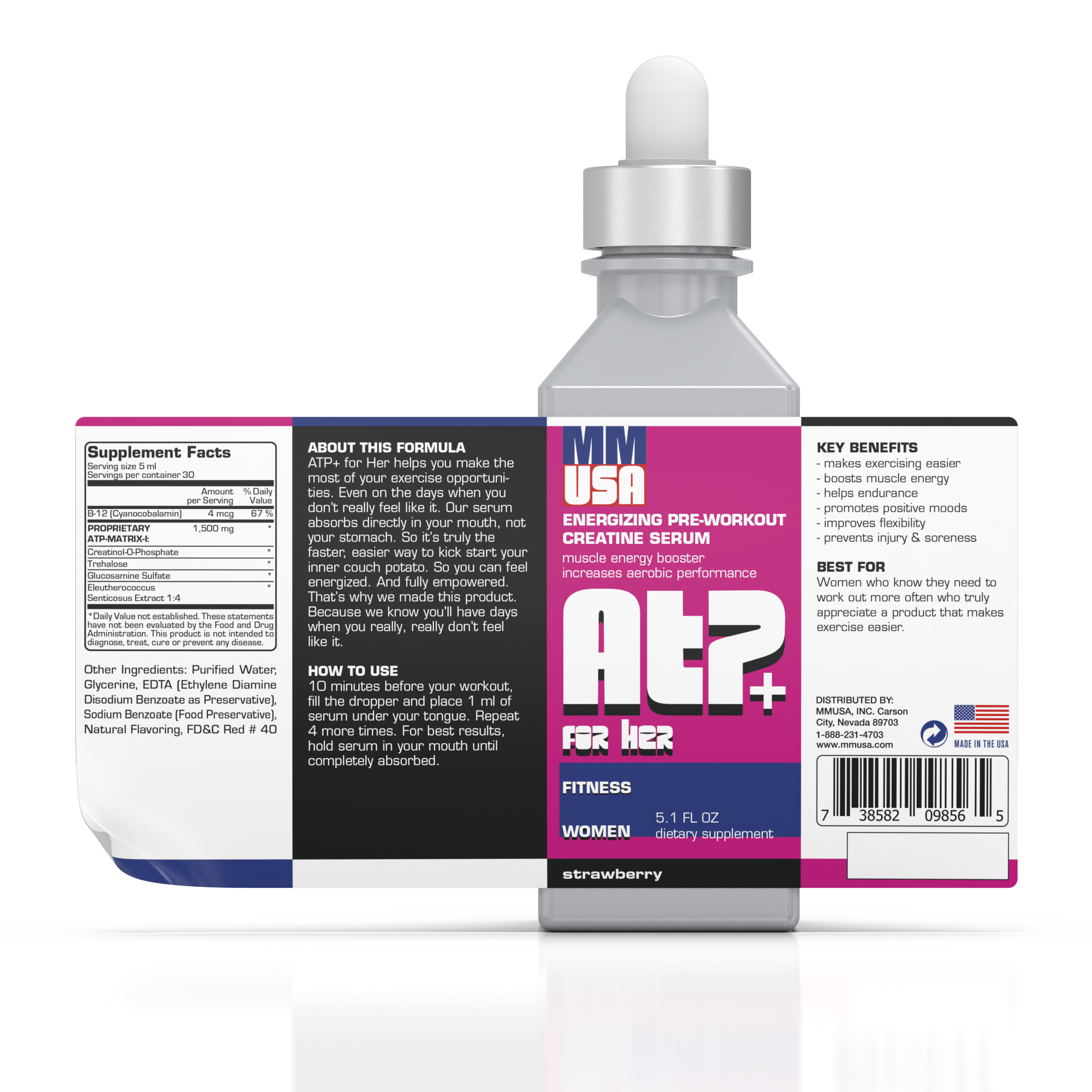 ATP+ For Her Energizing Pre-Workout Creatine Serum
ATP+ For Her is a game-changer in sports nutrition. This 100% absorbable serum supercharges energy, stamina, and strength for women who want to add lean muscle mass, run faster, jump higher, lift heavier weights, and get stronger. It helps to safely boost cellular energy by increasing ATP levels, optimizing energy production without jittery side effects.
Shipping info: Fast Shipping. Arrives in 3-5 business days for orders within US.
DETAILS
key benefits
REPLENISH YOUR CREATINE QUICKLY. The ultimate formula for women gym goers is to build lean muscle without looking bulky, boost memory and focus, protect joints, reduce lactic acid, improve endurance performance, and enhance cardiovascular health.
SUPERCHARGE YOUR WORKOUTS. With ATP for Her Pre-Workout, you will be able to perform harder, longer, and with less effort. Furthermore, the formula boosts your muscles' ability to produce energy during exercise, allowing you to engage more muscles for longer periods of time.
WANT TO GET IN BETTER SHAPE? After cardio, it's time for strengthening and tone-up. ATP for Her helps you do just that—get stronger and look better while building muscle. An excellent formula for weight training.
BOOST YOUR PERFORMANCE, ENERGY, AND ENDURANCE. This formula is excellent for combining cardiovascular exercise with weightlifting. It allows you to do more cardio between full-body strength workouts so you can push harder on the pre-weightlifting aerobics. The best formula for resistance training.
WITH ADDED JOINT SUPPORT. You'll be able to relax with comfort and confidence, knowing that your joints are protected from wear and tear. At the same time, bone strength is supported with every sip of our delicious water-soluble microdoses of creatine.
atp+ for her
BEST FOR
Women, ATP+ For Her delivers fast energy to your muscles, helping you push harder and go faster! It's clinically tested and specially formulated with revolutionary water-soluble creatine that absorbs in your mouth. ATP+ For Her is perfect before any workout or intense physical activity.
WHAT IT IS
A pre-workout supplement for women that combines the best of creatine molecules specific for explosive energy without bloating, bulkiness, or water retention.
WHAT IT DOES
ATP+ for Her enhances strength, power, muscle mass, and anaerobic exercise capacity in both premenopausal and postmenopausal women. It does not cause bulkiness, bloating, water retention, or dehydration.
nutrition facts
Serving Size 5 ml
Servings per container 30
| | Amount Per Serving | % Daily Value |
| --- | --- | --- |
| B-12 (Cyanocobalamin) | 4 mcg | 67% |
| PROPRIETARY ATP MATRIX I: | 1500 mg | ** |
| Creatinol-O-Phosphate | | |
| Trehalose | | |
| Glucosamine Sulfate | | |
| Eleutherococcus Senticosus Extract 1:4 | | |
**Daily Value not established.
Other Ingredients: Purified Water, Glycerine, EDTA (Ethylene Diamine Disodium Benzoate as preservative). Sodium Benzoate (Food Preservative), Natural flavoring, FD&C Red No. 40.
INGREDIENTS
Vitamin B12
Vital for aerobic performance and healthy red blood cells.
PROPRIETARY-ATP-MATRIX-I:
Creatinol-O-Phosphate
Radical muscle-building compound supercharges strength.
Trehalose
Fast-metabolizing disaccharide recharges exhausted muscle energy stores.
‍
Eleutherococcus Senticosus Extract
Anti-inflammatory adaptogen extends energy + endurance.
Glucosamine Sulfate
For structural integrity of joints, connective tissues, and blood vessels.
HOW TO USE
10 minutes before your workout, fill the dropper and place 1 ml of serum under your tongue. Repeat 4 more times.
‍
For best results, hold serum in your mouth until completely absorbed.
‍
March 3, 2023
Lizzy O.
As a woman who loves to lift weights, I'm always looking for ways to improve my performance. ATP+ has become a staple in my routine because it gives me the boost I need to lift heavier and push myself harder. And I appreciate that it's formulated with my unique needs in mind.
February 24, 2023
A. Crawford
I love this pre workout. I liked the taste. Gives me great great pumps and it's the only one that gives me lasting energy even after my workout.
February 13, 2023
Harper R.
Excellent product. You will feel energized throughout your workout and helps to enhance your stamina and power best-workout great taste with great results.
January 18, 2023
Chloe L.
I got the strawberry flavored, and it tastes great, gets me going during the day and a great pre-workout, definitely give it a try, you won't regret it!
Thanks for submitting your review!
We will publish it once approved.
CONTINUE SHOPPING