ATP+ For Her Energizing Pre-Workout Creatine Serum
---
A creatine pre-workout supplement for women that combines the best of creatine molecules specific for explosive energy without the bloating, bulkiness, or water retention with joint protection added.
Shipping info: Fast Shipping. Arrives in 3-5 business days for orders within US.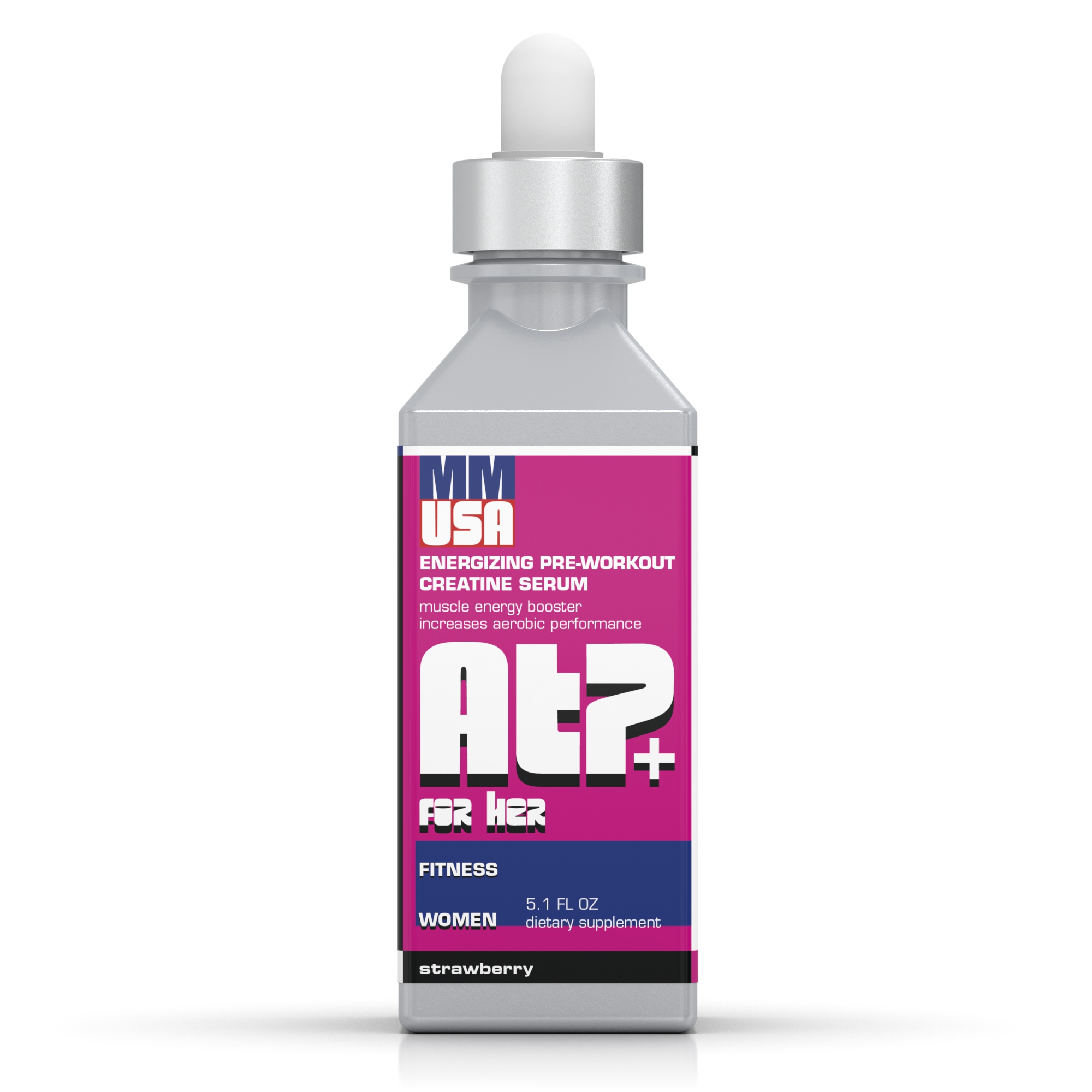 This product is for:
Women Who Want To Increase Their Aerobic Performance
Improves Flexibility And Boosts Muscle Energy Without Bloating
Description
ENERGIZES EVERY WORKOUT
ATP+ for Her helps you make the most of your exercise opportunities. Even on the days when you don't really feel like it. Our serum absorbs directly in your mouth, not your stomach. So it's truly the faster, easier way to kick start your inner couch potato. So you can feel energized. And fully empowered. That's why we made
this product. Because we know you'll have days when you really, really don't feel like it.
PREVENTS WATER RETENTION AND BLOATING
Formulated to boost your ATP energy cycle, ATP+ For Her provides that quick energy boost you need to banish fatigue so you can get your cardio going or do some moderate-intensity weightlifting. The pioneering water-soluble formula lets you neatly sidestep the water-retention and bloating that plague woman who uses powdered supplements. ATP+ For Her helps you get the job done without the jitters; it starts with a performance boost by increasing anaerobic glycolysis and then supports you as you make a smooth recovery.
100% ABSORBABLE SERUM
ATP+ For Her absorbs in your mouth, not your gut. Pure and soluble creatine flows into your power-hungry muscles instantly. ATP levels are immediately supercharged. The hassle and delay of loading and maintenance are a thing of the past. Water weight gain is eliminated.
MORE POWER TO YOU
In minutes you'll feel surging muscle power. Your strength and stamina will increase. ATP+ For Her drives accelerated ATP production that continuously sustains working muscles with clean, powerful energy.
PROUDLY MADE IN THE USA
Muscle is our first name. But our family name is USA. All our products are sourced and manufactured in the United States. We comply with all good manufacturing practices.
SINCE 1995
We have been committed to empowering athletes all over the world. Since our invention of Creatine Serum over 25 years ago, we have changed the way the world works out. By offering everyone who wants to try, the power to be their best.
How to use
10 mins. before your workout, fill the dropper and place 1 ml of serum under your tongue. Repeat 4 more times. For best results, hold serum in your mouth until completely absorbed.
Ingredients
Vitamin B12
Vital for aerobic performance and healthy red blood cells.
PROPRIETARY-ATP-MATRIX-I:
Creatinol-O-Phosphate
Radical muscle-building compound supercharges strength.
Trehalose
Fast-metabolizing disaccharide recharges exhausted muscle energy stores.
Eleutherococcus Senticosus Extract
Anti-inflammatory adaptogen extends energy + endurance.
Glucosamine Sulfate
For structural integrity of joints, connective tissues, and blood vessels.
Key Benefits
• Makes Exercising Easier
• Boosts Muscle Energy
• Helps Endurance
• Promotes Positive Moods
• Improves Flexibility
• Prevents Injury & Soreness