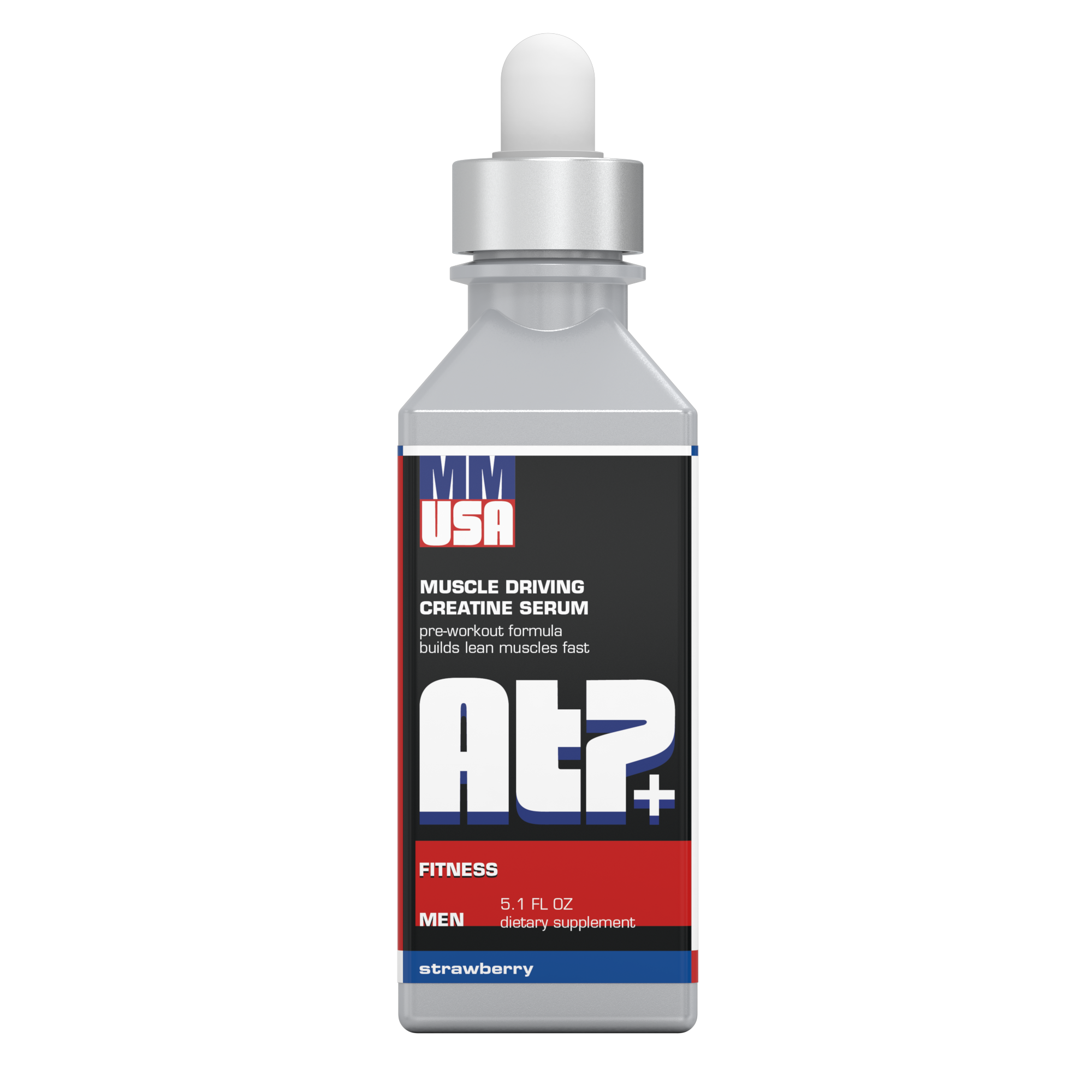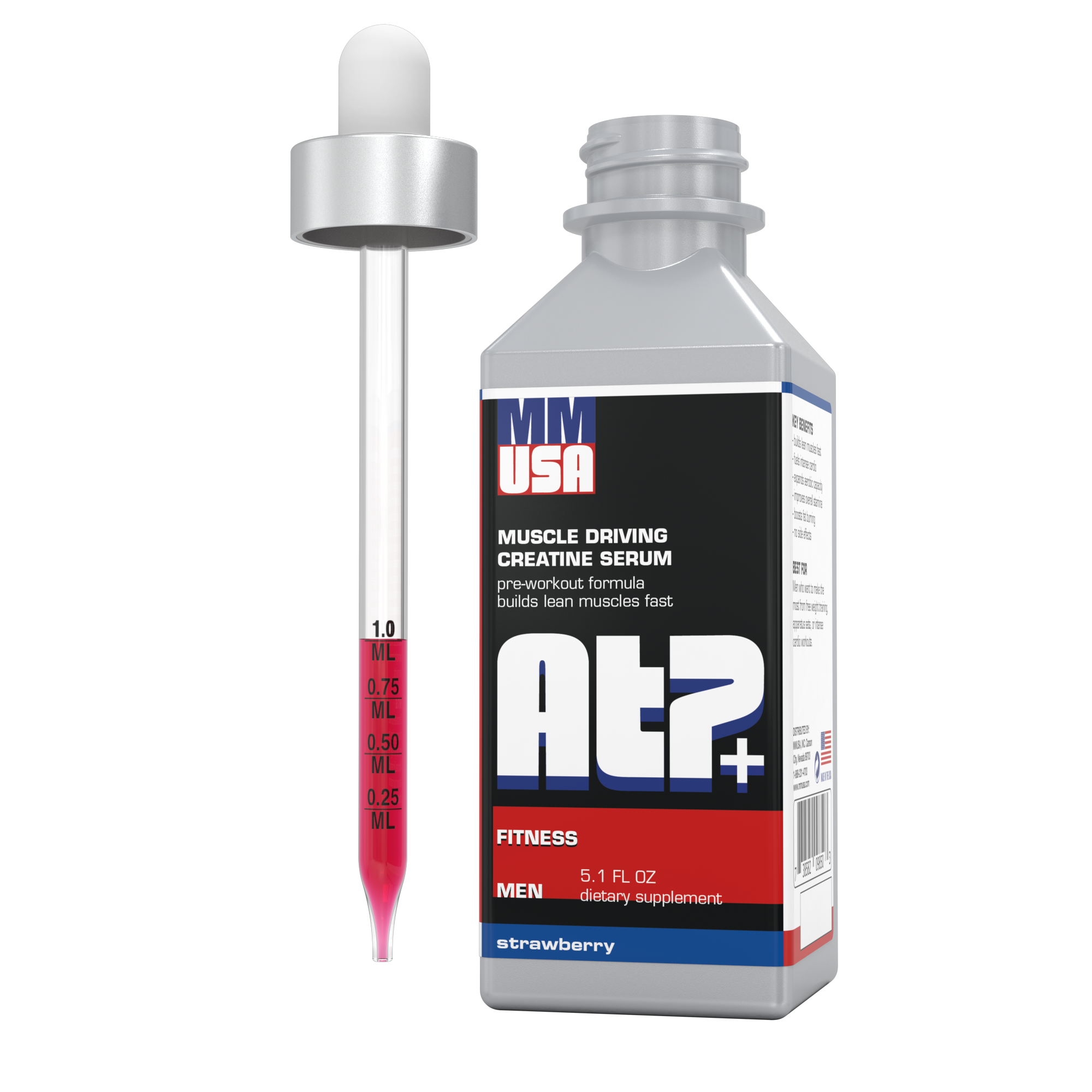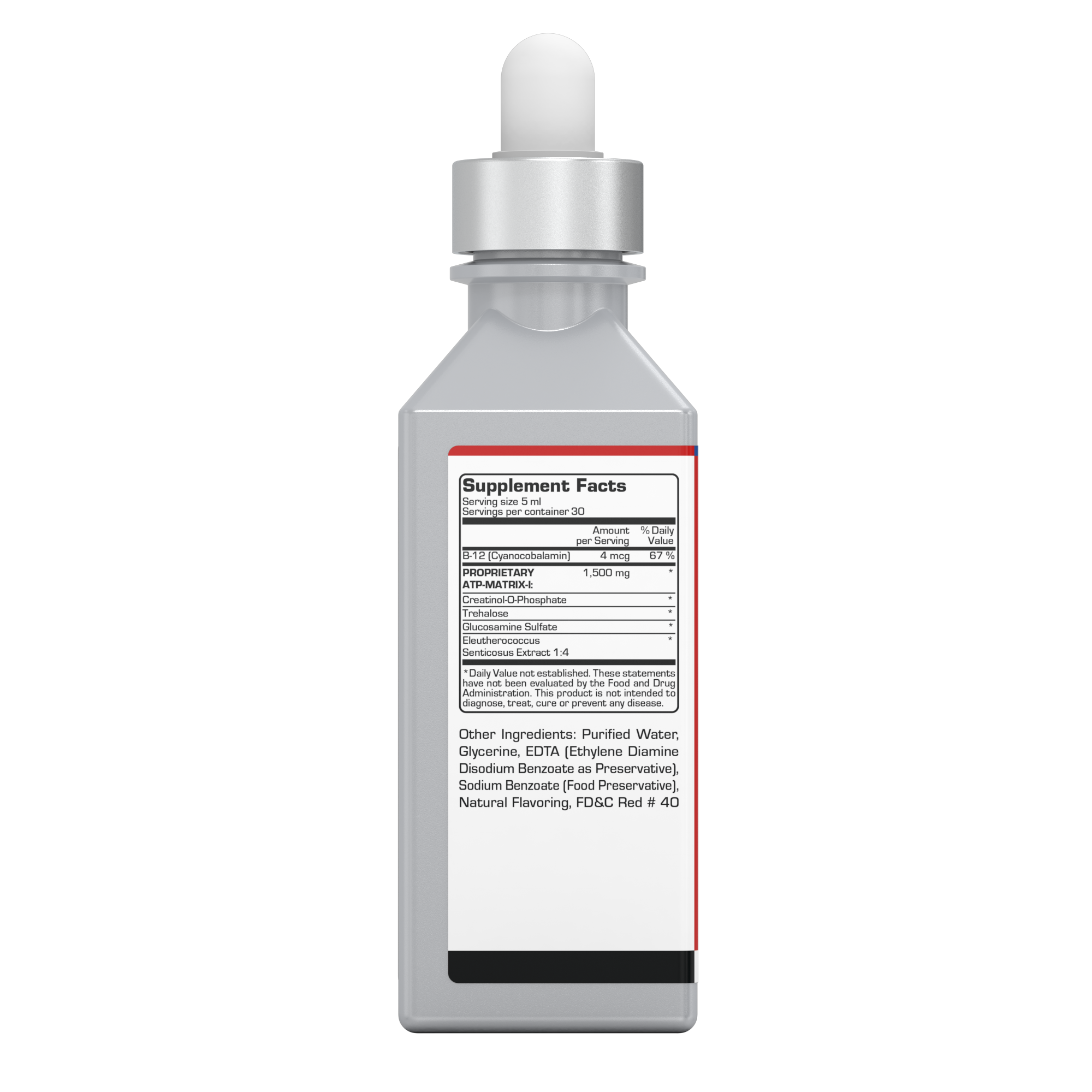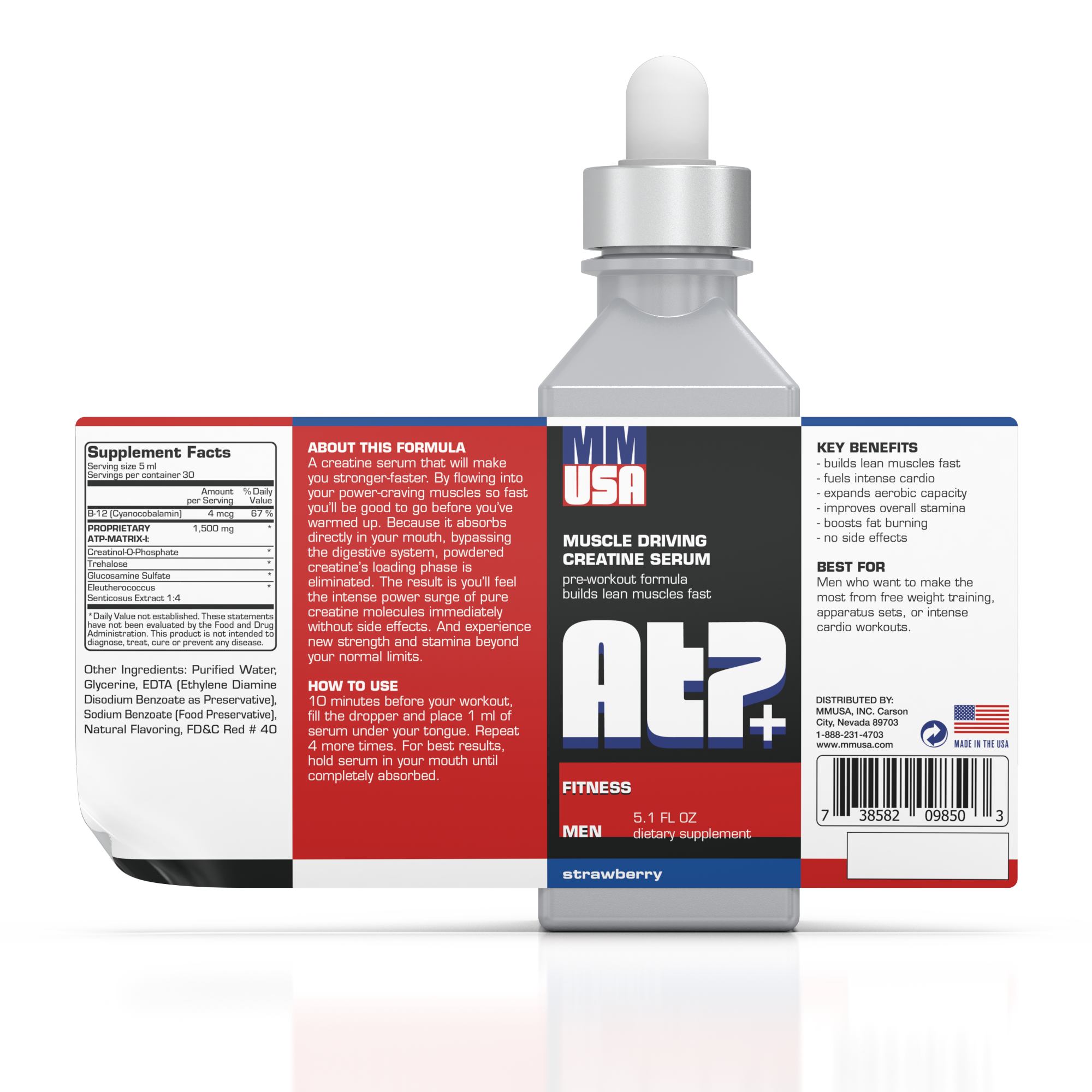 ATP+ Muscle Driving Creatine Serum
ATP+ provides muscles with a sufficient energy supply throughout the exercise session, thanks to a combination of top ingredients, such as Vitamin B 12, Glucosamine, and Eleutherococcus Senticosus plus a stable powerful of COP.
Shipping info: Fast Shipping. Arrives in 3-5 business days for orders within US.
DETAILS
key benefits
BUILD REAL MUSCLE MASS. ATP+ Muscle Driving Creatine Serum will give you power, strength, and agility. Train at your maximum intensity – train harder, lift more. It's your quest to achieve even more: more strength, bigger muscles, better results.  No weight gain. Only muscles.
CONSTANT ENERGY. TRAIN LIKE A CHAMPION. Get fueled by ATP Creatinol Serum, a pre-workout supplement that delivers daily strength and endurance. Keep your bones and joints healthy by training hard and recovering quickly.
DEFEATS FATIGUE, AND PROTECTS JOINTS. Assimilation of ATP Creatine Serum in the bloodstream takes minutes, providing unsurpassed focus, power, and stamina. It delivers unprecedented energy and life on demand by increasing ATP production and delaying lactic acid buildup. This powerful amino acid and glucosamine sulfate combination supports bone strength and builds lean muscles quickly.
BIOAVAILABLE AND POTENT. Since ATP+ contains creatine in liquid form, it is water-soluble, bioavailable, definitely has no breakdown, potent, absorbable, and stable.
SAFE AND EFFECTIVE. Small 5 ML dose only minutes before workout. No loading or maintenance is needed. No water retention, bloating, cramps, or digestive discomfort.
‍
atp+ men
BEST FOR
Bodybuilders, athletes, and fitness enthusiasts who want to boost their power & strength to achieve bigger muscle pumps and better recovery.‍
WHAT IT IS
Our proprietary formula is made of a unique combination of amino acids, vitamins, and minerals that help to increase ATP production and delay the onset of lactic acid build-up. This increases energy, stamina, and strength on demand.‍
WHAT IT DOES
Instantly flood every muscle in your body with the power to surge beyond your metabolic norm. You can feel this power in every part of your body, especially when you push through the limits at the gym.
‍
nutrition facts
Serving Size 5 ml
Servings per container 30
| | Amount Per Serving | % Daily Value |
| --- | --- | --- |
| B-12 (Cyanocobalamin) | 4 mcg | 67% |
| PROPRIETARY ATP MATRIX I: | 1500 mg | ** |
| Creatinol-O-Phosphate | | |
| Trehalose | | |
| Glucosamine Sulfate | | |
| Eleutherococcus Senticosus Extract 1:4 | | |
**Daily Value not established.
Other Ingredients: Purified Water, Glycerine, EDTA (Ethylene Diamine Disodium Benzoate as preservative). Sodium Benzoate (Food Preservative), Natural flavoring, FD&C Red No. 40.
INGREDIENTS
Vitamin B12
Vital For Aerobic Performance and Healthy Red Blood Cells
ATP-MATRIX-1
Creatinol-o-Phosphate
Radical Muscle Building Compound Supercharges Strength
Vitamin B12
Vital For Aerobic Performance and Healthy Red Blood Cells
ATP-MATRIX-1
Creatinol-o-Phosphate
Radical Muscle Building Compound Supercharges Strength
HOW TO USE
10 minutes before your workout, fill the dropper to place 1 ml of serum under your tongue. Repeat 4 more times.
‍
For best results, hold the serum in your mouth until completely absorbed.
‍
February 27, 2023
James N.
I've been using ATP+ for a few weeks now and I've already noticed a significant improvement in my strength and endurance during workouts. The glucosamine content has also been beneficial for my joints, which used to ache after intense exercise.
February 24, 2023
Ry Patel
Great creatine boost! The cherry tastes really good. Excellent energy boost to get through a workout.
January 26, 2023
Isaac Robinson
As someone who struggles with digestive issues and can't tolerate regular creatine supplements, ATP+ Muscle Driving Creatine Serum has been a game-changer for me. It's gentle on my stomach and doesn't cause any bloating or discomfort. Plus, it's really effective at increasing muscle mass and improving performance.
January 11, 2023
Henry O.
I've tried a lot of pre-workout supplements over the years, but ATP+ is my favorite. The combination of creatine and glucosamine is unbeatable in terms of energy, endurance, and joint support. Highly recommend!
Thanks for submitting your review!
We will publish it once approved.
CONTINUE SHOPPING