ATP+ Muscle Driving Creatine Serum
---
MMUSA ATP+ Creatine Serum Muscle Fuel – Fast + Clean. Pre-Workout Muscle Power. Sublingual Liquid Absorbs Instantly. Safely Supports Fast Muscle Growth; Extends Endurance. No Loading or Weight Gain.
FEEL WHOLE BODY POWER FAST
Imagine powering up every muscle in your body. Instantly. Supercharging anaerobic glycolysis this fast requires pure creatine molecules to enter your muscle cells quickly. Where they boost ATP production to the point that your muscles start performing beyond their metabolic norm. Only ATP+ Creatine Serum can deliver clean and powerful muscle energy this fast on demand. Safely. And with no side effects.
Shipping info: Fast Shipping. Arrives in 3-5 business days for orders within US.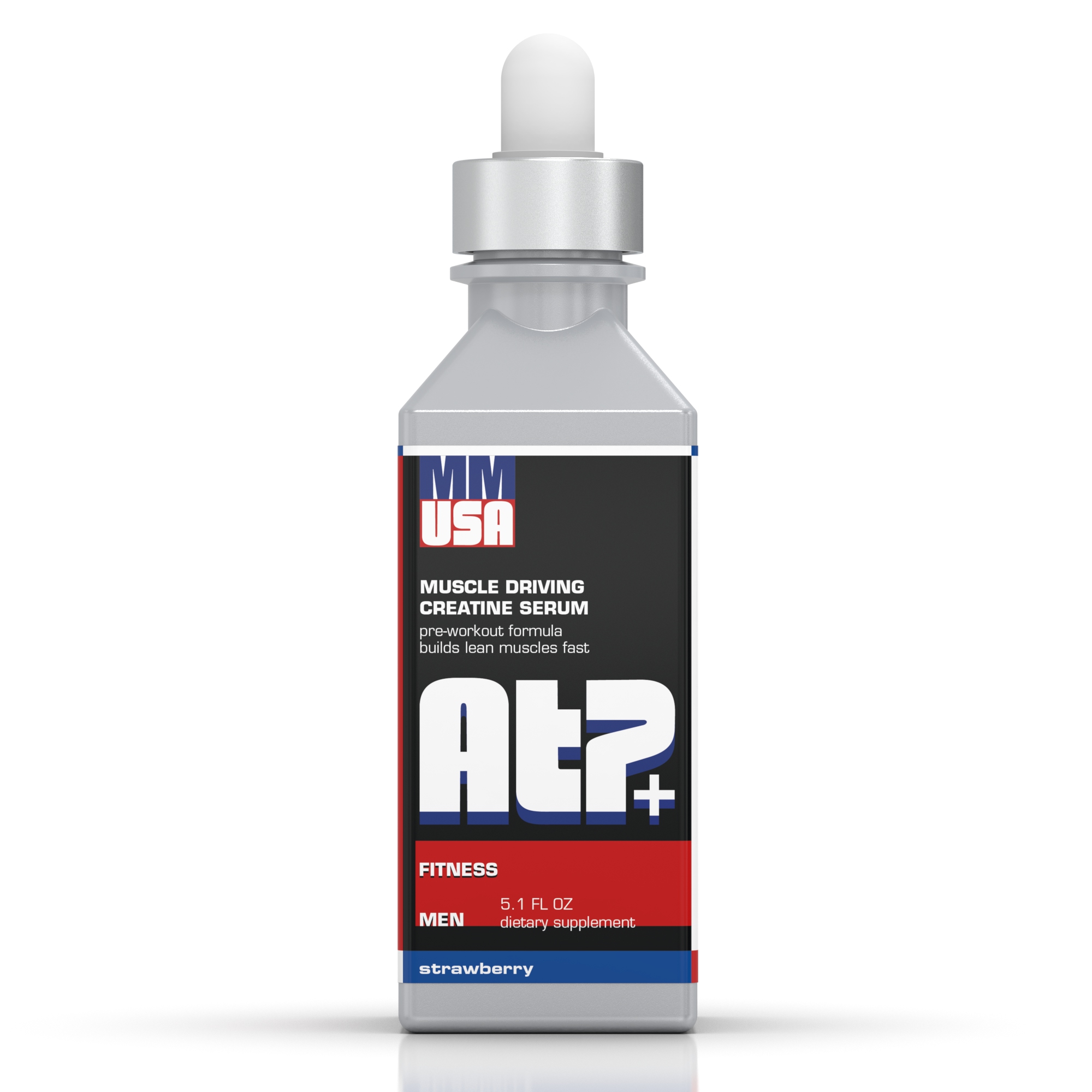 This product is for:
Men Who Want To Make The Most From Intense Workouts
Expands Aerobic Capacity And Improves Overall Stamina
Description
THE CREATINE POWDER PROBLEM
The problem with creatine monohydrate powder is that it absorbs badly. Which can lead to an unwanted weight gain of 5 pounds or more. The water held in your muscles can also make you bloated, puffy, and lethargic. Fluid retention also triggers dehydration. Which can really mess you up whether you're CrossFit training, pumping free weights, on the bike, doing floor exercise routines, or running your morning 10k.
100% ABSORBABLE SUBLINGUAL LIQUID
ATP+ absorbs in your mouth. Not your gut. Soluble, pure creatine merges into your bloodstream instantly. Then flows to your energy-hungry muscles where it supercharges ATP levels. There is no loading or scheduling like with powdered creatine. No water weight gain. Or potentially dangerous dehydration. Unlike creatine powder, ATP+ is 100% bioavailable. So, there is no fluid retention. Ever. You're good to go anytime you want.
STAY STRONGER LONGER
In the time it takes to stretch and warm-up you'll feel surging muscle power. Accelerated ATP production continuously fuels your muscles with an optimal microdose that will sustain muscle energy and extend your endurance. The big fat lie of fitness is that you can't burn fat, build muscle, and not gain weight. Not true. ATP+ turns carbs into lean muscle faster. Because you will lift more, train longer, and run faster and farther. You'll gain with no pain. And have fun doing it.
GLUCOSAMINE SULPHATE + B-12 + ELEUTHEROCOCCUS SENTICOSUS
This scientifically proven #SmartStack will help strengthen your joints, blood vessels, and connective tissues. Extend your endurance by slowing and controlling lactic acid buildup. And nourish lean muscle growth. Vitamin B-12 is vital to energy production and a healthy circulatory system.
PROUDLY MADE IN THE USA
Muscle is our first name. But our family name is USA. All our products are sourced and manufactured in the United States. We comply with all good manufacturing practices.
SINCE 1995
MMUSA is committed to empowering athletes all over the world. Since our invention of Creatine Serum over 25 years ago, we have changed the way the world works out. By offering everyone who wants to try, the power to be
their best.
How to use
10 mins. before your workout, fill the dropper and place 1 ml of serum under your tongue. Repeat 4 more times. For best results, hold serum in your mouth until completely absorbed.
Ingredients
Vitamin B12
Vital For Aerobic Performance and Healthy Red Blood Cells
ATP-MATRIX-1
Creatinol-o-Phosphate
Radical Muscle Building Compound Supercharges Strength
Trehalose
Fast Metabolizing Disaccharide for Rapid High-Energy
Glucosamine Sulfate
For Structural Integrity of Joints, Connective Tissues, and Blood Vessels
Eleutherococcus Senticosus
Anti-Inflammatory Adaptogen Increases Endurance
Key Benefits
• Builds Lean Muscles Fast
• Fuels Intense Cardio
• Expands Aerobic Capacity
• Improves Overall Stamina
• Boosts Fat Burning
• No Side Effects