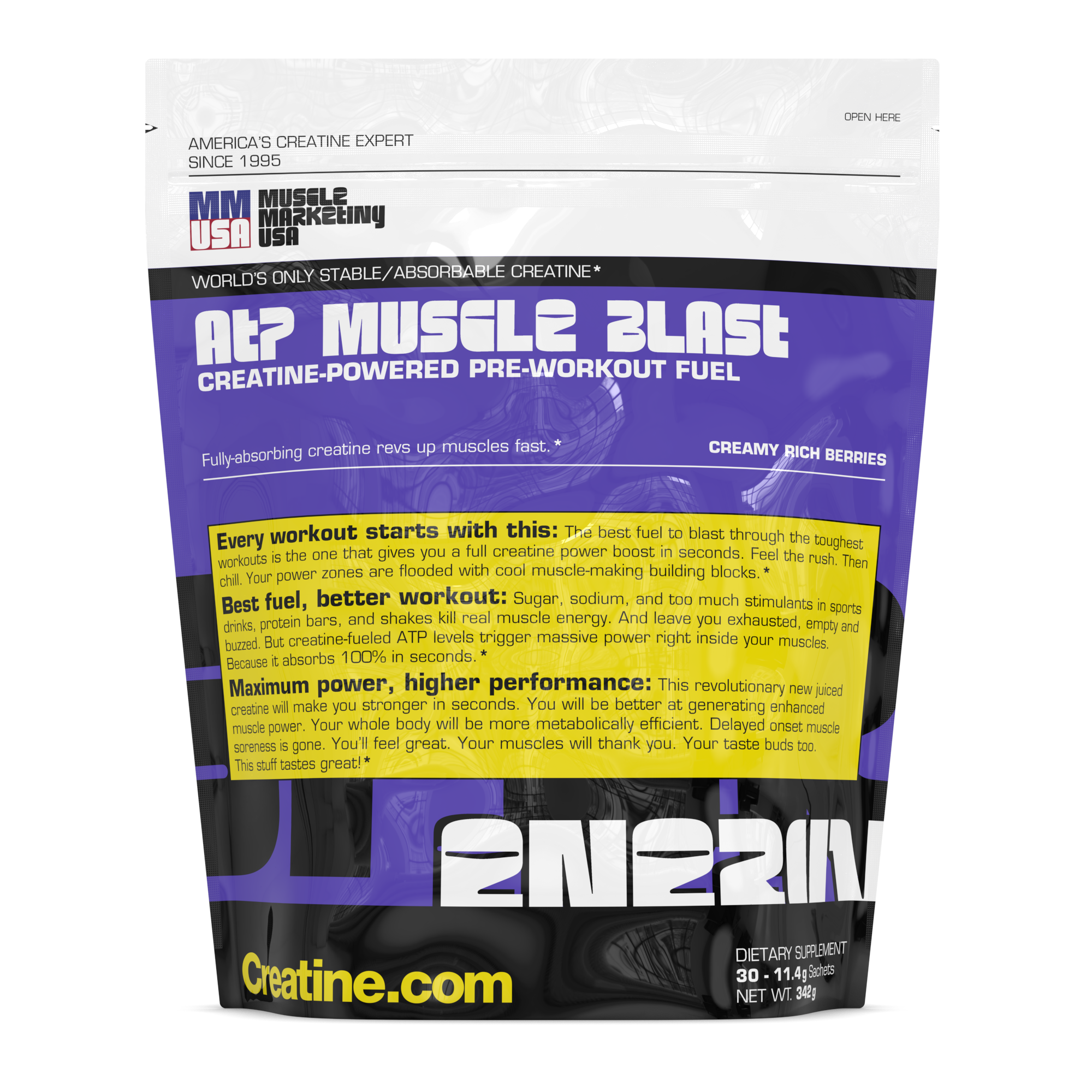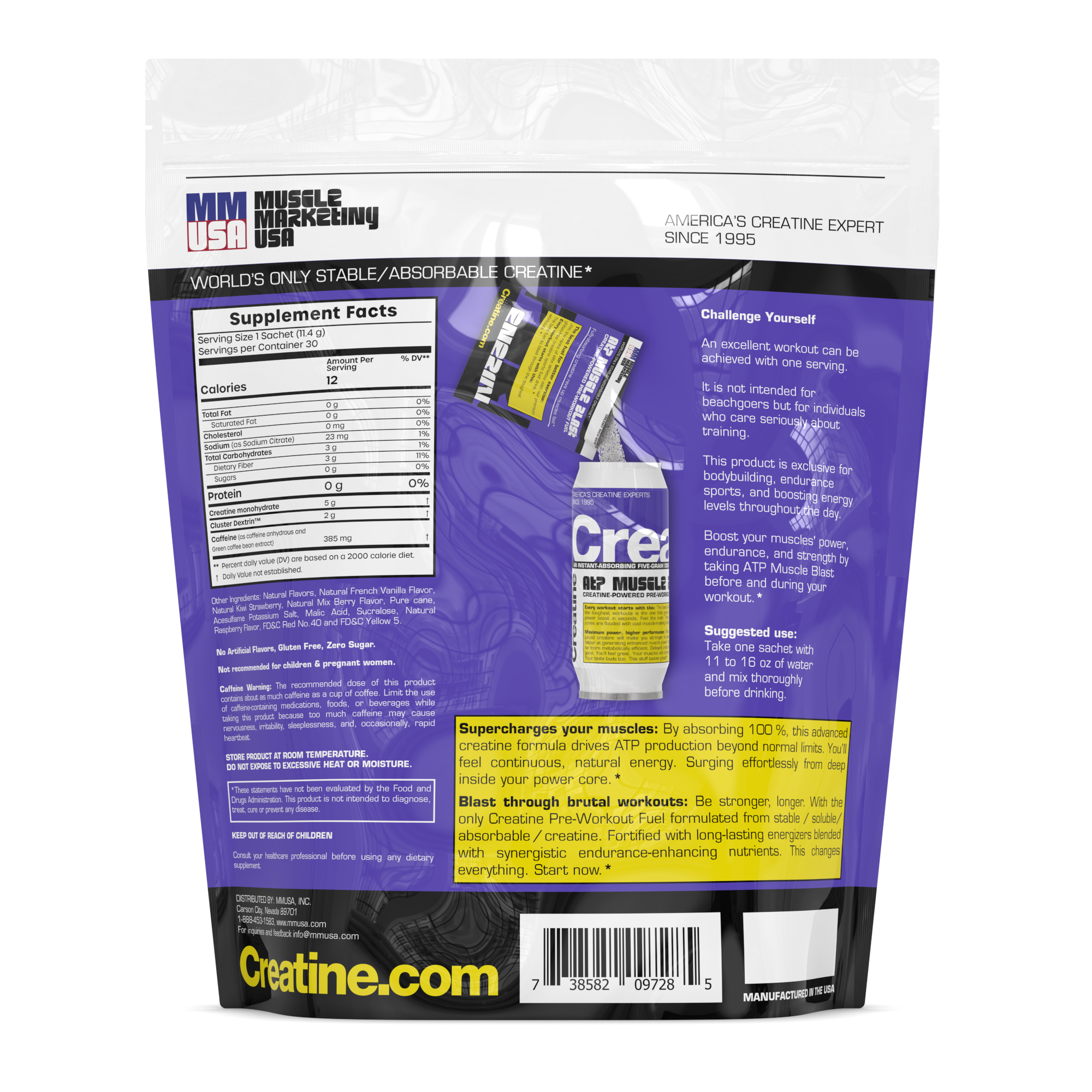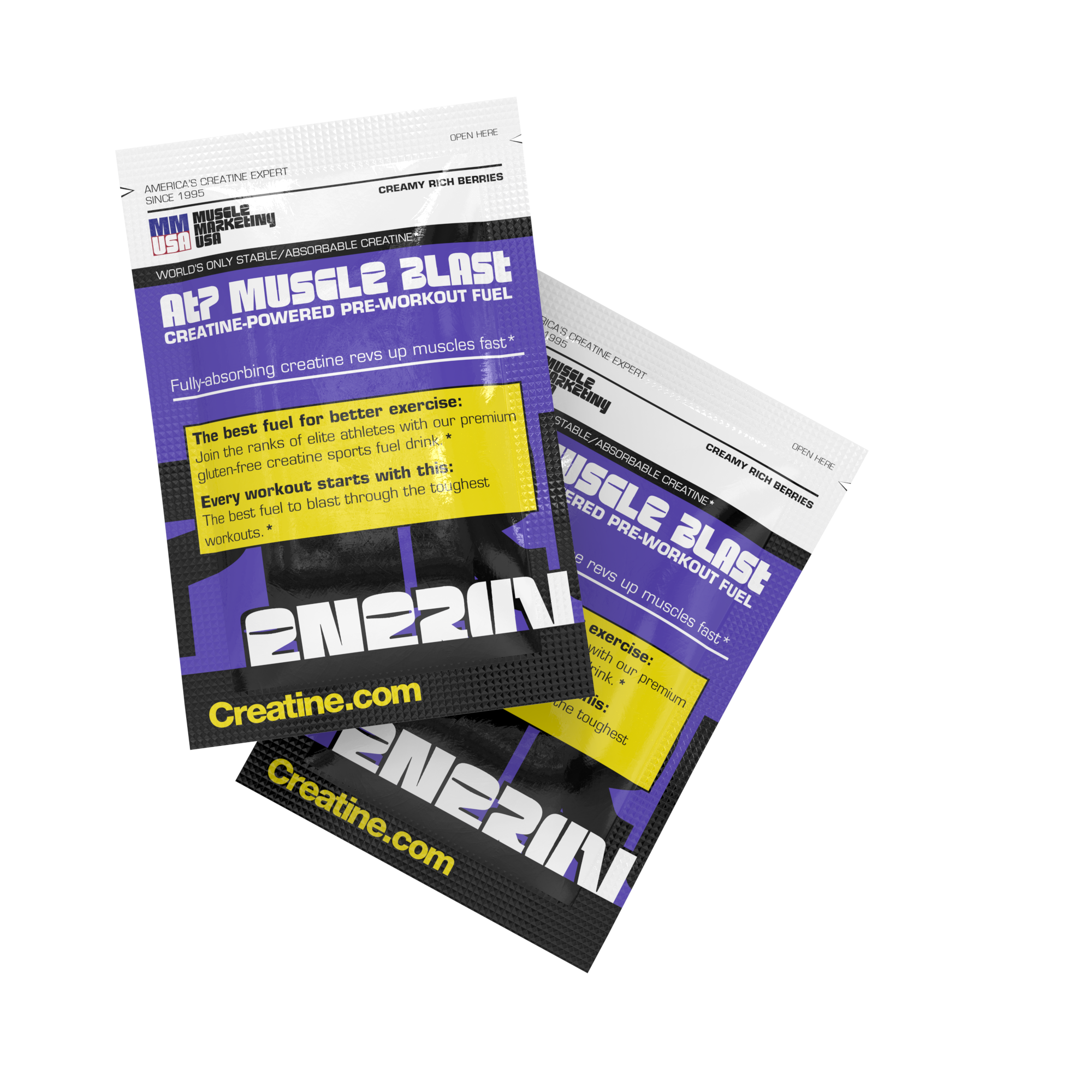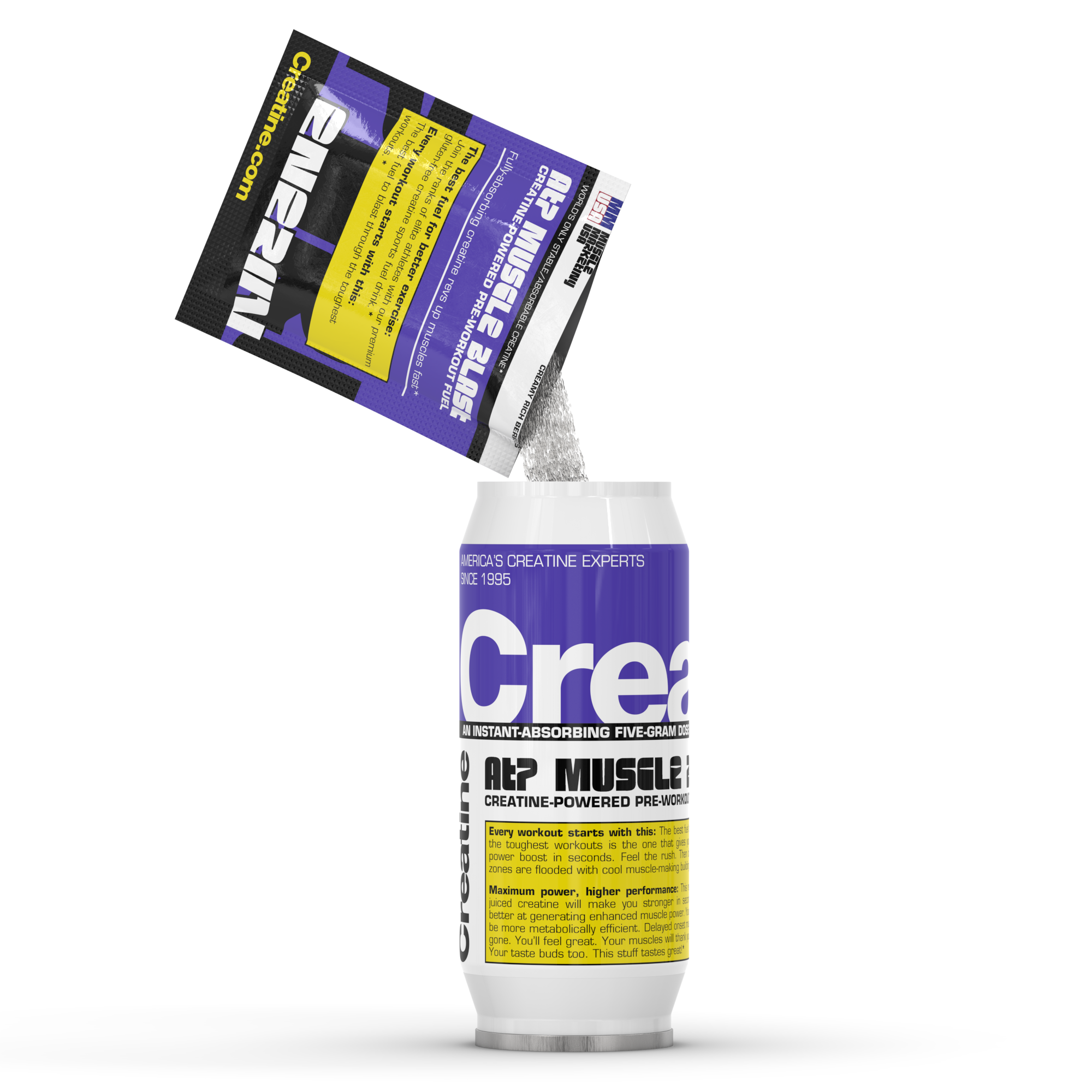 ATP Muscle Blast Creatine Sports Drink
Blast through brutal workouts: Be stronger, longer. With the only Creatine Pre-Workout Fuel formulated from stable/ soluble/absorbable/creatine. Fortified with long-lasting energizers blended with synergistic endurance-enhancing nutrients.
Shipping info: Fast Shipping. Arrives in 3-5 business days for orders within US.
DETAILS
key benefits
INTRODUCING THE WORLD'S ONLY STABLE CREATINE SPORTS DRINK. Gain a competitive edge. Blast your fitness. Intensify your workout. Get a real stable creatine boost. Strengthens and increases muscle mass. Builds muscle. It's the power you can feel.
WANT TO GET STRONG AND LEAN? ATP Muscle Blast is the real creatine power drink. It's made with real creatine and less sugar and jitters than other colored energy drinks that claim to be "energy drinks." This is the only one you need.
EVERY WORKOUT BEGINS WITH THIS—BECOME A LEAN MUSCLE MACHINE! It gives you total power and energy and replenishes your creatine levels in less than a minute. Plus, you can get it in a variety of delicious natural flavors
A NEW WAY TO TAKE YOUR WORKOUTS TO THE NEXT LEVEL! It is perfect for athletes who want to maximize their workouts without worrying about unnecessary blood sugar spikes or debilitating energy crashes afterward.
INSTANT ENERGY TO MUSCLE. It's made for athletes with a blend of powerful ingredients that deliver the energy you need to fuel your body, train harder, and gain a leaner physique. Lean muscle mass, power, strength, and recovery!
FUEL YOUR BODY, TRAIN HARDER, AND GAIN A LEANER PHYSIQUE! It contains water-soluble, ready-to-drink creatine. The power of creatine without the powder's side effects or water retention or degrade.
atp muscle blast
Every workout starts with this:  The best fuel to blast through the toughest workouts is the one that gives you a full creatine power boost in seconds. Feel the rush. Then chill. Your power zones are flooded with cool muscle-making building blocks.
Best fuel, better workout:  Sugar, sodium, and too much stimulants in sports drinks, protein bars, and shakes kill real muscle energy. And leave you exhausted, empty, and buzzed. But creatine-fueled ATP levels trigger massive power right inside your muscles. Because it absorbs 100% in seconds.
Maximum power, higher performance:  This revolutionary new juiced creatine will make you stronger in seconds. You will be better at generating enhanced muscle power. Your whole body will be more metabolically efficient. Delayed onset muscle soreness is gone. You'll feel great. Your muscles will thank you. Your taste buds too. This stuff tastes great!‍
nutrition facts
1 serving per container
Serving per container 30
| | Amount Per Serving | % Daily Value* |
| --- | --- | --- |
| Calories | 12 | |
| Total Fat | 0 g | 0% |
|    Saturated Fat | 0 g | 0% |
| Cholesterol | 0 mg | 0% |
| Sodium (sodium citrate) | 23 mg | 1% |
| Total Carbohydrates | 3 g | 1% |
|    Dietary Fiber | 3 g | 11% |
|    Sugar | 0 g | 0% |
| Protein | 0 g | % |
| Creatine Monohydrate | 5 g | Ɨ |
| Cluster Dextrin ™ | 2 g | Ɨ |
| Caffeine (as caffeine anhydrous and green coffee bean extract) | 385 mg | Ɨ |
**Percent daily values are based on a 2000-calorie diet
Ɨ Daily Value not established
Other Ingredients: Natural Flavors, Natural French Vanilla Flavor, Natural Kiwi Strawberry, Natural Mix Berry Flavor, Pure cane, acesulfame potassium Salt, Malic Acid, Sucralose, Natural Raspberry Flavor, FD&C Red No.40 and FD&C Yellow 5.
HOW TO USE
Boost your muscles' power, endurance, and strength by taking ATP Muscle Blast before and during your workout.
‍
‍
Add one sachet to 11-16 ounces of water and mix thoroughly.
‍
Add Review
Thanks for submitting your review!
We will publish it once approved.
CONTINUE SHOPPING