#Strong Muscle Building Pre-Workout Creatine Serum for Women
---
#Strong Muscle Building Pre-Workout Creatine Serum for Women is a natural energy enhancer designed especially for women. It delivers a safe, gentle energy boost that maximizes strength and vitality without the common side effects of dehydration, water retention, and bloating. It is formulated with the exact balance of nutrients and in the precise doses for the female body to help them get firm and tone up muscles quickly.
Shipping info: Fast Shipping. Arrives in 3-5 business days for orders within US.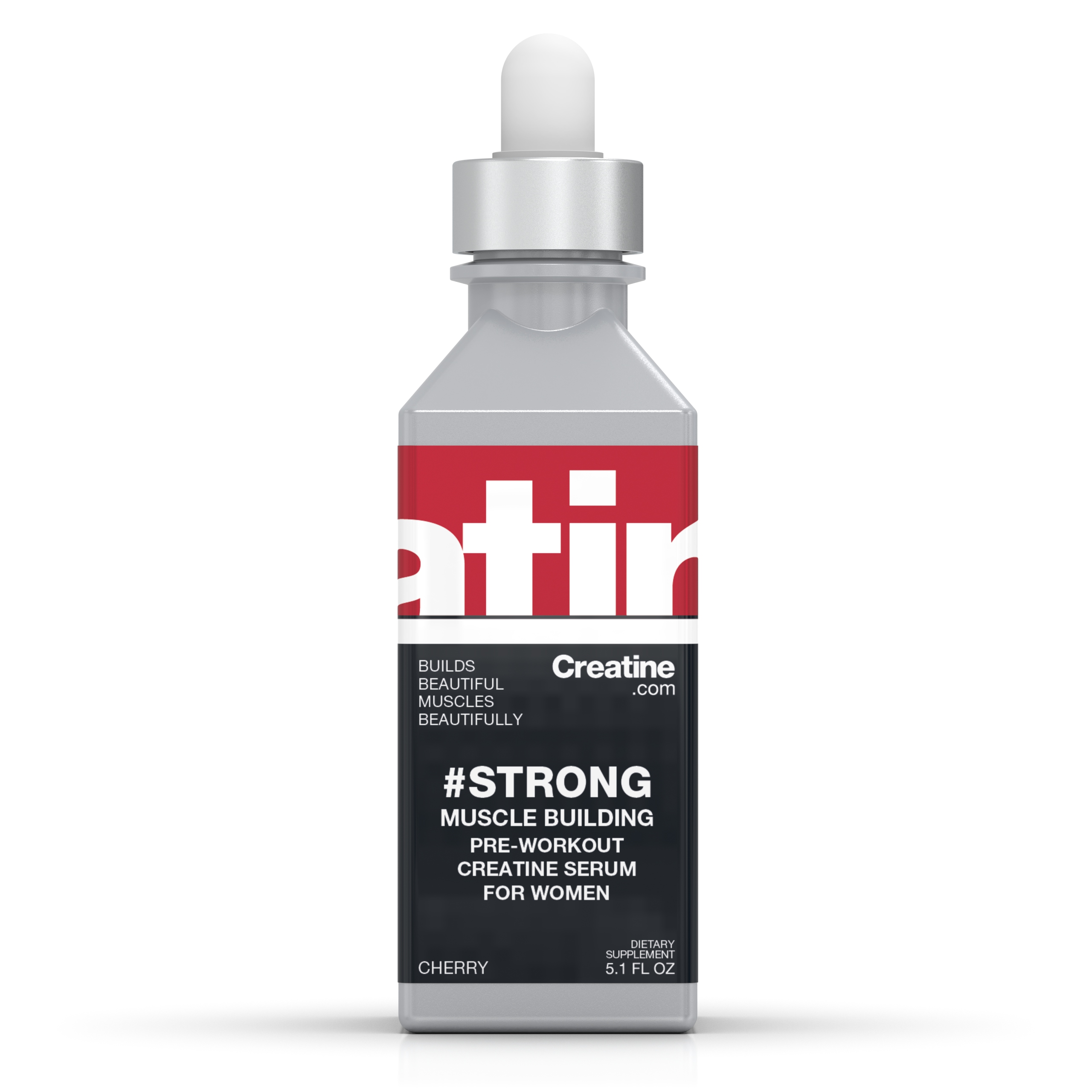 This product is for:
Women Who Want To Gain Lean Muscles And Optimize Their Energy
Be Stronger, Get Firm And Tone Up Muscles Quickly
Description
BUILD BEAUTIFUL MUSCLES BEAUTIFULLY
Just like men, women too experience enhanced performance and muscle accumulation in response to creatine types such as creatine monohydrate. This natural substance is crucial for strengthening effects in women.
But, a lot of women feel hesitant to consume creatine because of the belief that it causes water retention. Some women do experience water retention after an initial couple of weeks after they start consuming creatine. That is why to battle this problem, MMUSA – the leading health supplement brand – has formulated various serums to undo the side effects caused by creatine on women's bodies.
Presenting #Strong Muscle Building Pre-Workout Creatine Serum for Women – a pre-workout formula containing Creatinol-O-Phosphate designed for women. The magic potion for getting firm and tone muscles quickly without any side effects.
The product comes with a promise of giving an intense energy boost without inducing the feeling of bloating or dehydration. The formula contains a perfect balance of nutrients designed especially for muscle strengthening requirements of the female body.
ADVANCED FORMULATION WITH NO SIDE-EFFECTS
A product that boasts of being absolutely bio-available, #Strong Muscle Building Pre-Workout Creatine Serum is absorbed by the body in no time. Since it's absorbed by the mucous membranes of the tongue, it doesn't need to go through the digestive tract and hence works its way quickly into the system.
The advanced formulation causes no cramping, fluid retention, or digestion issues. No side effects whatsoever!
PROUDLY MADE IN THE USA
Muscle is our first name. But our family name is USA. All our products are sourced and manufactured in the United States. We comply with all good manufacturing practices.
SINCE 1995
We have been committed to empowering athletes all over the world. Since our invention of Creatine Serum over 25 years ago, we have changed the way the world works out. By offering everyone who wants to try, the power to be their best.
How to use
One 5ml serving of creatine serum supplies the equivalent of 2,500 mg of creatine monohydrate. Before activity use the dropper to place 5 (1ml) portions under the tongue. Hold serum under the tongue for best absorption. May also be swallowed or mixed with water or juice.
Ingredients
Calcium Pantothenate
Vital for high-energy muscular contractions and strong bones.
WORKOUT INTENSIFIER BLEND:
Creatine Ethyl Ester Hydrochloride (HCL)
Potent, most explosive hybrid creatine molecule which helps increase muscle cell volumization, eliminates the need for all loading and scheduling. 99 times more absorbable than creatine monohydrate.
Creatinol-O-Phosphate
Radical muscle-building compound supercharges strength.
Trehalose
Fast-metabolizing disaccharide recharges exhausted muscle energy stores.
Eleutherococcus Senticosus Extract
Anti-inflammatory adaptogen extends energy + endurance.
Glutamine
Stimulates protein synthesis and HGH production + helps build lean muscle.
Wild Yam
Increase muscular strength and muscle endurance.
Citrus Bioflavonoids
Increase muscular strength and muscle endurance.
Key Benefits
Increases Stamina
Reduces Training Stress
Prevents Water Retention And Bloating
Sharpens Mental Focus
Prevents Muscle Breakdown