Stratos Hers Libido Boosting Serum for Women
---
Fuel your sex drive with Stratos Hers Libido Boosting Serum formulated exclusively for women. Made with the most potent ingredients, this formula is made to elevate your sexual performance, enhance your mood levels, and balance your hormone production without disturbing your physical well-being.
Shipping info: Fast Shipping. Arrives in 3-5 business days for orders within US.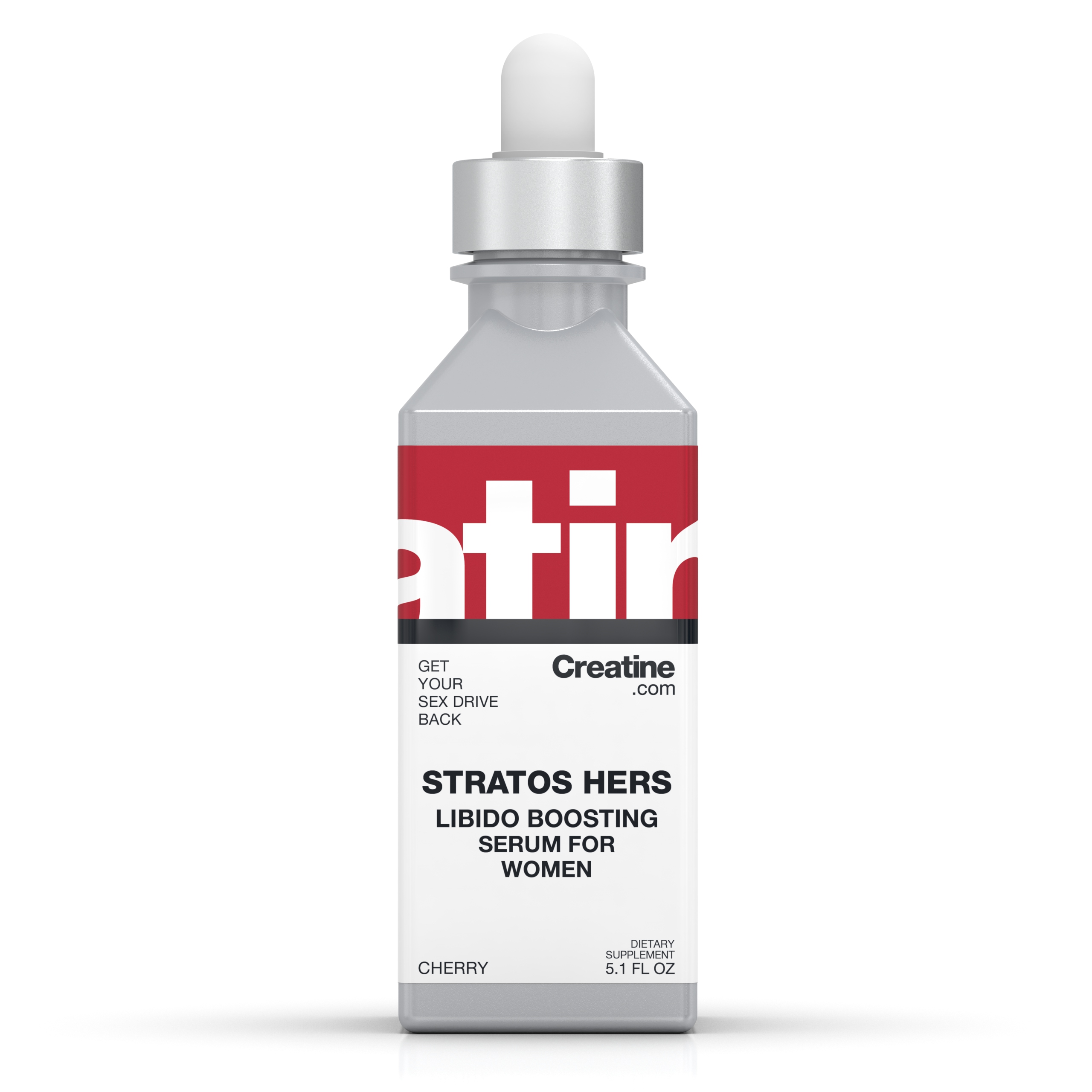 This product is for:
Women Who Want To Boost Their Libido And Ramp Up Their Sex Drive
Elevates Sexual Performance And Enhances Mood Level
Description
EXPERIENCE RAPID HIGH-ENERGY FOR A LONGER AND BETTER INTIMATE PERFORMANCE
A common complaint to many women is the loss of libido or sex drive. A drop in libido or loss of desire for sex is a dysfunction that many women experience. The safe natural ingredients of this formula increase a female's sexual appetite, improve sexual sensations, and give highly intense orgasms. Apart from enhancing libido, it quickens sexual arousal and brings back intense sensations in genital areas by elevating blood flow to the area.
GET YOUR SEX DRIVE BACK
If you're ready to improve your sexual desire, experience more powerful orgasms, and enjoy sex more than you ever have before, here's the best female libido booster. The formula inside includes the purest botanical extracts, aphrodisiacs, and naturally derived ingredients to improve a woman's sexual desire.
THOUGHTFULLY BLENDED FOR WOMEN'S NEED
Make good sex great. No matter what decade of life you are in, Stratos Hers will deliver powerfully, all-night energy you feel right away. Because it absorbs in your mouth – not in your gut. Safe for everybody.
PROUDLY MADE IN THE USA
Muscle is our first name. But our family name is USA. All our products are sourced and manufactured in the United States. We comply with all good manufacturing practices.
SINCE 1995
We have been committed to empowering athletes all over the world. Since our invention of Creatine Serum over 25 years ago, we have changed the way the world works out. By offering everyone who wants to try, the power to be their best.
How to use
Take 5 ml ten-fifteen minutes before sexual activity. Hold serum under the tongue for best absorption. May also be swallowed or mixed with water or juice.
Ingredients
Vitamin B5
Co-enzyme a precursor kick starts the ATP cycle and adrenal hormone production.
Niacin (vitamin B3)
Enzyme transporter optimizes cellular energy production.
Vitamin B6
Helps metabolize protein + carbohydrates efficiently for optimal energy production
Folate (vitamin B9)
Repairs DNA and nourishes healthy red blood cells.
Vitamin B12
Vital for a healthy circulatory system and aerobic performance.
STRATOS HERS MATRIX ™
Tribulus Terrestriss
Stimulates sex drive.
Damiana Leaf Extract
Enhances sexual sensitivity + endurance.
Ginseng Root Extract
Promotes sustained sexual performance.
Avena Sativa
Enhances erotic sensation.
N-acetyl Carnitine
Powerful antioxidant and enhances central nervous system activity.
L-Arginine
Increases blood flow and improves sexual function.
Zinc Aspartate
Helps produce key sex hormones.
Key Benefits
Boosts Sex Drive And Libido
Promotes Hormonal Balance
Improves Sexual Sensations
Optimizes Female Vitality