Overdrive Energy + Endurance Pre-Workout Creatine Serum for Men + Women
---
Instantly unlock speed and strength beyond your imagination with a fast-acting creatine serum invented for high endurance athletes.
Overdrive immediately releases muscle energy stored, giving you a rush of intense power, stamina and speed right when you need it.
It refuels muscle energy with no tingling, dizziness, stomach pain or excessive caffeine.
Shipping info: Fast Shipping. Arrives in 3-5 business days for orders within US.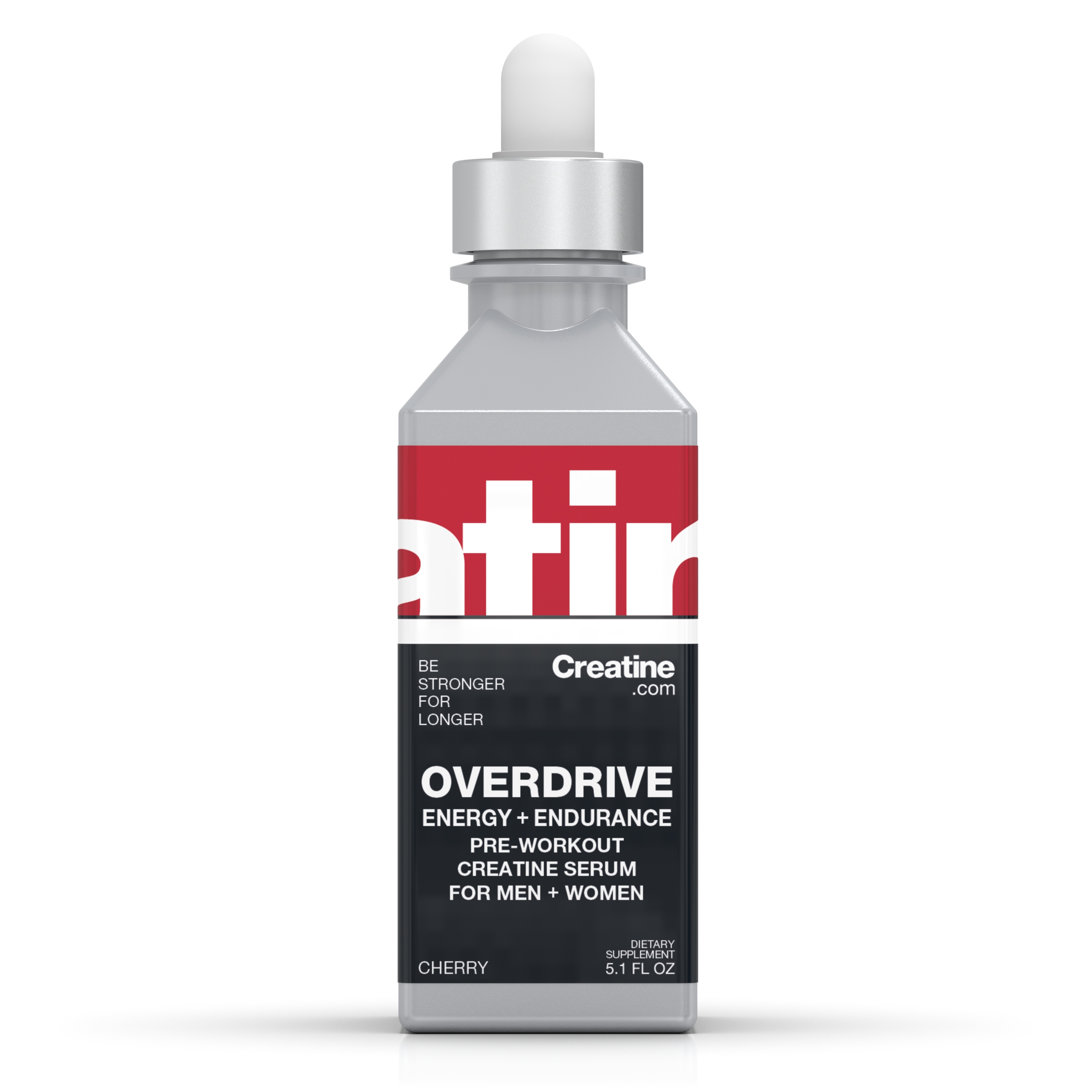 This product is for:
Individuals Who Want a Safe Energy Source For Longer Workouts
Adds Endurance Without Extras and Muscle Power Without Side Effects
Description
POWERFUL SUPPLEMENT FOR UNPARALLELED OPTIMUM ENDURANCE
Overdrive Energy + Endurance Pre-Workout Creatine Serum for Men + Women enables you to break through limits and go beyond what you thought was possible. By maximizing oxygen VO2 uptake, this blend delays fatigue and lets you maintain a high, steady level of energy during training while reducing the amount of recovery time during workouts.
This optimal blend consists of Guarana, L-Carnitine, L-Glutamine and Green Tea Extract for a smooth boost in energy & focus that lasts. No crash or jitters and all the ingredients are absolutely natural and safe. Improve your performance, sharpen your focus and elevate your overall energy with this unparalleled product formulated by the leading brand in sports nutrition.
Overdrive absorbs directly in your mouth. Not in your gut. Because the digestive system is bypassed you'll feel surging energy right away. You'll be good to go in minutes.
If you are looking for something that gives you powerful long-lasting energy and focus without the harsh unwanted side effects, then Overdrive is definitely your perfect choice.
PROUDLY MADE IN THE USA
Muscle is our first name. But our family name is USA. All our products are sourced and manufactured in the United States. We comply with all good manufacturing practices.
SINCE 1995
We have been committed to empowering athletes all over the world. Since our invention of Creatine Serum over 25 years ago, we have changed the way the world works out. By offering everyone who wants to try, the power to be their best.
How to use
10 mins. before your workout, fill the dropper and place 1 ml of serum under your tongue. Repeat 4 more times. For best results, hold serum in your mouth until completely absorbed.
The answer to improved energy and endurance is under your tongue. For the best effects 5 minutes before you're ready to train, run or ride use the dropper to place 5x1ml drops of Serum under your tongue. Hold the dosage in your mouth until fully absorbed. By the time you've done your stretches you'll be good to go.
When placed under your tongue Overdrive Creatine Serum diffuses through your mouth's mucous membranes. And rapidly enters your circulatory system. Because your stomach and intestines are bypassed there are no side effects. This permits an optimal full-strength microdose to rapidly absorb into your bloodstream undegraded by caustic digestive processes and pre-exercise hydration.
All our Serums are 100% absorbable and 100% bioavailable. You will feel the effects quickly.as your body rapidly absorbs the serum. Depending on the intensity of activity, the effects should last between 2 and 3 hours. You may also swallow or mix serums with juice, mineral waters, or filtered tap water if desired.
Ingredients
Calcium Pantothenate
The calcium salt of Vitamin B5 is a cell-protecting anti-oxidant.
PROPRIETARY- ATP-MATRIX-VI:
Creatine Ethyl Ester Hydrochloride (HCL)
Potent, most explosive hybrid creatine molecule increases muscle cell volumization, eliminates the need for all loading and scheduling, 99 times more absorbable than creatine monohydrate.
Trehalose
Fast-metabolizing disaccharide fuels rapid high energy
Rhodiola Rosea Extract
Increases physical endurance, combats fatigue and depression.
Cordyceps Extract
Boosts aerobic capacity by accelerating circulation and blood plasma production.
Guarana Extract
Catalyzes energy production, mental alertness, endurance and fat metabolism.
L-Carnitine
Enables Fatty Acid Transport into Cellular Mitochondria for Energy Production.
L-Glutamine
This anti-catabolic is essential to protein synthesis promotes muscle recovery.
Green Tea Extract
Boosts energy production and accelerates fat burning metabolism.
Key Benefits
Energizes Muscles Fast
Boosts Oxygen Uptake
Increases Stamina
Helps Strengthen Muscles
Boosts Fat Burning
No Side Effects