Muscle Builder Pre-Workout Creatine Serum
---
Muscle Builder is engineered with a powerful blend of amino acids that ensure peak performance during heavy exercise so you can work out at the pace and intensity that suits you best, without damaging your muscle tissues.
Amplify your lifting game with this creatine serum loaded with amino acids for the most intense workouts.
Shipping info: Fast Shipping. Arrives in 3-5 business days for orders within US.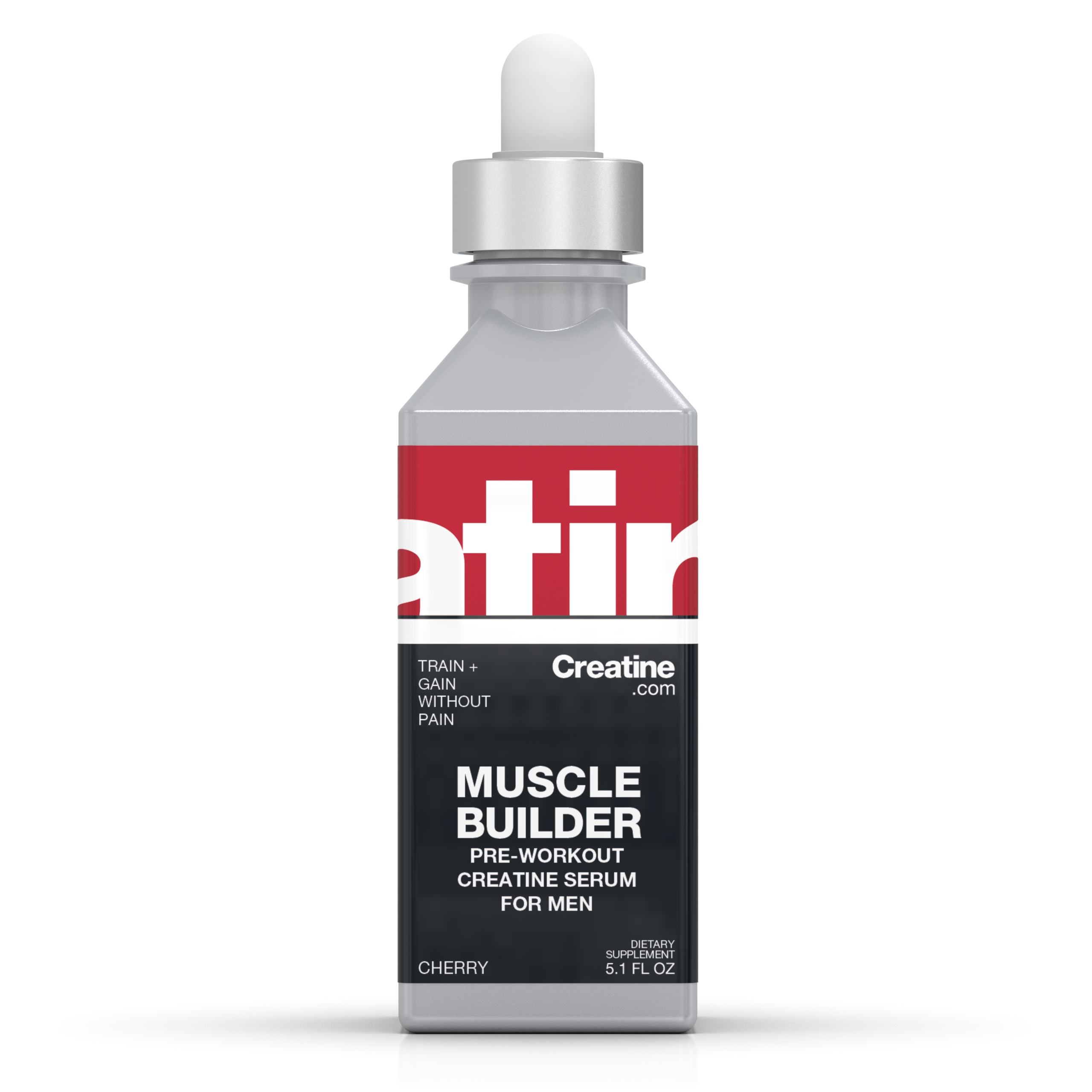 This product is for:
Bodybuilders Who Want To Achieve Bigger Muscle Pumps
Delivers a Surging Energy And Extended Endurance
Description
TRAIN + GAIN WITHOUT PAIN
This is our most powerful Creatine Serum. A scientifically-proven formula that builds big, strong, well-defined muscles. That makes it a lot easier for guys who want to get better, faster results from weight training. By powering heavier lifts. Delivering the surging energy that drives more reps. And extending endurance to empower longer sets. This formula is for men who want body-transforming results they can see right away.
Muscle Builder Pre-Workout Creatine Serum delivers a highly efficient and rapidly absorbed dose of soluble and stable Creatinol-O-Phosphate. Because it's a serum, it absorbs in your mouth. Not in your gut. This means you can skip the hassle and headache of the loading schedules recommended for powdered creatine. And avoid the side effects that can sometimes ruin your
whole day.
Be prepared to have your internal power switch flick to the maximum in minutes. Because serum absorbs directly in your mouth, bypassing the digestive system it flows into your bloodstream in the time it takes to warm up. You'll feel real, surging muscle power right away. Now you can be stronger for longer by sweating smarter. With more power anytime you want.
Muscle Builder is a proven strength-enhancing formula created to offer men of any age powerful weightlifting, powerlifting, and bodybuilding advantages, safely and legally–without drugs. It's our most powerful Creatine Serum. 30 rapidly-absorbed optimal doses of pure, energizing Creatine Molecules in a stable, 100% bioavailable serum.
Muscle Builder Creatine Serum frees you from the problematic loading phase recommended for powdered creatine. And the water weight gain, cramps, bloating, and other potential side effects. The winning secret is under your tongue.
PROUDLY MADE IN THE USA
Muscle is our first name. But our family name is USA. All our products are sourced and manufactured in the United States. We comply with all good manufacturing practices.
SINCE 1995
We have been committed to empowering athletes all over the world. Since our invention of Creatine Serum over 25 years ago, we have changed the way the world works out. By offering everyone who wants to try, the power to be their best.
How to use
For maximum effect: 5 minutes before you're ready to start to lift use the dropper to place 5x1ml drops under your tongue. Hold the dosage in your mouth until it's absorbed. This lets Muscle Creatine Serum diffuse through your mouth's mucous membranes. And rapidly enter your circulatory system. Because your stomach and intestines are bypassed there are no side effects. This permits an optimal full-strength microdose to rapidly absorb into your bloodstream undegraded by caustic digestive processes or diluted by hydration.
All our Serums are 100% absorbable and 100% bioavailable. You will feel the effects quickly as your body rapidly absorbs the serum. Depending on the intensity of activity, the muscle power and enhanced endurance should last between 2 and 3 hours. You may also swallow or mix serums with juice, mineral waters, or filtered tap water if desired. Now you can be stronger for longer. Without loading or side effects, or drugs.
Ingredients
Calcium Pantothenate
Vital For High-Energy Muscular Contractions and Strong Bones
PROPRIETARY-ATP-MATRIX-III:
Creatinol-o-Phosphate
Radical Muscle Building Compound Supercharges Strength
Trehalose
Fast Metabolizing Disaccharide for Rapid High-Energy
Glucosamine Sulfate
For Structural Integrity of Joints, Connective Tissues, and Blood Vessels
Eleutherococcus Senticosus
Anti-Inflammatory Adaptogen Increases Endurance
Glutamine HCL
Stimulates Protein Synthesis and HGH Production + Helps Build Lean Muscle
L-Carnitine
Enables Fatty Acid Transport into Cellular Mitochondria for Energy Production.
Taurine
Triggers Protein Synthesis- Supports Cell Hydration, Metabolism, and Cardiac Function
Zinc Gluconate
Supports Protein Synthesis, Hormone Balance and Digestive Functions"
Key Benefits
Explosive Muscle Strength
Pre-Workout Formula
Power Lifter's Choice
Builds Big Muscles Easier
Fuels Extreme Lifting
No Loading