HIT Secret Weapon Creatine Serum For Fighters
---
Engineered to meet the unique energy needs of fighters and other combat athletes, HIT Secret Weapon Creatine Serum For Fighters is the pre-workout formula that will get you back in the ring with unstoppable stamina, muscle growth, and exceptional strength. Supercharge your performance with the powerful 1-2 punch of Creatine HCL and Creatinol-O-Phosphate, two compounds that will ignite your power and endurance.
This formula is a mixture of Creatinol-O-Phosphate and water-soluble Creatine Ester HCL. Hit Serum refills your energy tank. With added absorbing joint ingredients such as glucosamine, MSM, and chondroitin sulfate which help decrease muscle inflammation and reduce the level of pain in the process. Whether you're training your skill-set or sparring with a competitor, you want to be sure that your body is performing at its highest peak.
Shipping info: Fast Shipping. Arrives in 3-5 business days for orders within US.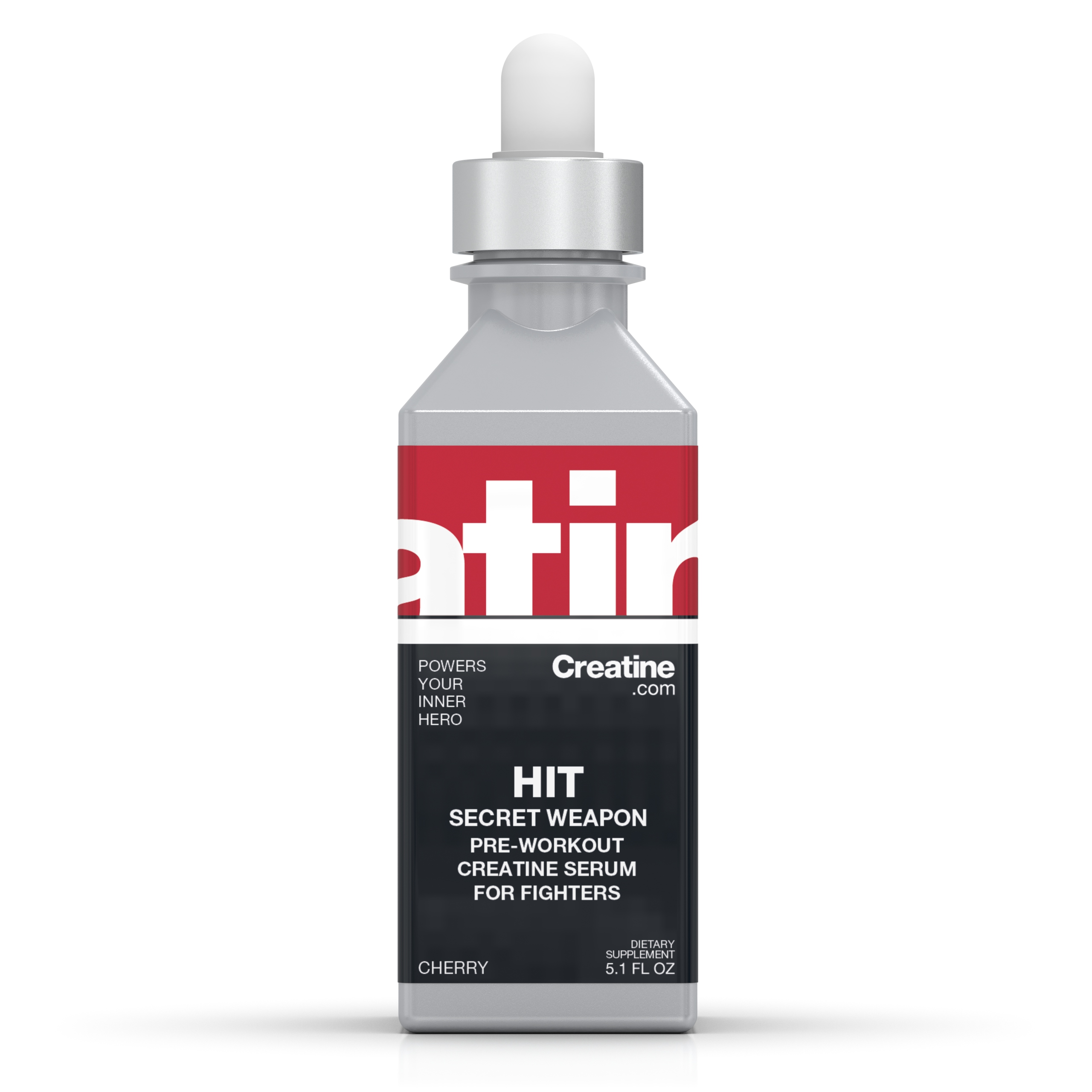 This product is for:
Combat Athletes Who Want to Improve Their Stamina And Endurance
Amazing Energy Boost, Steady Mental Focus And Quick Recovery
Description
POWERS YOUR INNER HERO
If martial arts, boxing, kickboxing, ultimate fighting, and other mayhem are your battleground you've just found an unfair advantage. Only HIT Secret Weapon Creatine Serum for Fighters combines Creatine Ester HCL's superior solubility with the punching power of Creatinol-O-Phosphate.
Because it's a serum it absorbs in your mouth. Not in your gut. So you can rapidly reload. Whenever you want. . Which means you can skip the hassle and headache of the loading schedules recommended for powdered creatine. And avoid the side effects that can sometimes happen to even the best of us.
In combat sports, it's good to have a secret weapon. That not only powers tough training. And fuels lean muscle growth. But also helps you take a punch. That fills your deep well of coiled destruction. So when the bell rings you're locked and loaded. Heck, we almost feel sorry for that poor unsuspecting bastard in the other corner of the ring. His pain. Your gain. Start here. For Men. And women who want to build bigger, leaner muscles and win unfair fights.
HIT is a proven performance-enhancing formula created to offer all kinds of fighters powerful physical advantages, safely and legally–without drugs. As well as giving you the freedom from the problematic loading phase recommended for powdered creatine. And the water weight gain, cramps, bloating, and other potential side effects. The winning secret is under your tongue.
PROUDLY MADE IN THE USA
Muscle is our first name. But our family name is USA. All our products are sourced and manufactured in the United States. We comply with all good manufacturing practices.
SINCE 1995
We have been committed to empowering athletes all over the world. Since our invention of Creatine Serum over 25 years ago, we have changed the way the world works out. By offering everyone who wants to try, the power to be their best.
How to use
10 mins. before your workout, fill the dropper and place 1 ml of serum under your tongue. Repeat 4 more times. For best results, hold serum in your mouth until completely absorbed.
For maximum effect: 5 minutes before you're ready to start, use the dropper to place 5x1ml drops under your tongue. Hold the dosage in your mouth until it's absorbed. This lets HIT Creatine Serum diffuse through your mouth's mucous membranes. And rapidly enter your circulatory system. Because your stomach and intestines are bypassed there are no side effects. This permits an optimal full-strength microdose to rapidly absorb into your bloodstream undegraded by caustic digestive processes and extra hydration.
All our Serums are 100% absorbable and 100% bioavailable. You will feel the effects quickly as your body rapidly absorbs the serum. Depending on the intensity of activity, the muscle power and enhanced endurance should last between 2 and 3 hours. You may also swallow or mix serums with juice, mineral waters, or filtered tap water if desired. Now you can be good to go anytime you want.
Ingredients
Vitamin B6 (Pyridoxine HCL)
Fuels the metabolization of proteins + fats, and promotes the conversion of carbs into energy.
PROPRIETARY- ATP-MATRIX-VII:
Creatine Hydrochloride (HCL)
A potent, explosive energy source, increases muscle cell volumization.
Creatinol-O-Phosphate
Radical muscle-building compound supercharges strength and power without side effects.
Trehalose
Fast-metabolizing disaccharide fuels rapid high energy
Guarana Extract
Extends endurance and promotes mental alertness
Hordenine
Accelerates Fat Burning Metabolism by Unlocking Fatty Acids from Surplus Body Fat.
Glucosamine Sulfate
Supports structural integrity of joints, and connective tissues.
Chondroitin Sulfate
Structural cartilage component acts as a natural anti-inflammatory.
Methylsulfonylmethane (MSM)
Eases musculoskeletal pain + enhances the of healing wounds, cuts, and abrasions.
Key Benefits
Explosive Muscle Power
Defeats Fatigue
Increases Aerobic Capacity
Fuels Lean Muscle Growth
Sharpens Mental Edge
Reduces Injury Risk