Force Muscle Mass Gainer Creatine Serum
---
Unlock the secret of maximum impact workouts with Force Muscle Mass Gainer Creatine Serum, a liquid creatine pre-workout supplement that fuels longer, professional-level workouts. Get ready to lift at peak efficiency with maximum energy every time. Amp up lean muscle growth and strength by training harder, less often, and with faster recovery every time.
Ideal for weightlifting, Force is designed to activate the Krebs Cycle Energy System, boosting ATP re-synthesis from ADP so you can work out longer, stronger, and with greater efficiency. This remarkable bodybuilding supplement contains Glucosamine, Glutamine, L-Carnitine, and Taurine to support recovery and protect your joints. Take Force Mass Gainer daily before your workout — no loading or maintenance required, and no harmful side effects.
Shipping info: Fast Shipping. Arrives in 3-5 business days for orders within US.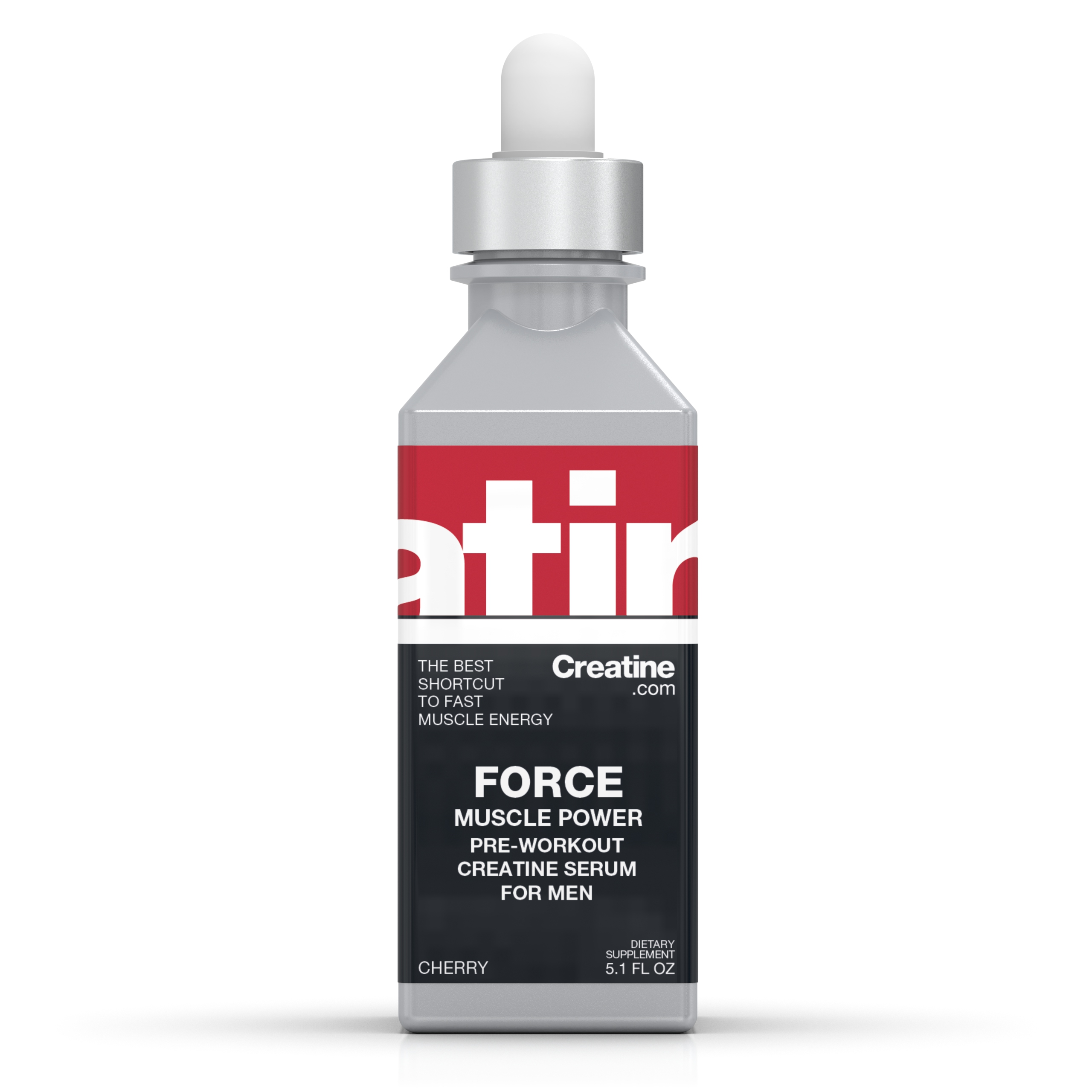 This product is for:
Bodybuilders Who Want Better Muscular Definition
Delivers Impressive Muscle Volumization and Tons of Surging Energy
Description
THE BEST SHORTCUT TO A FAST MUSCLE ENERGY
This is our most absorbable Creatine Serum. Pure, stable, and soluble Creatine Ethyl Ester HCL. An ideal option for results-obsessed bodybuilders, fitness magazine cover models, actors, stuntmen, and older guys who want to look 20 years younger on the beach. Superior molecular solubility delivers impressive muscle volumization and tons of surging energy. Without side effects.
FORCE Creatine Serum gives you 30 highly effective and rapidly-absorbed microdoses formulated to go to work fast. It absorbs in your mouth. Not in your gut. This means you can skip the hassle and headache of the loading schedules and mixing that can make supplementing with powdered creatine a pain. You'll also enjoy freedom from powdered creatine's potential side effects like water weight gain, the bloats, and the dreaded intestinal revenge that can ruin your whole day.
In the time it takes you to warm up this amazing formula absorbs in your mouth, (hold it under your tongue until it's gone). Bypassing the digestive system and then directly entering your bloodstream. You'll experience a new kind of energized feeling. Clean energy is made at the cellular level. The kind of energy your body makes naturally. From ATP – your body's natural power source. But more. Lots and lots more. So you can build the kind of well-defined muscles you want. And feel great while doing it.
Force is a proven muscle mass accelerator formula that enhances muscular definition and expands muscle volume like no other product on the market today. We formulated it for the impatient and demanding guy who trains a lot and wants to see results sooner rather than later. Our most absorbable serum will allow him to achieve results – safely. Are you ready to feel the FORCE?
FORCE is 30 rapidly-absorbed optimal doses of pure, energizing Creatine Ethyl Ester HCL molecules in a stable, 100% bioavailable serum that frees you from the problematic loading phase recommended for powdered creatine. And the water weight gain, cramps, bloating, and other potential side effects.
PROUDLY MADE IN THE USA
Muscle is our first name. But our family name is USA. All our products are sourced and manufactured in the United States. We comply with all good manufacturing practices.
SINCE 1995
We have been committed to empowering athletes all over the world. Since our invention of Creatine Serum over 25 years ago, we have changed the way the world works out. By offering everyone who wants to try, the power to be their best.
How to Use
For maximum effect: 5 minutes before you're ready to start your workout use the dropper to place 5x1ml drops under your tongue. Hold the dosage in your mouth until it's absorbed. This allows Force Serum to diffuse through your mouth's mucous membranes. And rapidly enter your circulatory system. Because your stomach and intestines are bypassed there are no side effects.
This permits an optimal full-strength microdose to rapidly absorb into your bloodstream undegraded by caustic digestive processes or diluted by hydration. All our Serums are 100% absorbable and 100% bioavailable. You will feel the effects quickly as your body rapidly absorbs the serum. Depending on the intensity of activity, the muscle power and enhanced endurance should last between 2 and 3 hours. You may also swallow or mix serums with juice, mineral waters, or filtered tap water if desired. But for best results, oral absorption is best. Use FORCE to build the kind of well-defined muscles you want. And feel great while doing it. Without loading, side effects, or drugs.
Ingredients
Vitamin B-5 (Calcium Pantothenate)
Unlocks energy from fats, controls enzyme, and hormonal balance
ATP-MATRIX-V
Creatine hydrochloride (HCL)
Potent, explosive, increases muscle cell volumization
Creatinol-O-Phosphate
Radical muscle-building compound supercharges strength + power
Trehalose
Fast Metabolizing Disaccharide for Rapid High-Energy
Glucosamine Sulfate
Supports structural integrity of joints, connective tissues, & blood vessels
Eleutherococcus Senticosus
Anti-inflammatory fights fatigue, stress, and muscle soreness
Glutamine HCL
Stimulates protein synthesis and HGH production + helps build lean muscle tissue
L-Carnitine
Accelerates energy production by enabling fatty acid transport into cellular mitochondria
Taurine
Stimulates protein synthesis- supports cell hydration, metabolism, and cardiac function
Zinc Gluconate
Supports protein synthesis, hormone balance, and digestive functions
Key Benefits
Pre-Workout Formula
Boosts Muscle Volume
Faster Muscle Growth
Powers Intense Workouts
No Loading
No Side Effects