Defender Immunity Booster Serum for Men + Women
---
This immunity booster is great for your family. It will help you bolster your immune system so you can stay protected from daily environmental assaults. It is a delicious immune system support serum with Elderberry, Zinc, and Vitamin C.
Shipping info: Fast Shipping. Arrives in 3-5 business days for orders within US.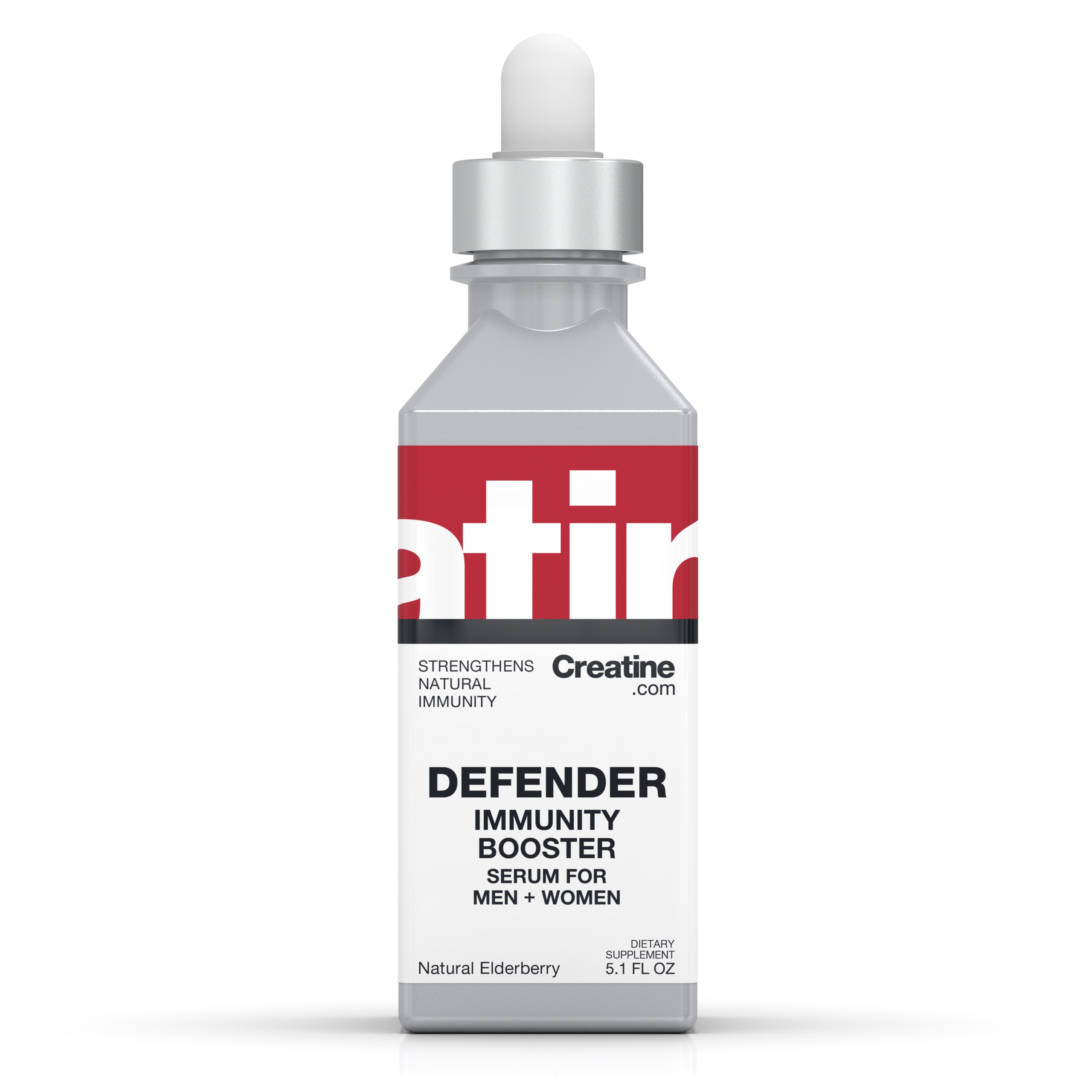 This product is for:
Individuals Who Want An Immunity Booster With Antioxidants
Triple Action Blend With Elderberry Extract, Vitamin C And Zinc
Description
PROTECTS + DEFENDS AT THE CELLULAR LEVEL
Enhanced immune support, Defender Immunity Booster Serum for Men + Women will help you fight off free radicals that can damage cells and impact immune health. It is packed with the key nutrients your body needs plus antioxidants for better protection.
THE BEST DEFENSE IS A POWERFUL OFFENSE
Our unique proprietary homeopathic matrix deploys a powerful echelon of scientifically proven ingredients to strengthen your immune system. Effectively destroys dangerous free radicals. Protects delicate respiratory tissues. Immediately soothes tissue inflammation. A healing homeopathic matrix in optimal clinical dosage.
Bolster your immune system so your body is better prepared to defend itself against illness.
PROUDLY MADE IN THE USA
Muscle is our first name. But our family name is USA. All our products are sourced and manufactured in the United States. We comply with all good manufacturing practices.
SINCE 1995
We have been committed to empowering athletes all over the world. Since our invention of Creatine Serum over 25 years ago, we have changed the way the world works out. By offering everyone who wants to try, the power to be their best.
How to use
Using the dropper, place 5 (1ml) portions under the tongue once per day. Hold the serum under the tongue until absorbed. May also be swallowed or mixed with water or fruit juice. Defender Serum can augment but cannot replace the benefits of a healthy, well-balanced diet.
Ingredients
Inositol
Helps support the immune system and the body's natural ability to maintain thermoregulation
PROPRIETARY IMMUNE MATRIX I
Elderberry Extract
Elderberry is packed with antioxidants and vitamins that help boost your immune system.
Larch Arabinogalactan
Improves immunity by increasing resistance to common and uncommon infections.
Monolaurin
It is known to boost general immunity against any seasonal pathogen attack like the common flu.
Butylated hydroxytoluene (BHT)
A potent inactivator of lipid-enveloped viruses.
Vitamin C (Ascorbyl Palmitate)
It is a potent antioxidant that contributes to immune defense by supporting various cellular functions of both the innate and adaptive immune systems.
Inosine
Helps improve the immune system by helping fight acute respiratory viral infections.
Zinc Gluconate
Acts as an antioxidant and helps boost immune function and fight inflammation.
Eleutherococcus Senticosus
Boosts the immune system. Found to be effective against several RNA viruses, including influenza A virus, respiratory syncytial virus, and human rhinovirus.
Key Benefits
Reduces Stress On Haul Long Flights
Defends Against Travel Flu
Energizes Natural Immunity
Response Against Airborne Pathogens
Expands Aerobic Capacity