Anti-Fat Energizing Thermogenic Creatine Serum For Men + Women
---
Anti-Fat Serum energizes your whole body. Having extra energy makes it easier to lose weight. How does it work? Anti-Fat Serum fuels you with clean, pure muscle energy. In the healthy, natural form that your body makes it. Adenosine Triphosphate – ATP for short.
The Creatine Serum in Anti-Fat triggers the production of ATP faster and more efficiently than any other dietary supplement. ATP is the energy-carrying molecule that works as a shuttle to bring the unlocked power of carbohydrates and fats to your muscle cells. When you are energized and exercising, you burn up your stored fat. It's that simple. More energy=more movement=more fat burn.
Shipping info: Fast Shipping. Arrives in 3-5 business days for orders within US.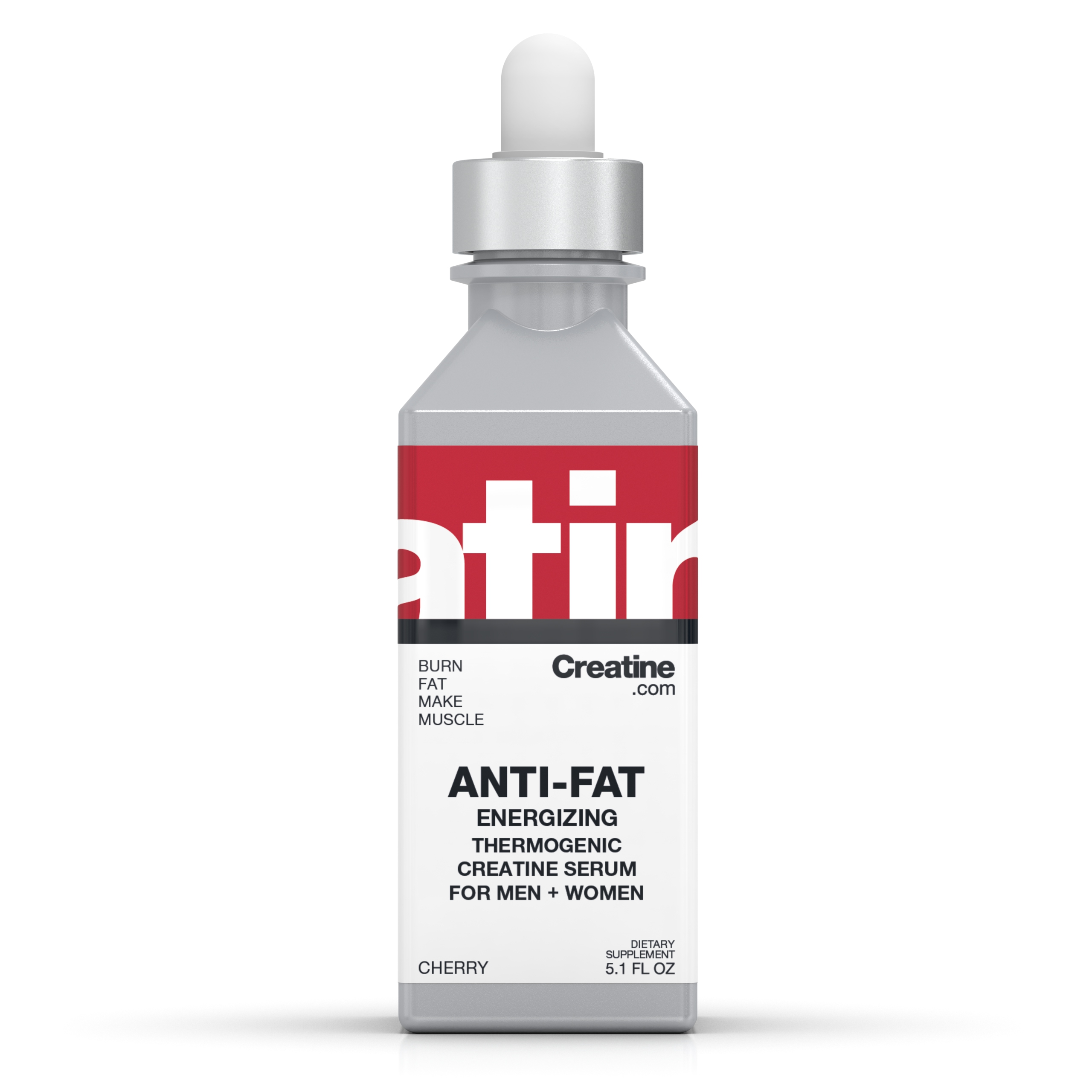 This product is for:
Individuals Who Want To Lose Weight, Stay Fit And Energized
Powerful Thermogenic Formula That Bolster Fat Burning Metabolism
Description
BURN FAT AND BUILD MUSCLE
We invented Anti-Fat Serum because dieting is for losers. We starved to drop pounds. And then gained them back. So we know all about dieting yo-yo from personal experience. That's why we know how to help you win the fight with fat. And make it fun. With more energy for exercise. As well as safely stimulating your metabolism so you can effortlessly burn off the extra pounds that have been holding you back. And help you keep them off. That's why you should let Anti-Fat Energizing Thermogenic Creatine Serum help you achieve the weight loss you want. You have nothing to lose but your spare tire, love handles, or XXL-sized tush.
ATP fat-burning energy is clean and safe. Not like the unhealthy buzz and crash you can get from empty carbs, bad sugars, and too much caffeine. Anti-Fat Serum powers you with a refreshing surge of muscle energy you'll feel in every cell of your body almost immediately. Because Anti-Fat Serum absorbs directly in your mouth. Not in your stomach. And goes directly to your bloodstream. You'll experience a new kind of energized feeling. From abundant clean energy produced at the cellular level. Say goodbye to your
unwanted fat.
Anti-Fat Serum is a well-tested and safe source of muscle energy and fat-burning stimuli. This formula will help you get off the couch and feel good about yourself. It will effectively help you to overcome your lethargy deficit and enjoy exercise and physical activity. So you can start losing weight and feeling better. We formulated it for the average person to get more stamina, mental clarity, and overall vitality. This amazing serum will help you achieve your weight loss goals safely. Without drugs, health risks, or side effects.
Anti-Fat is 30 rapidly-absorbed optimal doses of pure, energizing Creatine Ethyl Ester HCL molecules in a stable, 100% bioavailable serum. It's the most efficient and easy way to get all the energizing benefits of creatine, the most researched and proven energy supplement in the world.
PROUDLY MADE IN THE USA
Muscle is our first name. But our family name is USA. All our products are sourced and manufactured in the United States. We comply with all good manufacturing practices.
SINCE 1995
We have been committed to empowering athletes all over the world. Since our invention of Creatine Serum over 25 years ago, we have changed the way the world works out. By offering everyone who wants to try, the power to be their best.
How to use
For maximum effect take Anti-Fat Serum twice a day before meals. Use the dropper to place 5x1ml drops under your tongue. Hold the dosage in your mouth until it's absorbed. This allows Ant-Fat Serum to diffuse through your mouth's mucous membranes. And rapidly enter your circulatory system. Because your stomach and intestines are bypassed there are no side effects. This permits an optimal full-strength microdose to rapidly absorb into your bloodstream undegraded by caustic digestive processes or diluted by hydration. Not only does Anti-Fat Serum discourage carb cravings, but some users have also reported that it actually increased their craving for healthy foods.
All our Serums are 100% absorbable and 100% bioavailable. You will feel the effects quickly as your body rapidly absorbs the powerful ingredients. The enhanced endurance, energy, and positive mental outlook should improve your whole day. And help you sleep better. You may also swallow or mix serums with juice, mineral waters, or filtered tap water if desired. But for best results, oral absorption is recommended.
Ingredients
Inositol
Keeps fats collected from the body, particularly in the liver. Inositol is efficient in converting nutrients
into energy.
PROPRIETARY- ATP-MATRIX-IV
Creatine Ethyl Ester HCL
Radical Muscle Powering Compound Supercharges Energy Levels
Trehalose
Fast Metabolizing Disaccharide for Rapid High-Energy
Guarana Extract
Catalyzes Energy Production, Mental Alertness, Endurance, and Fat Metabolism
L-Carnitine
Triggers Energy by Enabling Fatty Acid Transport into Cellular Mitochondria
Gotu Kola Extract
Natural Anti-Inflammatory Increases Energy. Stimulates Circulation
Methylxanthine
Enhances High-Intensity Cognitive + Neuromuscular Performance
Key Benefits
Triggers Fat Burning
Safely Stimulates Metabolism
Boosts Body Energy
Fights Food Cravings
Energizes Mood
No Side Effects