Alpha ATP
Creatine Sports DrinkStrawberry (Pack of 4)
---
Attention exercise junkies, kettlebell ringers, apparatus punishers, iron pumpers, crazy runners, and cycling fanatics. Men too. This changes everything. Taste the world's first muscle power drink. Clean energy in a can. Stable, soluble, pure creatine. Not an energy drink. Better for serious exercise. Better for you. Supercharged by L-Arginine, L-Glutamine, and L-Citrulline. Get Stronger. Train harder. Recover faster. More power to you. Cleaner is always best.
Shipping info: Fast Shipping. Arrives in 3-5 business days for orders within US.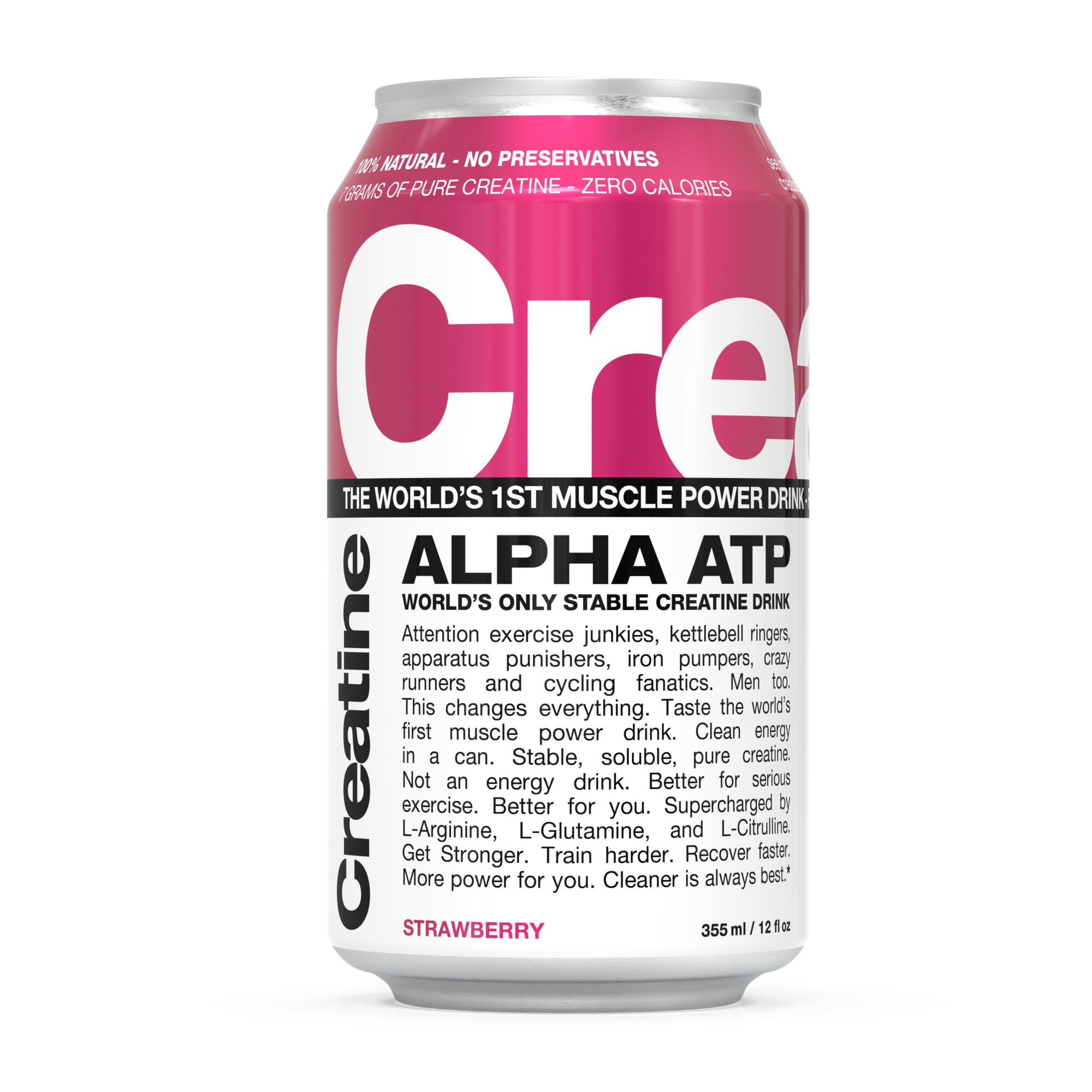 This product is for:
Athletes And Fitness Enthusiasts
Stable + Soluble Creatine-Fueled Muscle Drink
Description
REAL CREATINE CRANKS UP MUSCLE POWER FASTER
If you're tired you've in the right place. Your missing energy is here. The surging energy that your life runs on. ATP is the intercellular energy express that powers every cell in your body. Creatine tells your cells to hurry up and make more ATP. Your whole body will feel energized in the time it takes to read this. Drink it now. The 7 gms of pure, soluble Creatine Phosphate you just drank are reinforced with L-Arginine, L-Glutamine, and L-Citrulline. And just the right amount of clean caffeine. Now you don't have to be tired. Especially when you don't want to be. Ever again. This changes everything.
MORE REAL POWER FOR YOU
Because it's loaded with the world's only soluble and stable pure creatine. 7 grams. Makes you stronger. Faster. No loading. No dosing. No side effects. No jolts. No belly aches. No bloating. No cramps. No crashes. More real power for you
PROUDLY MADE IN THE USA
Muscle is our first name. But our family name is USA. All our products are sourced and manufactured in the United States. We comply with all good manufacturing practices.
SINCE 1995
We have been committed to empowering athletes all over the world. Since our invention of Creatine Serum over 25 years ago, we have changed the way the world works out. By offering everyone who wants to try, the power to be their best.
Recommended use
Serving Size 1 can
Consume Responsibly. Not recommended for children & pregnant women.
Ingredients
Creatinol-O-Phosphate
Vitamin B12
Natural Caffeine
L- Citrulline
L-Glutamine
L-Arginine
L-Taurine
Key Benefits
7.0 gms Creatine
7.5 gms Protein
0 Calories
Sugar-Free
Natural Flavors